Film week attracts big talent from China and across region
By XU FAN | China Daily | Updated: 2019-05-17 07:44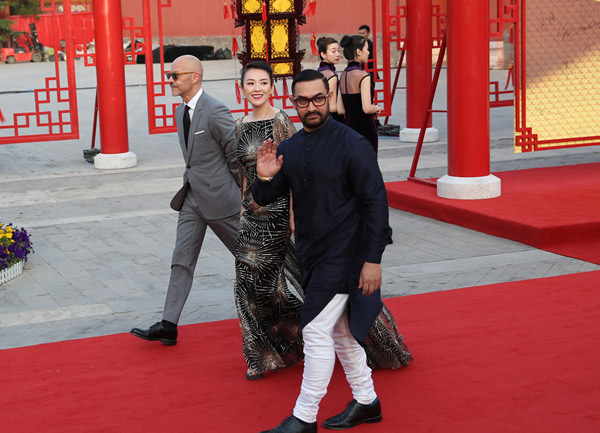 Asian Film and TV Week kicked off on Thursday, bringing together more than 100 celebrities from some 10 countries for the launch at the Beijing Working People's Cultural Palace.
In the highlight of the ceremony, more than 10 iconic figures-including Chinese actress Zhang Ziyi, Indian star Aamir Khan and Oscar-winning Japanese director Takita Youjirou-held two rounds of themed dialogues to discuss the legacy of Asian cinema.
Director Jia Zhangke said he wished Asian filmmakers would work together more to expand the popularity and influence of their films in the global market.
Zhang said an influential film should be rooted in its own culture but narrated in a way that appeals to domestic and outbound markets.
Actor Chen Daoming, who also heads the China Film Association, said that because people have shared emotions he believes emotional films more easily convey values that can be understood beyond borders.
Director Chen Kaige said he has witnessed China's huge transformation over the past 40 years, and it's closely linked with his directing career. Khan, known for Bollywood blockbusters, including Dangal, said China and India have huge movie markets with vast audiences, which means filmmakers can focus on entertaining their own people.
He said he wished both sides would pay more attention to markets outside their own, and suggested they do more coproductions.
As the world's second-largest movie market, China produced more than 1,000 films last year, raking in a box office total of nearly 61 billion yuan ($8.9 billion).
Asian Film and TV Week will run until May 23 and is scheduled to screen around 60 Asian movies in Beijing, Shanghai, Guangzhou, Chengdu and Xi'an.
It will also air nearly 100 Asian documentaries, TV dramas and animated productions on multiple channels.
xufan@chinadaily.com.cn