数字乡村(shùzì xiāngcūn): Digital countryside
China Daily | Updated: 2019-05-20 07:44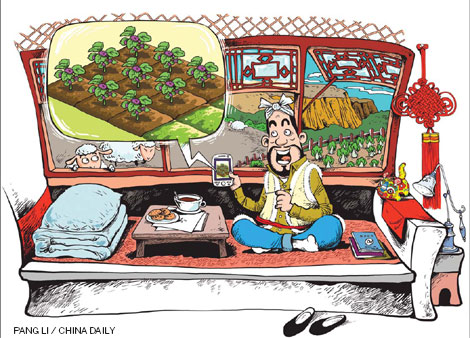 To consolidate the sound momentum for agricultural and rural development, capitalize on the role of agriculture, rural areas and rural people as the ballast for the country, the General Office of the Communist Party of China Central Committee and the General Office of the State Council recently issued the outline for the digital countryside development strategy.
It aims to significantly accelerate the construction of rural information infrastructure to promote the rejuvenation of the countryside and agricultural modernization.
The outline advances expanding rural network facilities, such as broadband communication networks, the mobile internet, digital television networks and next generation internet on a large scale.
The outline also advances application of cloud computing, big data, artificial intelligence to agricultural production, operation and management. Meanwhile, it also promotes the all-round application of new generation information technology in the planting industry, seed industry, animal husbandry industry, fishery industry and agricultural product processing industry, in order to build technological agricultural industry, smart agricultural industry and brand agricultural industry.