Mainstream will prevail in EU elections
By Chen Yingqun | China Daily | Updated: 2019-05-21 09:06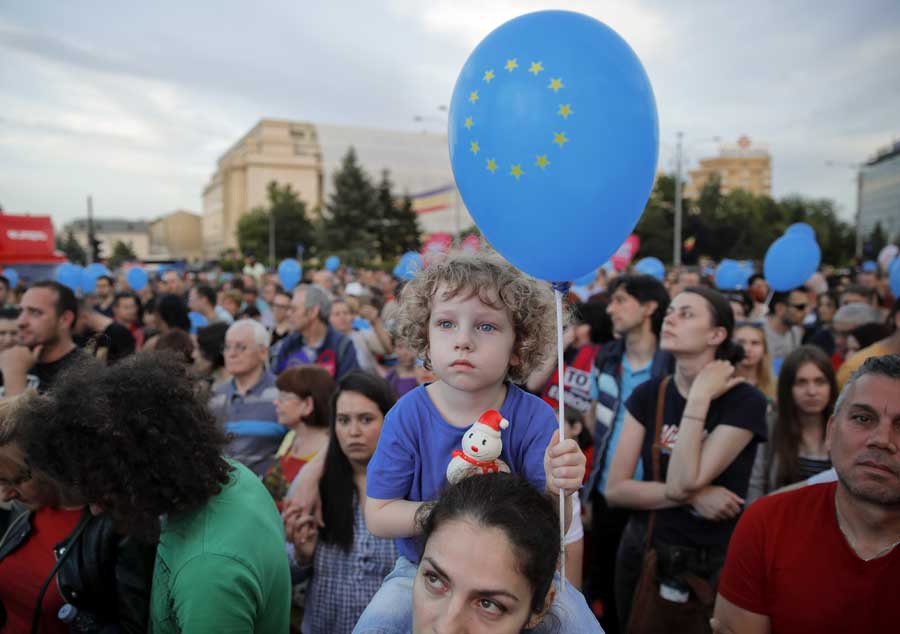 Mainstream political groups will continue to dominate in elections to the European Parliament this week but probably will lose some seats to nationalist and far-right parties, analysts predict.
"There is no fear for the solidity of the EU-decision-making system", said Sven Biscop, director of the Europe in the World Program at the Egmont-Royal Institute for International Relations, a think tank based in Brussels.
But he urged "those who favor the European project" to not be complacent, as the rise of populist and far-right parties has already become a major concern for the EU and its member states.
About 400 million people from the EU's 28 member countries - including for now the United Kingdom - are eligible to vote in polls to be held from May 23 to 26. The 751 winners will represent them at the European Parliament for the next five years. Each country gets certain seats based on proportional representation and chooses lawmakers based on its own rules.
Tian Dewen, a researcher in European Studies at the Chinese Academy of Social Sciences, said that the coming elections are important barometers that reflect European people's attitudes toward their own governments as well as EU integration.
He is certain that nationalist and far-right parties will gain ground, but it is still possible that the mainstream groups, which are mainly politically center-left and center-right, will be able to effectively control the parliament. "If the current ruling parties lose many seats in the election, it indicates that they will face similar difficult situations in the following elections domestically. More far-right parties and nationalists entering the assembly would also place obstacles for passing EU legislation," he said.
Various surveys have indicated that nationalist and far-right parties across the Europe will perform strongly in the coming elections.
In France, President Emmanuel Macron's Republic on the Move party is in a tight battle with Marine Le Pen's far-right National Rally. A Elabe poll released on Wednesday said that Macron's centrist ruling party will win 23.5 percent of the votes, while National Rally is expected to win 22 percent of voting intentions.
A poll in Italy's Corriere della Sera newspaper said that support for the nation's far-right League, which is led by the deputy prime minister, Matteo Salvini, was about 30.9 percent on May 10. Salvini has been campaigning vigorously across the country on behalf of EU parliamentary candidates and promoting hard-line policies.
It was in the European Parliament elections five years ago that small numbers of nationalists and far-right politicians won seats, signaling the challenges since faced by ruling parties across the EU, said Cui Hongjian, director of the department for European studies at the China Institute of International Studies.
Mainstream European political groups have tried hard to curb their rise and haven't coped well with problems raised by the populist and far-right parties, Cui said.
Clemens von Goetze, Germany's ambassador to China, said at a news conference in Beijing on Saturday that he hopes mainstream political groups that support the integration of EU will win the elections.
He said, mainstream groups in Germany are working hard to tell voters the importance of the EU and encouraging those realize the value of EU integration to cast their ballots this week. The turnout of voters was quite low in the 2014 European Parliament elections.
As the United Kingdom's departure from the EU has been delayed until October, the country must participate in the EU polls. According to the latest Opinium poll for the Observer newspaper, Nigel Farage's new Brexit Party may win more votes than Britain's two biggest parties combined.
Farage was the leader of the UK Independence Party and a key figure in forcing the 2016 referendum on Britain's membership in the EU.
Cui said: "If euroskeptics gain ground in the European Parliament elections, it would send strong signals that UK must break up with EU at all costs, which will then greatly affect UK's Prime Minister Theresa May's efforts to seek a soft Brexit," he said.
Cui said whether nationalist and far-right parties fundamentally shake up EU politics depends on whether they can form strong political forces in Brussels. Some far-right leaders, such as Italy's Salvini and France's Le Pen, have already seen the necessity of forming alliances.
However, these parties, which came to center stage by tapping into public disenchantment and opposing policies of the ruling parties, will have to overcome a large issue if they want to rule the governments: How to govern while retaining their old supporters.
"Some far-right parties have already started changing their language while campaigning for the coming elections," he said.