UK Chancellor warns against populist no deal Brexit plan
By Jonathan Powell in London | China Daily Global | Updated: 2019-05-22 00:28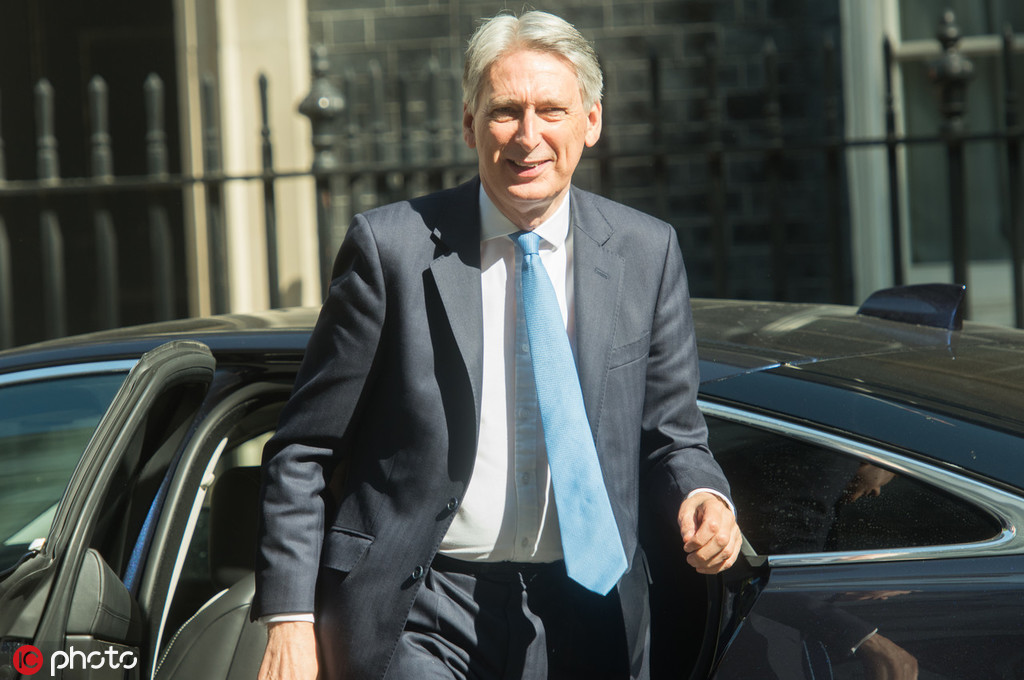 Chancellor Philip Hammond has warned there is a real risk any new British prime minister would seek what he called a "damaging" no-deal Brexit.
Speaking to a meeting of business leaders at the CBI, Hammond was expected to say that the "populist right" was seeking to "hijack" the European Union referendum result. "A no-deal Brexit would be a betrayal" he would say.
The Cabinet assembled on Tuesday among the continuing noise of a leadership contest to replace Prime Minister Theresa May.
Hammond said a new prime minister would likely abandon searching for a deal and would instead pursue a no-deal exit that would be "knowingly inflicting" damage on the economy and living standards.
The cabinet agreed May's plan for her withdrawal agreement bill, including compromises intended to attract the support of Labour members of Parliament.
It includes the idea of a temporary customs union relationship until the next general election.
May presented her Cabinet with details of what she called a "new bold offer" in a final effort to get her Brexit deal through the United Kingdom Parliament. She also said if MPs do push this deal through, they will then get a chance to vote on whether to hold a second Brexit referendum.
May insisted that what she put forward is new and moves closer to the Labour Party position on such issues as workers' rights and environmental protections. The package of measures will be included in the withdrawal agreement bill, and is aimed at winning cross-party support.
Labour leadership and many Conservative Brexiteers are not convinced anything fundamental has changed. There have been several areas where there has been no agreement in cross-party talks.
With just days to go before Britain was due to leave on March 29, May asked the EU for more time to negotiate a deal. Brexit has now been delayed until Oct 31 unless there is an early agreement.
Parliament will vote on the withdrawal agreement bill – the legislation required to bring the withdrawal agreement negotiated with the EU into British law – in the first week of June.
Members of Parliament have rejected the withdrawal agreement three times, and if the bill falls again, the prime minister is likely to come under intense pressure from her own party to stand down.
Brexit is damaging the UK economy more than necessary because businesses have had unrealistic expectations of how quickly it would be resolved, the Bank of England's deputy governor Ben Broadbent said on Monday.
A no-deal agreement would mean businesses would have to revert to trade on World Trade Organisation terms, but Broadbent said surveys showed companies viewed this scenario as the most negative of all.
"It would be wrong to conclude ... that the best thing for investment is to resolve this uncertainty as soon as you can, by any means necessary," Broadbent said in a speech to Imperial College Business School in London.
"Deliberately choosing the outcome firms say they view most negatively is more likely to mean that capital projects that have so far been deferred are then simply canceled," he said.
Broadbent said the impact on business investment appeared to rise as the Brexit deadline neared – making it important to avoid giving businesses further false hope of an immediate resolution to Brexit uncertainties.