Iran blasts Trump's 'genocidal taunts'
China Daily | Updated: 2019-05-22 07:40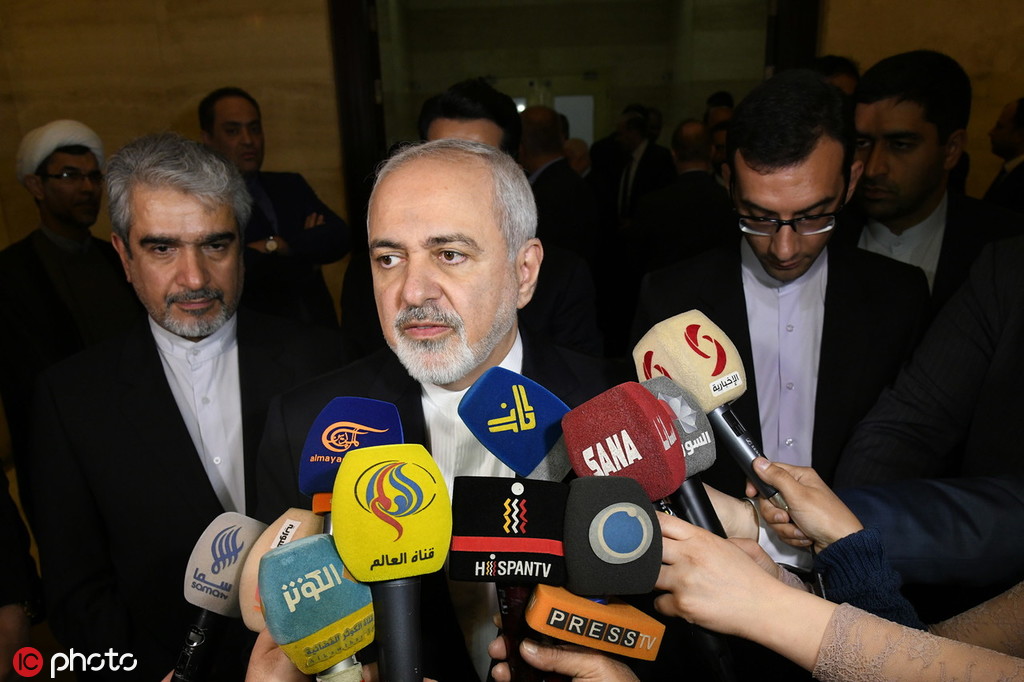 Iranian Foreign Minister Mohammad Javad Zarif said on Monday the "genocidal taunts" of US President Donald Trump will not "end Iran", as tensions spike between the two countries, Agence France-Presse reported.
"Iranians have stood tall for millennia while aggressors are all gone. Economic terrorism and genocidal taunts won't 'end Iran'," Zarif wrote on Twitter.
"Never threaten an Iranian. Try respect-it works!" the foreign minister added.
In another tweet, Zarif accused Trump of allowing his team to "trash diplomacy" and "abet war crimes-by milking despotic butchers via massive arms sales".
Iranian President Hassan Rouhani said he favors talks and diplomacy but not under current conditions, Reuters cited Iranian state news agency IRNA as saying late on Monday.
"Today's situation is not suitable for talks and our choice is resistance only," Rouhani said.
These comments came after an ominous warning by Trump, who on Sunday suggested the Islamic republic would be destroyed if it attacked US interests.
"If Iran wants to fight, that will be the official end of Iran. Never threaten the United States again," Trump tweeted.
Trump took to Twitter again on Monday, saying Washington has not reached out for talks with Teheran and that if Iran wants to negotiate, it will have to take the first step.
"Iran will call us if and when they are ever ready. In the meantime, their economy continues to collapse-very sad for the Iranian people!" Trump said.
Meanwhile, top US security officials on Tuesday were heading to Capitol Hill to brief Congress amid Trump's tough talk on Iran.
The competing closed-door sessions, unusual and potentially polarizing, come after weeks of escalating tensions in the Persian Gulf that have raised alarms over a possible military confrontation with Iran.
Lawmakers are warning Trump and his allies that they cannot take the country into war without approval from Congress, and the back-to-back briefings show the wariness among Democrats, and some Republicans, over the White House's sudden policy shifts in the Middle East, according to The Associated Press.
'Rising rhetoric'
Relations between Washington and Teheran plummeted a year ago when Trump pulled out of a landmark 2015 nuclear deal between Iran and world powers and imposed tough sanctions.
Iranian officials have repeatedly slammed the unilateral US sanctions as "economic terrorism", saying that they have impeded the flow of essential goods.
Tensions have risen further this month with Washington announcing more economic measures against Teheran, before deploying an aircraft carrier and B-52 bombers to the Gulf region over unspecified alleged Iranian "threats".
On Sunday, a rocket was fired into the Green Zone of the Iraqi capital Baghdad, which houses government offices and embassies including the US mission. It was not immediately clear who was behind the attack.
While the US claim of Iranian "threats" has been met with widespread skepticism outside the US, the mounting tensions have sparked growing international concern, AFP said.
The United Nations expressed concern about the "rising rhetoric".
"We would ask all parties to lower the rhetoric and lower the threshold of action as well," said UN spokesman Stephane Dujarric.
AGENCIES