Opera classes hit right note with young singers
By Chen Nan | China Daily | Updated: 2019-05-22 11:12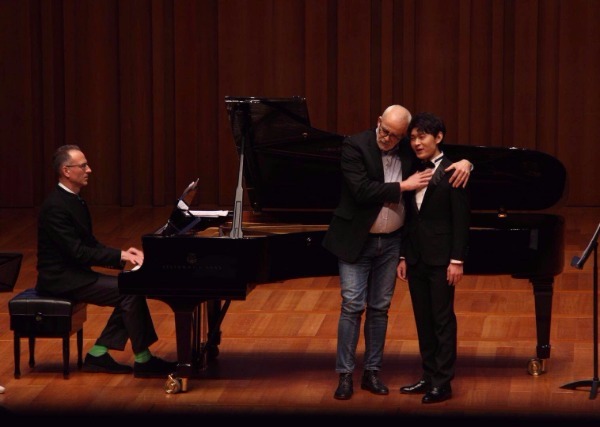 When the Georg Solti Accademia program returned to China this year, eight young Chinese bel canto singers received one-on-one tutoring from Italian musicians during an event at the National Center for the Performing Arts that took place from May 9 to 13.
Chinese singer Liang Wanchun from Xi'an Conservatory of Music won a scholarship to a threeweek summer course, which will take place in the Tuscan seaside town of Castiglione della Pescaia, Italy, in July 2020.
Launched in 2004 in honor of Hungarian maestro Georg Solti, the Georg Solti Accademia gives young bel canto singers from around the world who are at the start of their careers the opportunity to attend master classes and cultural exchanges in Italian opera and singing.
In 2016, the Georg Solti Accademia was officially launched in China by establishing a cooperative relationship with the NCPA.
During the past three years, 23 Chinese singers received one-on-one tutoring as part of the program.
This year, artistic director and co-founder of the Georg Solti Accademia, Jonathan Papp, vocal music director Stefano Baldasseroni, celebrated soprano Barbara Frittoli and bass vocalist Giacomo Prestia visited Beijing to give lessons to the Chinese students.
"Every year we come to China and meet young Chinese singers, who are talented and faithful," says Papp, who is also a pianist and was trained at the Royal Academy of Music in London.
He adds that for the first time, the Georg Solti Accademia has held exchange programs for about 30 Chinese vocal training teachers in Beijing to communicate with the Italian coaches.
Solti died in 1997.
According to Candice Wood, the executive director of the Accademia, Solti believed in handing down knowledge from one generation to another, as that was what he learned from his masters.
"It was his dream to launch a program for young singers," says Wood, who co-founded the Accademia in 2004 alongside Valerie Pitts, wife of the late maestro Solti, and Papp.
After a first round of selection, which took three months to complete, 25 Chinese singers got a chance to audition in Beijing on May 8.
"We had an intense week. The Chinese students worked hard to prepare for their repertories during the audition and we wanted to give them sustainable techniques, which will benefit them in the future," says Italian soprano Frittoli, who made her Metropolitan Opera debut in 1995 as Micaela in Carmen, kicking off a major international operatic career.
"One of the biggest challenges for the Chinese students is to sing in Italian, which is very different from the Chinese language."
The soprano adds that when she started her career, she didn't have the opportunity to receive training by attending such master classes, which she considers crucial for young singers.
"It is a good platform for young musicians at a very critical moment in their development," she says.
Chinese baritone Shang Chunlai, 26, who hails from Northeast China's Jilin province and studies opera singing at Northeast Normal University, won the opportunity to study in Italy for three weeks last summer.
Speaking about the program, he says: "The coaches taught me how to sing in Italian, to know my voice and most importantly, they taught me to sing as the character I was portraying.
"I also enjoyed experiencing the Italian life and culture as it was my first trip to Italy."