Chinese artist seeks to take dulcimer music near and far
China Daily | Updated: 2019-05-22 11:20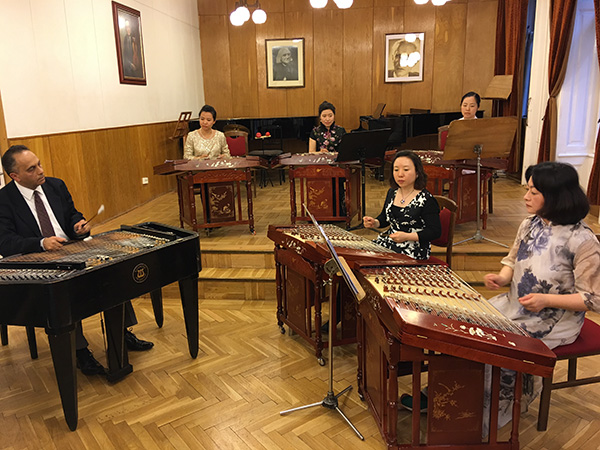 BEIJING - Holding two bamboo mallets, one in each hand, and alternately hitting the strings on a trapezoid-shaped wooden instrument, Liu Yuening is consumed by the reverberating notes.
Liu, 54, a Chinese dulcimer artist and professor at the Central Conservatory of Music in Beijing, has made friends all over the world through her performances.
Music can traverse language and geography to bring people closer, according to her.
Liu says the dulcimer originated in the Middle East and has traveled to more than 20 countries over thousands of years. It was introduced to China through the Silk Road more than 400 years ago. A Chinese dulcimer, also known as yangqin, is a localized instrument that has a unique sound.
"Now various dulcimers are played in Asia, Europe and other parts of the world. They share the same fundamentals, and variants bloom in different nations with their unique characteristics," Liu says.
There are many dulcimer artists in Asian countries such as India and Japan, as well as Iran.
Liu helped to establish the Asian Dulcimer Association in 2018, with the aim of building a platform for the integration and development of dulcimer music in Asia.
She says she hopes to "build a stage to share the beauty of dulcimer music and promote a dialogue of civilizations" through the instrument.
"It also serves as a platform for Asian dulcimer artists to go international," Liu says of the association.
Liu has spent more than 10 years sharing traditional Chinese music overseas.
In 2009, she was extended the opportunity to study Indian music at the University of Delhi and conducted cultural exchanges with local musicians.
In India, the dulcimer is called the santur. And while introducing yangqin to the Indian audience, Liu would refer to it as the santur's "Chinese cousin" to establish a musical connection. She also staged performances with Indian santur artists and tabla drum performers, creating a blend of Indian and Chinese music.
Liu says she has been a fan of Indian poet and philosopher Rabindranath Tagore, Asia's first Nobel laureate, since she was young. In 2011, she joined a group of Indian musicians for a concert to commemorate Tagore's 150th birth anniversary.
"Music has brought people from different cultures closer," Liu says.
Liu also promotes the Chinese dulcimer beyond Asia. In 2012, she helped set up the Music Confucius Institute at the Royal Danish Academy of Music in Denmark, which offers courses on traditional Chinese musical instruments, including yangqin.
"Compared with language and general concepts of Chinese culture, music is an easier way for our country to be understood. It helps present a multidimensional and panoramic view of China," Liu adds.
The increasing interest in traditional Chinese music among foreign audiences has led Liu to think of effective ways to share the music overseas.
"Promoting traditional Chinese music does not mean simply showcasing an exotic music style to a foreign audience. One way to win the hearts of foreign audiences is to integrate it with local musical traditions," Liu says.
In January, Liu and some other Chinese dulcimer artists staged performances by combining the dulcimer with elements of American country music and jazz at the Second International Dulcimer Music Festival at the Eastman School of Music in the United States.
"The Chinese dulcimer has its unique charm and through its fusion with Western music, the ancient instrument shows new vitality," Liu says.
The Third International Dulcimer Music Festival will be held in Beijing in August, and artists from Japan, India, Austria and the US are expected to perform and exchange views on the instrument.
"I hope the musical exchange will contribute to more communication between cultures," Liu says.
Xinhua