Protesters rally to block new statewide bans on abortion
By BELINDA ROBINSON in New York | China Daily Global | Updated: 2019-05-22 23:32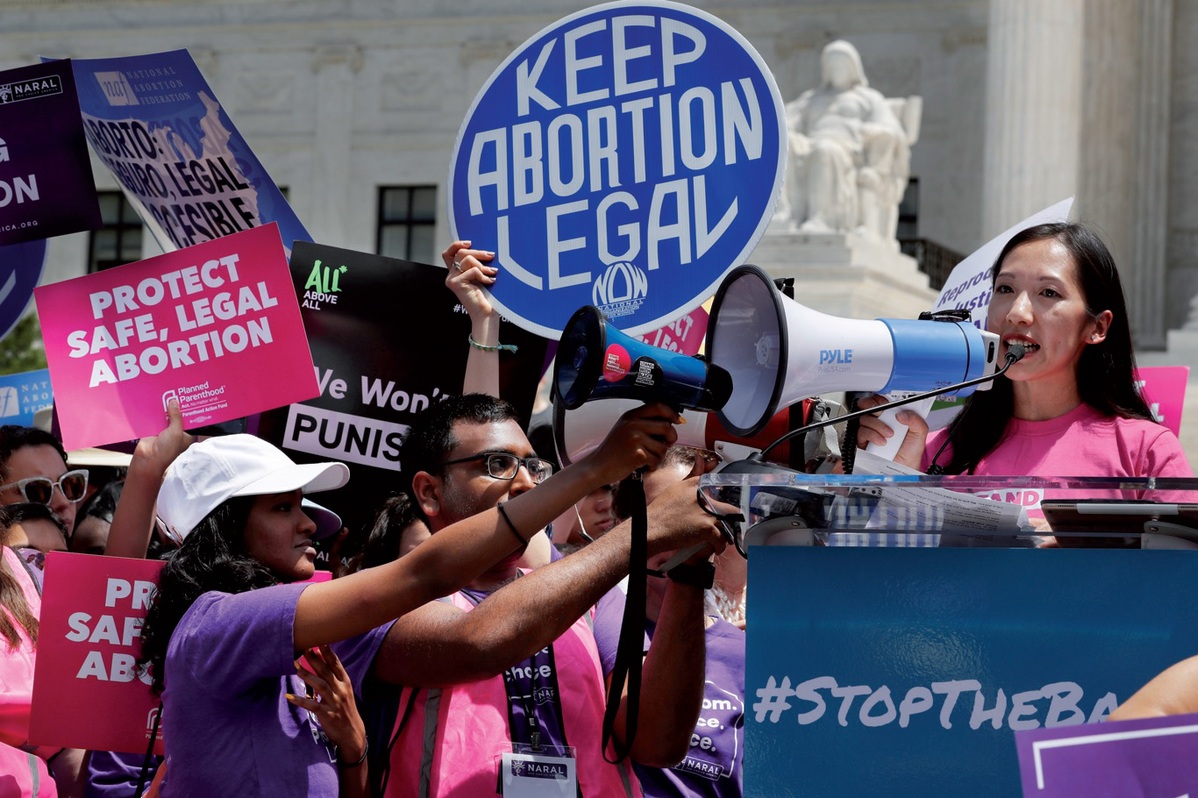 Hundreds of rallies protesting stringent new state abortion bans and laws were held across America on Tuesday at statehouses, town squares and court houses as women in the tens of thousands demanded the right to choose what to do with their own bodies.
The "Stop the Bans" protests that started at noon were in reaction to sweeping changes made in conservative-run states like Alabama, where a recent law imposes the harshest limitations of any state in the country by prohibiting nearly all abortions at any point during a pregnancy.
Georgia, Kentucky, Mississippi and Ohio also have enacted statutes banning abortions if a fetal heartbeat can be detected.
Abortion-rights activists at the rallies slammed the moves as thinly veiled attempts to challenge the Supreme Court's 1973 Roe v Wade decision to legalize abortion.
Thousands of women and men rallied in Washington in front of the Supreme Court, where they held pro-choice placards reading "Abortion is a human right!" and wore pink or purple T-shirts. Their rallying cry was "Stand up, fight back!" and "This is what democracy looks like!"
With abortion expected to be a key issue in the 2020 presidential election, several Democratic 2020 presidential hopefuls appeared with protesters on the front steps of the Supreme Court in Washington, including US senators Amy Klobuchar of Minnesota, Kirsten Gillibrand of New York, Cory Booker of New Jersey and Bernie Sanders of Vermont.
Klobuchar shouted into a bullhorn from a podium: "This is the beginning of a long march. This is the beginning of President Trump's war on women. If he wants this war, he will have this war and he will lose."
"The legislators in Alabama will not have the last word," Booker told the protesters. "Those legislators in Georgia will not have the last word. And just as it was in the Civil Rights Movement, a governor from Alabama will not have the last word on our rights."
Although he did not address the protesters from the podium during the rally, Sanders told reporters outside the Supreme Court: "The right for a woman to control her own body is a fundamental Constitutional right and we have got to do everything we can to defend it."
Former presidential candidate Hillary Clinton weighed in on Twitter: "In the face of extreme abortion bans sweeping the country, we all have to stand up for women's rights."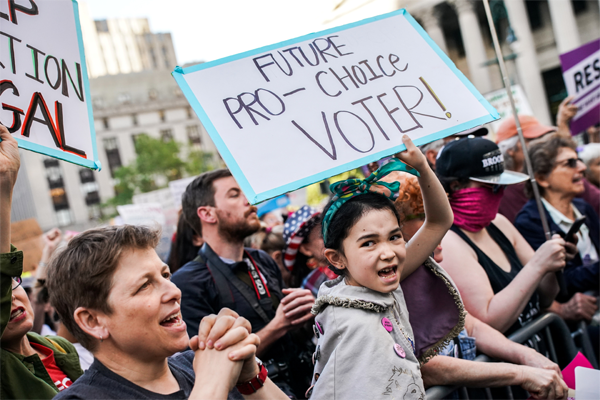 The protests were organized under the #StopTheBans hashtag and included more than 50 groups, including Planned Parenthood, the American Civil Liberties Union and NARAL Pro-Choice America.
A spokeswoman for #Stopthebans, said in a statement: "This is Trump's anti-choice movement ... and it's terrifying."
Hundreds attended a demonstration in Foley Square in New York City on Tuesday evening.
"Hands off the bodies of women. Hands off the rights of women," Mayor Bill de Blasio, who recently announced he was running for president, said at the rally.
Protesters also gathered in downtown Philadelphia, chanting "Abortion is Healthcare", "Vote Them Out," and "My Body, My Choice."
In Georgia, demonstrators stood on the steps of the Georgia State Capitol with signs that read: "Stop the bans" and "Don't take away our health care."
In Phoenix, Arizona, demonstrators dressed like handmaids from the television show The Handmaid's Tale and wore signs around their necks reading #WarOnWomen.
The backlash to the bans ratcheted up after Alabama Governor Kay Ivey signed the strictest abortion law in the nation last week. It makes performing an abortion a felony, punishable by up to 99 years even in cases of rape or incest. An abortion is only legal if a mother's health is in danger.
On May 17, Missouri approved the ban of abortions after eight weeks, with no exceptions in cases of rape and incest. At least 16 states, mainly in the South, have passed or are considering so-called heartbeat laws.
In Vermont, Governor Phil Scott, a Republican, is expected to sign a bill passed by the Democrat-controlled state legislature providing some of the strongest protections of abortion.