US unwise to enlist Google in Huawei attack
By Victor Onyango | China Daily | Updated: 2019-05-23 07:03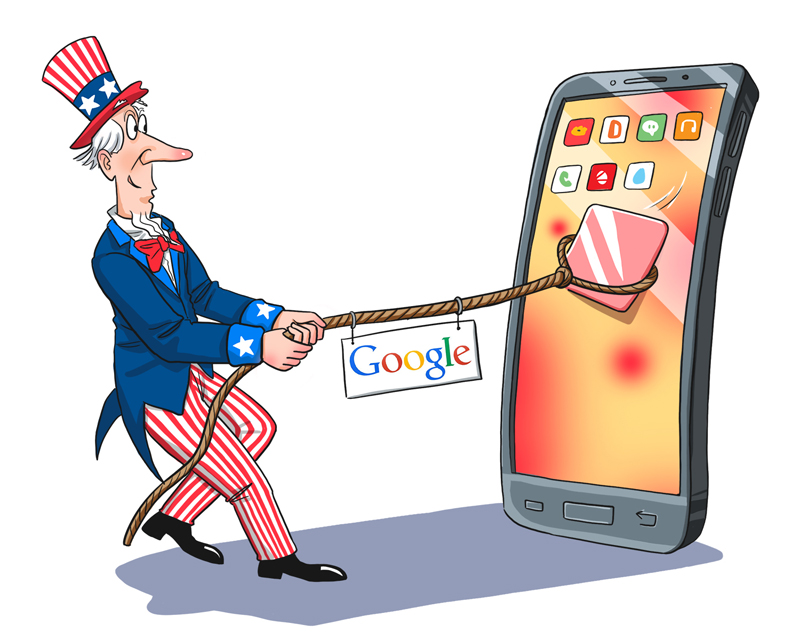 Now that Google has joined the trade dispute between the United States and China, it seems Washington is more concerned about who would dominate the telecommunications and high-tech sectors rather than global growth.
Google claims it is executing the White House's executive order, which has blacklisted Huawei, to deny the Chinese 5G technology giant security updates and technical support. As a result, new Huawei devices would not have apps such as YouTube and maps.
Certain issues in the Sino-US trade dispute center on Huawei because the Chinese enterprise is a leader in 5G technology and the US feels it is losing the tech battle to China.
That Google has joined the US administration's campaign against Huawei shows building a win-win partnership in global free trade has become even more difficult. Given the monopolistic ownership of advanced technologies and the entry barriers to international market, only a handful of telecom equipment makers and search engines dominate the global market.
And since the ownership of technologies is vital to any country's economic development, neither China nor the US are expected to sacrifice their interests. For instance, China cannot become a truly prosperous country without becoming a big tech power and consumer market. But the US seems determined to prevent China from achieving that goal.
The current technology "cold war" is disturbing for people who love quality products and want to see technological advancement that benefits everyone regardless of their nationality. But political symbolism is increasingly becoming the language of choice for the White House to communicate with the world, especially with China.
Still, Google should not have joined the Sino-US dispute, because US and Chinese companies need each other to advance their businesses globally. The two enterprises can still work together to find out how to include more Google services on Huawei's smartphones.
Besides, Huawei can help Google to gain a bigger market share for its Play Store, as it is the third-largest smartphone vendor worldwide-Huawei increased its global smartphone market share to 14.7 percent last year against Apple's 14.9 percent and Samsung's 20.9 percent, according to a report by the International Data Corporation, a US market research and analysis company that specializes in information technology and telecommunications, in January 2019.
So, if Google wants to grab a share of the Chinese market, it would do better to partner the Chinese company. After all, Huawei has a strong presence in many markets and Google wants to bring as many consumers as possible under its fold.
Huawei also has major stakes in many countries' wireless network industries, and provides equipment for many major carriers across the globe. Even after the US has alleged that Huawei equipment could be used to spy on other countries and their companies, the Chinese company continues to have a strong presence in many markets.
Google has launched Project Fi, a phone plan. And Huawei can help it to expand the reach of internet further, by providing higher speed and better services to consumers. So Google will only harm itself by severing ties with Huawei, because the latter has the equipment, expertise and the patents that it needs to fulfill its goals.
Huawei has taken the lead in developing 5G technology, which has the potential to revolutionize the global economy.
On the other hand, the US has been indifferent to the intensifying calls for building infrastructure facilities to promote 5G technology, which shows the once undisputed global tech leader is trailing in the race to capitalize on advanced technologies. It also shows that Asian tech companies such as Huawei have established a lead in advanced technology despite the US' mudslinging campaign against them.
The author is a journalist with Nation Media Group (Daily Nation), Kenya. The views don't necessarily represent those of China Daily.