Chinese ambassador awarded Russian Order of Friendship
By REN QI IN MOSCOW | chinadaily.com.cn | Updated: 2019-05-24 14:34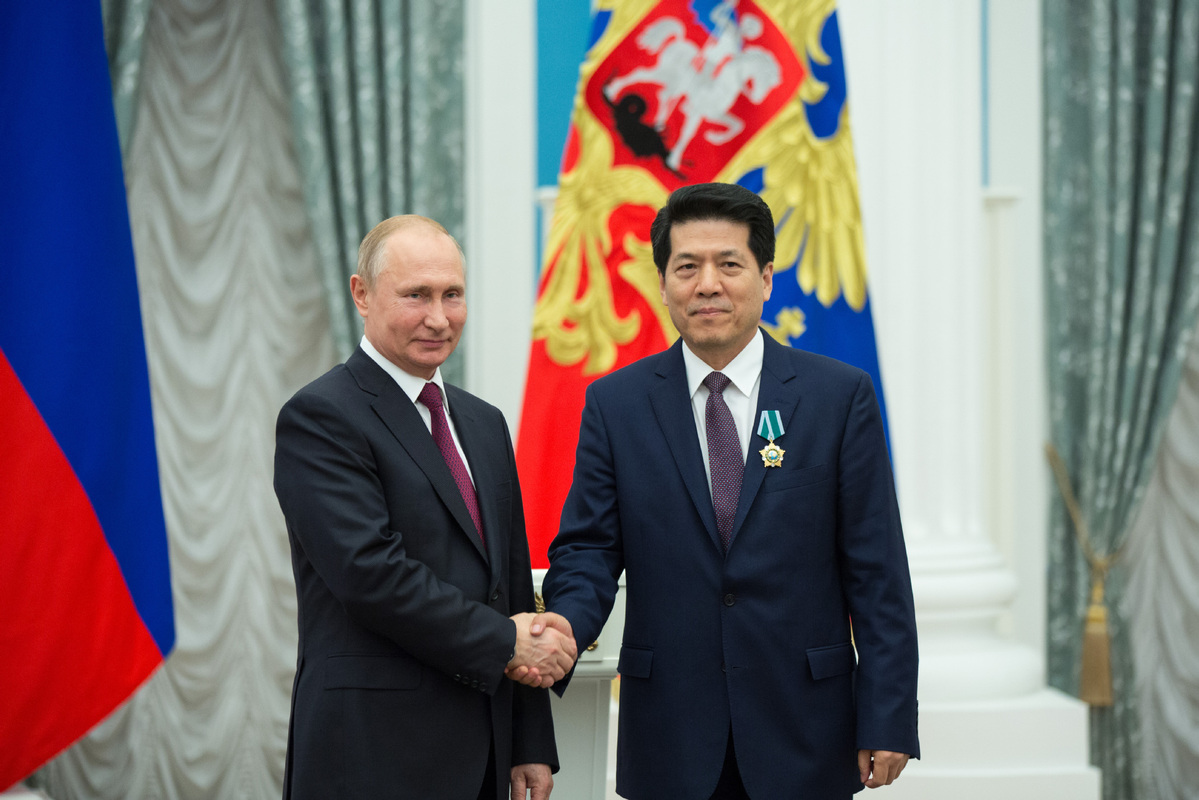 Chinese Ambassador to Russia Li Hui was presented the Order of Friendship by Russian President Vladimir Putin on Thursday.
Li said it is a great honor to be awarded the Order of Friendship during the ceremony in the Kremlin, which was broadcast live by Russia's state television channel.
The Order of Friendship is a Russian state decoration to reward those who contribute significantly to better relations and closer cooperation between peoples and nations.
Li said the order is not only an honor for himself, but it also represents the friendship between the Russian and Chinese people.
The senior diplomat said President Xi Jinping and President Putin have led the Sino-Russian comprehensive strategic partnership of coordination to a higher level, and pointed out the direction for the development of China-Russia bilateral relations in various fields.
At the ceremony, Putin hailed all who were awarded the state decoration for "their work and impressive achievements".
"Your breakthrough ideas and brilliant endeavors make a tremendous contribution to its development and to our common progressive movement forward. Your exemplary lives inspire millions of people to strive for even greater achievements and to work for the benefit of your fatherland," Putin said to the more than 30 medalists who are representatives of various sectors, including pilot cosmonauts; academic, cultural and sports figures; industrial and agricultural workers; and foreigners.
Putin signed a presidential decree earlier this month awarding Li with the honor for his contribution to strengthening friendship and cooperation between the two countries as well as his fruitful work on the convergence and mutual enrichment of their cultures.
Li is the second Chinese individual to receive a state decoration from Russia in the Kremlin, as President Xi was presented by Putin the Order of St Andrew, the highest state award, in the Grand Kremlin Palace two years ago "for his outstanding contribution to strengthening friendship and cooperation between the people of Russia and China".