Qingdao set to make waves with new international music festival
By Cheng Yuezhu | China Daily | Updated: 2019-05-30 08:40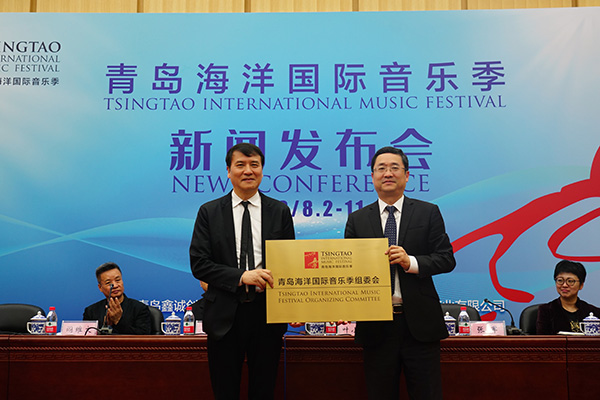 Qingdao, a popular coastal destination in East China's Shandong province, is due to welcome its first ocean-themed music festival, the Tsingtao International Music Festival, this summer.
The festival will run from Aug 2 to 11 at the Qingdao Yuedu Music Valley that lies in the city's Jimo district.
Centered around the theme of the ocean, the festival will consist of 10 concerts that showcase representative Chinese classical and folk music compositions, works by Western classical masters and other original compositions created by artists especially for Qingdao.
A festival orchestra has been formed specifically for the event, which comprises 95 musicians drawn from orchestras based in China and from abroad. The orchestra plays a vital role in the festival, as it is responsible for all the major performances including both the opening and closing ceremonies.
"For this first year, the festival will only run for 10 days, but if the festival is extended in future, we will have a lot more work to do," Ye Xiaogang, chairman of the Chinese Musicians Association and head of the symphony orchestra, said at a recent news conference promoting the festival.
For the opening ceremony, the orchestra will perform La Mer (The Sea) by French composer Claude Debussy, under the baton of Hu Yongyan, the Chinese-American conductor and music director of the festival.
Originality being a core value of the festival, a number of Chinese composers have been invited to write songs and compositions for the symphony orchestra that pertain to the rich history and culture of Qingdao.
The closing ceremony will feature a symphony concert titled The Sound of the Sea, featuring The Light of Qingdao, an original composition written by Ye Xiaogang, Zhang Qianyi, Yin Qing and Shu Nan.
In celebration of the 70th anniversary of the founding of the People's Republic of China, the Qingdao Symphony Orchestra will present a concert titled Ode to the Red Flag in the factory of FAW Jiefang Automobile.
As well as songs composed for Qingdao, the concert will also include classic patriotic works such as the eponymous symphonic poem, the Yellow River Piano Concerto and the song, My Chinese Heart.
"We have chosen this special venue for the concert so we can truly bring music to the factory. I believe the choice of the venue is itself a very innovative and intriguing proposition," Ye says.
The Qingdao Yuedu Music Valley is a music resort that covers concert halls, a museum, an exchange center and other cultural organizations in its 3-square-kilometer area, with the aim of helping Qingdao to evolve into an even more modern and dynamic international city.
"We will continue to host the music festival every year in the future. Through this festival, we aim to enhance the development of the city's cultural sector and introduce more artistic events to Jimo district and Qingdao city," says Zhang Jun, secretary of the Jimo district committee of the Communist Party of China.