Hard act to follow
By Chen Nan | China Daily | Updated: 2019-06-01 10:54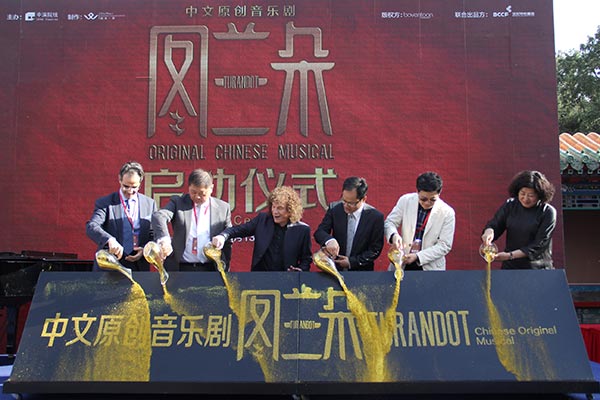 When French-Italian composer Richard Cocciante brought his famous French musical, Notre Dame de Paris, to Beijing over a decade ago, he was approached by a local musical producer who invited him to compose for a new Chinese-language musical. When he discovered that the work was going to be based on Giacomo Puccini's classic three-act opera Turandot, Cocciante politely declined.
"Puccini's music is incomparable and unsurpassable. I felt so small in front of him," says Cocciante during his recent visit to the Forbidden City, or Palace Museum, in Beijing.
However, over the years, he changed his mind and he now plans to stage his own version of the story through music. Working with partners including the China Arts and Entertainment Group, the Chinese musical production of Turandot is scheduled to embark on a national tour in May 2020.
Back in 1998, Turandot was staged at the Forbidden City in Beijing. Directed by Chinese filmmaker Zhang Yimou and conducted by Zubin Mehta, the story about a Chinese princess was performed in the setting originally intended by Puccini.
"That was a phenomenal performance. With this musical, we want to recount the original story, but from a fresh perspective," says Li Jinsheng, president of the China Arts and Entertainment Group, who announced the production at the Forbidden City alongside the composer.
Puccini died of cancer in 1924 before he could complete the third act of Turandot. For Cocciante, since the story is based in China and enjoyed all around the world, he used this as the core idea behind his composition - a fusion between East and West.
"It will be a completely new musical and since it's a joint effort between Chinese and European artists, it will be a work for the entire world," says Cocciante.
The creative team behind the new musical will feature Chinese lyricist Chen Su, a member of the Opera National de Paris who helped adapt Victor Hugo's timeless novel into a Chinese stage production; lighting and stage set designer Jacques Rouveyrollis who designed the light show for the Eiffel Tower's 120th anniversary celebrations; and the Academy Awardwinning costume designer Gabriella Pescucci, who has worked on films such as The Age of Innocence, Once Upon a Time in America and Charlie and the Chocolate Factory.
"I will work with Richard Cocciante on developing the story for the musical. We will then work on the lyrics and music together since the Chinese language has different tones," says Chen.
Cocciante started his career as a singer and composer in Europe in the 1970s by working with popular music acts like Vangelis and Toto, and as a solo artist.
He has composed for musicals, including The Little Prince and an Italian version of Romeo and Juliet. His most successful musical, Notre Dame de Paris, is still touring worldwide. After its sellout debut at Le Palais des Congres in Paris on Sept 16, 1998, the French musical has now been seen by more than 8 million people around the world.
The market for musicals in China has been developing rapidly over the past few years, according to One World Cultural Communication Co Ltd, a subsidiary of the China Arts and Entertainment Group. In 2018, 775 musical performances were staged in Beijing alone, attracting audiences in excess of 400,000.
As well as touring China, the production will also be taken on a worldwide tour supported by the Silk Road International League of Theaters, an association set up the China Arts and Entertainment Group in 2016. The league, which represents 107 members from 37 countries and regions, serves as a platform for the performing arts and was set up to promote cultural exchanges between China and countries around the world.