Photo exhibition sprinkles stardust over Beijing's 798 Art Zone
By Chen Nan | China Daily | Updated: 2019-06-04 07:05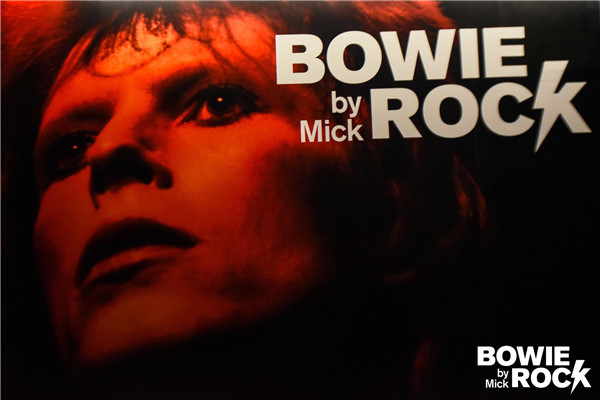 In 1972, David Bowie gave birth to arguably his most famous alter-ego, Ziggy Stardust-an androgynous alien with spiky tangerine hair, theatrical makeup and brightly-colored glam rock attire. An eponymous ode to the character appears on Bowie's album, The Rise and Fall of Ziggy Stardust and the Spiders From Mars, which was released that year.
With the album, Bowie redefined glam rock and spent 18 months in the years 1972 and 1973 touring the United Kingdom, North America and Japan.
During the tour, Bowie invited a Cambridge University graduate, Mick Rock, to be his personal photographer. They first met backstage in March 1972.
Now, 65 large framed photos by Rock, which capture Bowie in his dressing room, his transformation into Ziggy Stardust, shots of his live performances and candid, private moments between the shows, are being displayed as an exhibition, entitled Bowie by Mick Rock, at 798 Space in Beijing's 798 Art Zone from May 29 to Aug 4.
The exhibition, which is supported by Seattle's Museum of Pop Culture, or MoPOP, a nonprofit museum dedicated to reflecting contemporary popular culture, and co-organized by Beijing-based indie record label, Modern Sky, also showcases performance footage of Bowie, interviews with Rock, who talks about directing Bowie's first four music videos, as well as photos of other music legends of the era taken by Rock, including Lou Reed, Iggy Pop and Debbie Harry. It's MoPOP's first exhibition to be staged in Asia.
"Mick Rock's great eye, his unlimited access to Bowie and the trust they shared allowed him to capture, in hundreds of photographs and four music videos, the artist's transformation into Ziggy Stardust and the '70s most intriguing and otherworldly rock star," writes Jasen Emmons, director of curatorial affairs at MoPOP, of the exhibition.
The exhibition opens with a quote from Bowie: "Mick sees me the way I see myself."
It was what Bowie said to his manager when he reviewed the photos that Rock had taken for him.
Under one photo, shot in a dressing room in Scotland in 1973, a line explains Bowie's creation of Ziggy Stardust, which was heavily influenced by two classical forms of Japanese theater: Kabuki and Noh. After a six-city tour in Japan in 1973, Bowie began using a special Noh theater makeup palette, which he applied himself.
Between photos, quotes from Bowie are displayed, like "I wish myself to be a prop, if anything, for my songs. I want to be the vehicle for my songs. I would like to color the material with as much visual expression as is necessary for that song".
Rock, who was born in London in 1948, continued to create iconic images of many other great artists, including Pink Floyd co-founder, Syd Barrett, and Queen lead vocalist, Freddie Mercury.
"I got pictures of David eating, drinking coffee, having a cigarette before going onstage, making himself up. I even got shots of him asleep," says Rock. "I regarded myself as a guardian of his image, and that's true to this day."
During the 1970s, Bowie released 11 albums, including five which are considered as classics. The legendary artist died on Jan 10, 2016, two days after he released his 25th studio album, entitled Blackstar.