Chinese folk legend Liu Sanjie gets modern dance makeover
By Cheng Yuezhu | China Daily | Updated: 2019-06-06 07:35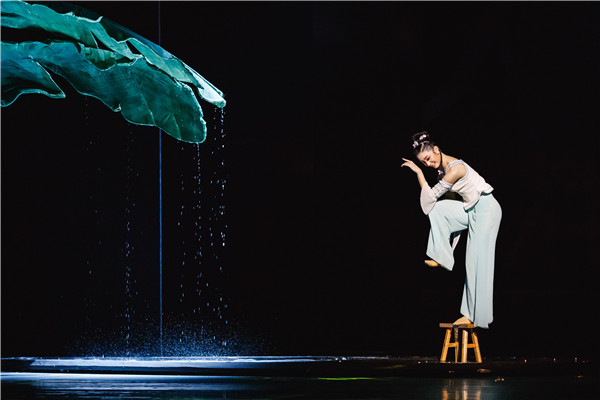 Among the myths and legends of the Zhuang ethnic group, Liu Sanjie, a folk singer known as the "Song Fairy", is perhaps one of their most iconic figures. With her songs, it is said, she gives a voice to the impoverished and people who suffer from inequality as she sings about her yearning for love.
Stories about the Song Fairy have many versions and have been adapted into various productions for stage and cinema, one of the most renowned being the 1960 film, Liu Sanjie, which left China with several timeless folk songs.
To celebrate the 70th anniversary of the founding of the People's Republic of China, an eponymous dance drama launches a nationwide tour beginning with a production at the Tianqiao Performing Arts Center on May 22.
Roughly based on the plot of the 1960 film, the dance drama tells the story of how Liu Sanjie and the male protagonist, A Niu, fight against oppressive forces, express their love for each other and demonstrate the integrity and courage of the Zhuang people.
Although Liu Sanjie is known for her euphonious singing, the performance uses dance moves to express the characters' emotions and narrate the story, for example, by presenting the romance between Liu and A Niu as a dance duet.
The classic folk songs have also been preserved, as the performance uses the original soundtrack from the film in certain scenes.
As the story is set in the Guangxi Zhuang autonomous region, its choreography includes dance elements unique to the Zhuang ethnic group, such as the frog dance and phoenix hand gesture.
Meanwhile, the show also endeavors to update the retelling of the story by incorporating popular modern dance styles such as street dance and Latin techniques.
"We have integrated these modern dance elements into the foundation of folk dance to appeal to the aesthetics of the younger generation," director Ding Wei says. "It is necessary for young people to value our folk culture in order for our culture to be remembered and inherited."