Shanghai to accelerate development of fuel cell vehicle industry chain
By Wang Ying in Shanghai | China Daily | Updated: 2019-06-11 08:58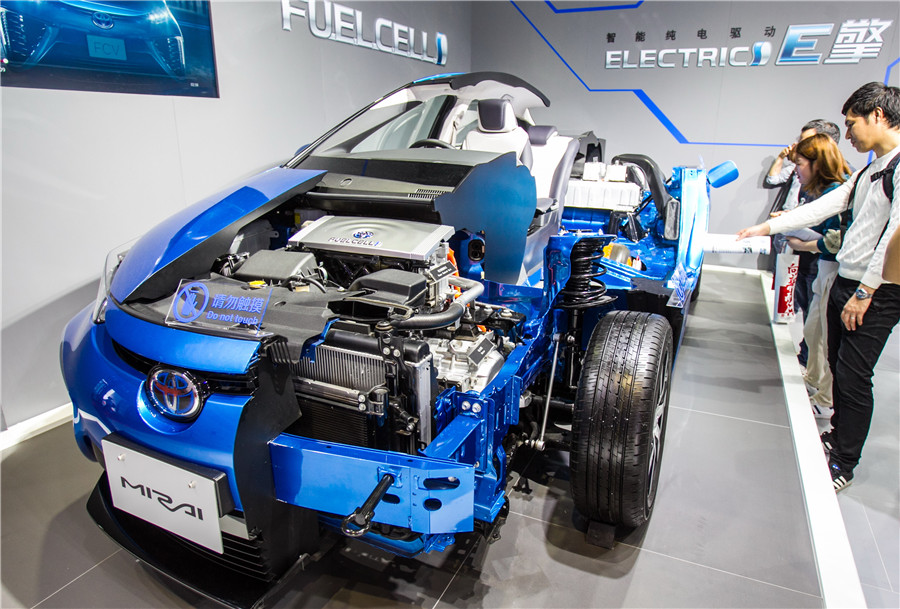 Shanghai aims to establish a complete hydrogen energy and fuel cell vehicle industrial chain in its northwestern Jiading district, a new effort by the city to greatly develop the fuel cell industry, experts said.
On Monday, Jiading district government announced its views on the development of the hydrogen fuel cell vehicle industry and hydrogen fuel cell vehicle industrial cluster planning.
According to the plan, an ecosystem for the hydrogen industry, a hydrogen park occupying over two square kilometers, will be established, and by 2025, the annual output value of the fuel cell vehicles will reach 50 billion yuan ($7.21 billion).
Lu Fangzhou, head of Jiading district, said: "Hydrogen fuel cell technology is viewed as the ultimate solution for new energy vehicles. In line with the national strategy, Jiading will do its best in fully supporting breakthroughs in hydrogen fuel cell vehicle technology, research and development, demonstration, application and industrialization, in order to build a hydrogen park with global competitiveness, and to take a lead in the new energy vehicle industry."
Hydrogen energy has been in the spotlight in the past few years, and the development of the hydrogen industry was mentioned in the Government Work Report for the first time in March.
According to current plans, the nation aims to have 1,000 hydrogen filling stations and 1 million hydrogen-powered vehicles by 2030, according to Cai Ning, director of Jiading district's economic committee.
"Shanghai was the first city in the nation to launch a city-level fuel cell development plan," said Gan Pin, deputy director of Shanghai Municipal Science and Technology Commission.
According to Gan, Shanghai municipal government announced its fuel cell development guideline in September 2017, setting a target of establishing between five and 10 hydrogen filling stations and having 3,000 hydrogen vehicles by 2020.
Against the industry backdrop, Jiading district will further promote the completion and healthy development of a hydrogen and fuel cell vehicle industrial chain, and the goal is to reach an annual output of 50 billion yuan by 2025. The total number of hydrogen filling stations within the district will reach six by the end of this year.
"Whoever seizes the opportunity of developing hydrogen vehicles masters the ultimate future of new energy vehicles," said Shen Huadi, deputy head of Jiading district.
As many as 20 supporting measures were announced on Monday by Jiading district to encourage project establishment, enterprise cultivation and development, technological innovation and financial support covering enterprises throughout the sector.
The 2.15 square kilometer hydrogen energy park is located in Anting, Jiading district, and it is also part of Shanghai International Auto City.
The district has been exploring hydrogen energy applications in recent years. As early as 2007, the district launched Shanghai's first hydrogen filling station, and to date it has provided 38 metric tons of hydrogen energy for vehicles, according to Xiao Mingyu, general manger of Shanghai Yilan Energy Technology Corp Ltd, the operator of the hydrogen filling station.