Chinese folk orchestra show in Hollywood
Xinhua | Updated: 2019-06-25 09:50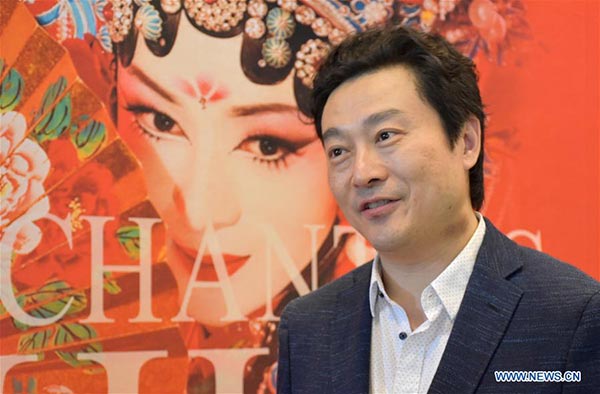 For American director and writer Kurt Paul MacCarley, the Chinese violin concerto Butterfly Lovers not only took him through a beautiful and sad love story but has also inspired him to collaborate with Chinese musicians for his new movie Shanghai Cinderella.
"I cried in my heart. It was very emotional," MacCarley said after watching the show on Friday.
"We are casting (for) the new movie. The music solo inspired me tonight to make this music collaboration."
The concerto, performed by renowned Chinese violinist Lyu Siqing, illustrates the folktale of the star-crossed lovers Liang Shanbo and Zhu Yingtai, known as the "Chinese Romeo and Juliet".
This musical was part of a grand folk music performance entitled Enchanting China, staged at Hollywood's Dolby Theatre in Los Angeles. Presented by the China Broadcasting Performing Arts Troupe, the show featured diverse forms of traditional Chinese art, such as orchestral music, Peking Opera pieces, violin concerto and banhu (an ancient traditional instrument) concerto.
The Chinese orchestral piece Songs of the States kicked off the concert on Friday. More than 3,000 people watched it at the Dolby Theatre, where the annual Oscars ceremony has been held.
"Chinese folk music is so beautiful and charming. I just love it, "says Gabrielle Laherram, a Los Angeles local resident.
She says it was her second experience watching a Chinese folk music show after the first in San Francisco years ago.
"I hope to see more Chinese performances here, and I'm very interested to learn more about Chinese culture."
The Peking Opera piece Ode of Pear Blossoms tells the love story of Tang Dynasty (618-907) emperor Li Longji and his favorite concubine Yang Yuhuan. The Chinese orchestral piece Song of Wind gives the audience an intimate overview of people's singing and dancing in North China's Inner Mongolia autonomous region.
When Terracotta Warriors Fantasia-symphonic exploration of Chinese orchestra music-called an end to the performance, the full house was immersed in applause.
"Chinese musicians are very disciplined and precise, unlike American artists who are more laid back. I hope to see more interactions and cooperation between the two countries' artists," says Darrell Holllinquest, a local artist.
Zhang Gaoxiang, deputy head of the China Broadcasting Performing Arts Troupe and show director, says the performance aims to showcase Chinese culture and promote cultural dialogue.
Chinese consul general in Los Angeles Zhang Ping says the performance of the Chinese folk orchestra in the United States is a very good way to promote China-US cultural exchanges.
"Chinese folk music belongs not only to China but also to the world," he says, adding that he hopes more Chinese cultural groups will visit the US to help Americans better understand China.
Los Angeles is the first stop of the troupe's US tour. The troupe will also head to San Francisco and Seattle.