Experimental new play casts audience members in roles
By XU LIN | China Daily | Updated: 2019-06-28 08:15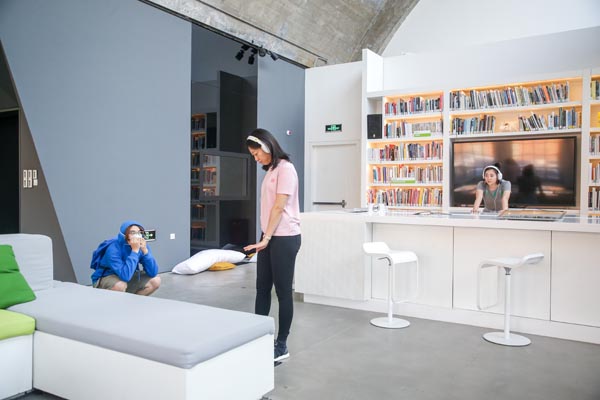 The play sheds light on migration issues in this era of globalization. It showcases the different reasons why people emigrate to foreign countries, such as to build a better life or to benefit their children.
"Each character has one's own bittersweet journey," Wang says.
In his play, a female mosquito from Uruguay is taken to India with a piece of meat, as she's feeding on it. When she gets on a plane from India to Finland along with humans, she meets a male mosquito. She tries to fly back to a warm place after mating. An elderly turtle faints after consuming fuel at a drilling platform and then is trapped in an aquarium before finally escaping.
Wang says different props were used to help the audience members empathize with each of the characters.
For example, one actor drinks red juice with a straw to simulate the blood-sucking act of the mosquito. When the actor sits on an electric cushion, the warmth symbolizes the meat on which the mosquito lives has been fried in oil as food.
Wang says many tests and adjustments were made to the audio to ensure that the recordings were easy to understand, so the audience could have "the best experience".
Chinese actor Wang Xuebing, 48, recorded the narration part of the play earlier.
"The play explores the essence of art. It's like the performance art of Serbian artist Marina Abramovic, which delves into the relationship between the performer and the audience," says Wang Xuebing, who has acted in Black Coal, Thin Ice, a Chinese film that won the Golden Bear prize for best film at the Berlin Film Festival in 2014.
"Wang Chong imbues others with his enthusiasm for theater. That's also why I agreed to work with him," the actor says. "It's easy to come up with a story about animals rather than people. But the play uses animals as metaphors and their stories are touching."
Wang Xuebing says the final effect of the play depends on the audiences' understanding of the roles.
"I was a bit worried about the performances," he says. "But the audience should relax and have fun and enjoy performing their roles in the play."