A hero's tale heads home
By Chen Weihua | China Daily | Updated: 2019-07-09 09:11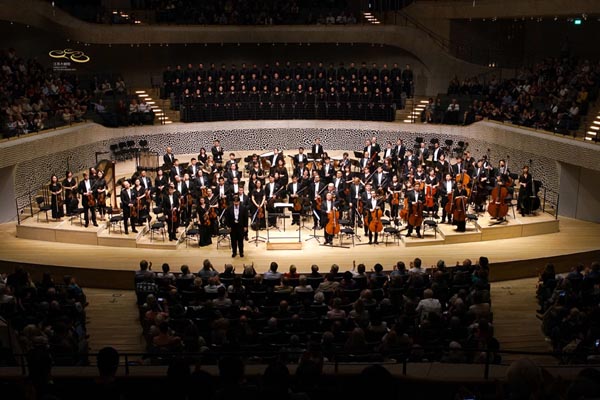 An opera production, The Diaries of John Rabe, that tells a tale of humanitarian heroism during the Nanjing Massacre of 1937 has opened in the German hometown of its protagonist to rave reviews, Chen Weihua reports in Hamburg, Germany.
When the Imperial Japanese Army advanced toward Nanjing in its all-out invasion of China, John Rabe, a German businessman working for Siemens in China, and 20 other foreigners established the Nanjing Safety Zone that sheltered 200,000 Chinese refugees.
A total of 300,000 Chinese civilians and unarmed soldiers were slaughtered by the Japanese army over a period of six weeks from December 1937, when Japan captured Nanjing, then the capital of China. The event is widely known as the Nanjing Massacre or the Rape of Nanking.
Rabe witnessed the Japanese atrocities firsthand and recorded them in his diary.
On July 6, The Diaries of John Rabe, a concert opera that tells of the tragedy of the massacre and of the heroic actions of Rabe and other foreigners, was staged in the Elbphilharmonie, a landmark concert hall along the river Elbe in the German port city of Hamburg, where Rabe was born on Nov 23, 1882.
It was a joint production by the Jiangsu Center of the Performing Arts and the Jiangsu Performing Arts Group for its European tour. An opera version was staged at the Berlin State Opera on July 3 and 4, and will be shown again in the Ronacher Theater in Vienna, Austria, on July 9 and 10.
The music of German composer Johann Sebastian Bach, including the Passacaglia and Fugue in C minor, is used heavily in the telling of the story.
The concert, with 17 chapters in 95 minutes, is relatively short compared with the opera version of the story. However, that did not stop it from moving the largely German audience. Their applause lasted for about 20 minutes over five curtain calls on Saturday.
Carsten Wiesbrock, an audience member, says he had never heard of Rabe before the show.
"I am surprised that we don't know about him in Germany," he says.
"I am proud of what he did, saving Chinese people."