Indian campaign to save water this summer
By MANOJ CHAURASIA in Patna, India | China Daily | Updated: 2019-07-10 09:12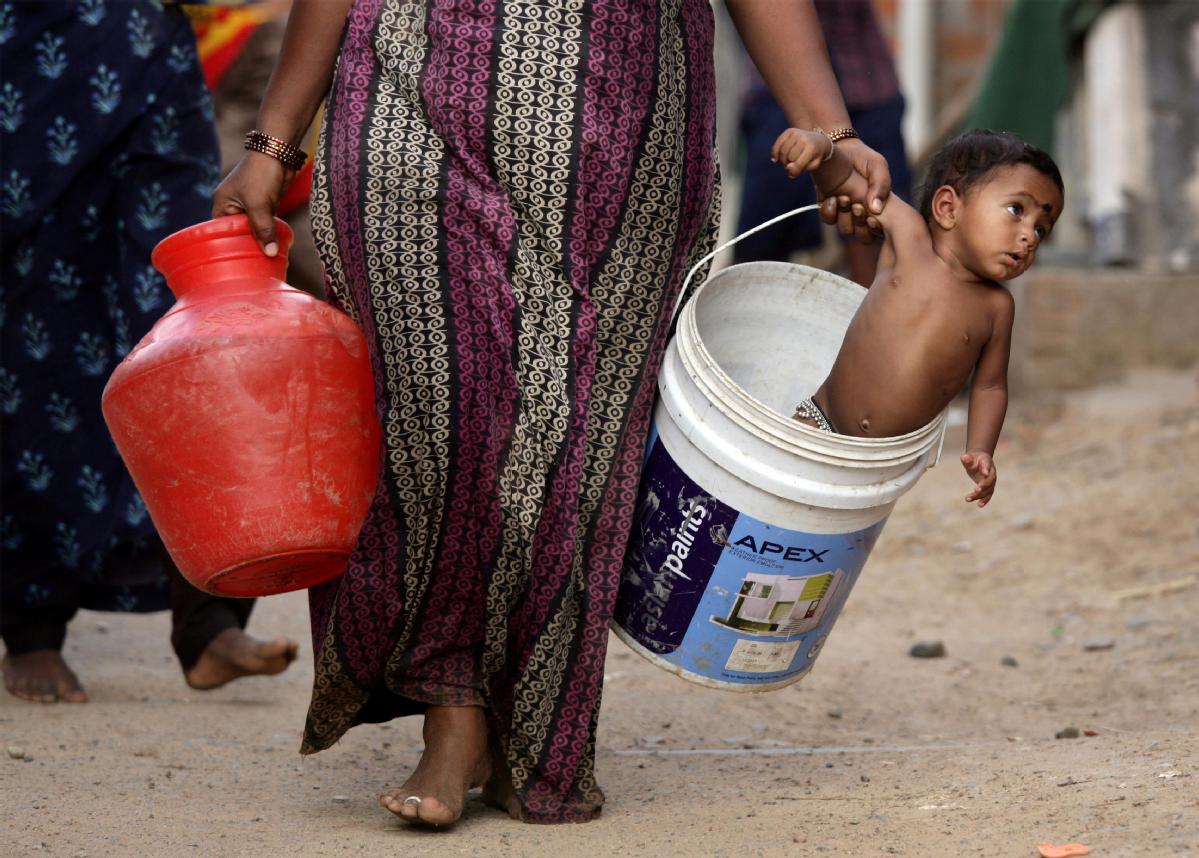 Groundwater may run out in 21 cities, including Delhi and Chennai, by 2020
Save water. The message for Indians this summer is loud and clear from national and local leaders and water experts.
Across India in 256 water-stressed districts, a massive campaign for water conservation and water security was kick-started last week by Gajendra Singh Shekhawat, the first to head the new Jal Shakti Ministry, which is charged with forming water policy and regulation of water resources.
A report from NITI Aayog, a government think tank, says the country is suffering from the worst water shortage in its history and millions of lives are under threat.
The causes: excessive groundwater pumping, wasteful water management system and years of insufficient rains due to erratic weather. In the week ending on June 26, India received 24 percent less rainfall than the 50-year average for the period, data from the India Meteorological Department showed.
According to the NITI Aayog report, at least 21 Indian cities, including Delhi, Bengaluru and Chennai, could run out of groundwater by 2020, affecting around 100 million people. It adds that the critical groundwater resources-which account for 40 percent of the Indian water supply-are being depleted at unsustainable rates.
"The situation is too desperate and concerning as rivers are drying up while the monsoon has gone erratic in recent years," said water expert Dinesh Mishra.
The campaign follows soon after Prime Minister Narendra Modi in his radio program, Mann Ki Baat, appealed to Indians to join hands for water conservation and create a public movement to save water and secure the future.
The campaign will focus on five objectives: water conservation and rainwater harvesting, renovation of traditional and other water bodies/tanks, reuse of water and recharging of structures such as bore wells, watershed development and intensive afforestation.
"The situation is very critical right now," said Mishra. "The government will have to act very fast to save the situation going out of control."
In the eastern state of Bihar, many water bodies have dried up or are on the verge of drying up. Among them is the Kanwar Lake Bird Sanctuary, considered Asia's largest freshwater oxbow lake, in central Begusarai district, which is on the verge of disappearing.
The state government has launched extensive renovation of tanks, ponds and other traditional irrigation systems and turned its focus on water harvesting to recharge groundwater.
The Bihar Ground Water Conservation Bill 2019 is soon to be presented at the current monsoon session of parliament with the twin objectives of ensuring better management and conservation. As groundwater is the main source of drinking water, the new law will empower the government to regulate use of groundwater and end unchecked exploitation.
Bihar was a water-surplus state till recently. Right now, as many as 280 blocks out of Bihar's total 534 are reeling under severe potable water crisis while the groundwater table has fallen in 184 blocks, explaining the severity of the situation.
"We have taken up the plan to renovate or restore around 1,400 water bodies in a phased manner," Bihar Minor Water Resources Minister Narendra Narayan Yadav said. "Of these, works have already begun on renovating 202 of them by the end of this year."
More puzzling for experts is the severest water crisis in the southern Indian city of Chennai, which barely four years back faced devastating floods that killed hundreds of people and displaced many more.
"Today, the southern Indian city's four main reservoirs are virtually dry. This crisis is not only due to lack of water. Rather, lack of proper management is exacerbating dry conditions in Chennai and many cities around the world," warns Raj Bhagat Palanichamy, a water expert at the World Resources Institute in India.
The author is a freelance reporter for China Daily.