Michel ready for challenges that await EU
By Chen Weihua in Brussels | China Daily Global | Updated: 2019-07-10 09:15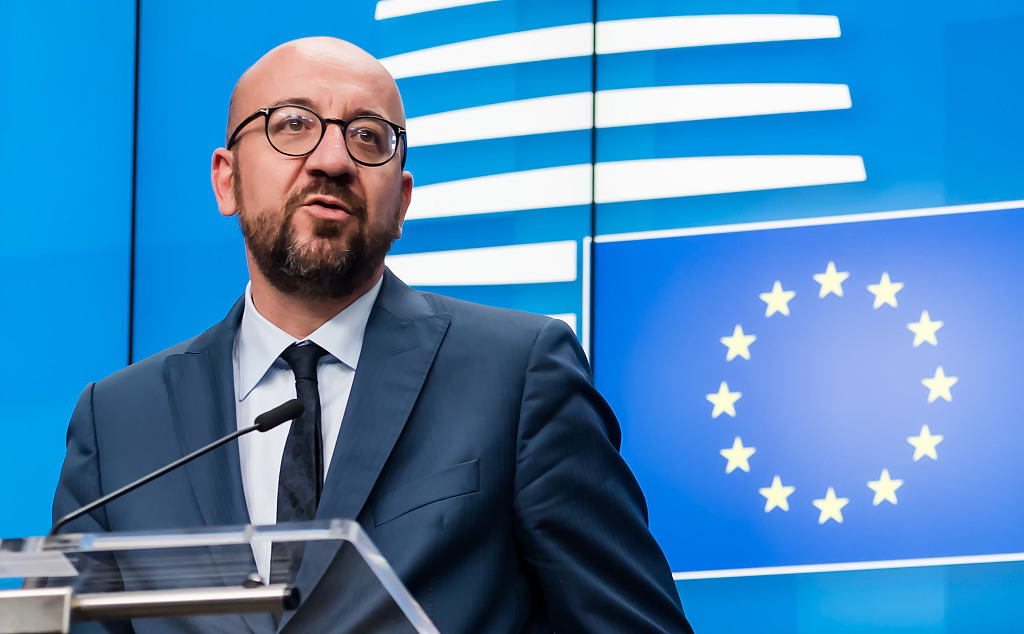 New head of European Council says bloc members will need to cooperate
Compared with German Defense Minister Ursula von der Leyen, who faces a fight next week in the European Parliament for approval as the next European Commission president, Belgian interim Prime Minister Charles Michel has no such worry. His selection as European Council president does not need to go through the parliament.
But Michel is well aware of the challenges he will face in defining the bloc's overall political direction and priorities when he assumes the role on Dec 1.
"Europe is facing huge challenges in the coming months such as Brexit, the next European budget and climate change. European institutions will have to work in close cooperation to address these issues," Michel said on Twitter on Monday after meeting with Von der Leyen.
His message was posted shortly after an open letter to him appeared on EUobserver.com by Herman Van Rompuy, a former Belgian prime minister and the first European Council president, from 2009-14.Michel will be the second Belgian to assume the council's top job.
Michel, 43, will also be the youngest president of the European Council, a body comprising leaders of EU member states, along with the European Council and European Commission presidents.
In the letter, Van Rompuy gave a long list of challenges that Michel will face and should address. He described climate change and Brexit as "existential crises".
"For the Union, it was a matter of survival. I hope that you and the EU will be spared of this," he wrote.
"The focus on climate was wanted. You are a young father, and I, a young grandfather. We owe them this."
Van Rompuy suggested that Michel should persuade Michel's friend, French President Emmanuel Macron, to welcome other countries that "meet the conditions" to join the EU.
He also warned Michel that the EU will have to be prepared for a possible trade war with the United States. "President Donald Trump needs enemies. That's his political capital. Our 'leitmotif' is 'together'. His is 'divide'," he wrote.
Van Rompuy also said the "EU will also need to look for a common position toward China. We too have problems concerning trade and investment, but we want dialogue, not 'war'".
President Xi Jinping and Premier Li Keqiang both sent letters on Sunday congratulating Michel on his new position, and expressing their hope that China and the EU will join hands to take their bilateral relationship to a new level. Michel has met with both Chinese leaders, including a meeting with Li in Brussels in April.
Michel has not been shy in criticizing Trump. When the Trump administration decided to withdraw from the Iran nuclear deal, Michel, a strong supporter of the agreement, said on Twitter that "No #IranDeal means more instability or war in the Middle East. I deeply regret the withdrawal by @realDonaldTrump from#JCPOA. EU& its international partners must remain committed and Iran must continue to fulfill its obligations."
He also condemned the US decision to recognize Jerusalem as the capital of Israel.
In his speech after European Council President Donald Tusk announced the decision on his successor, Michel described the challenges that Europe is facing as also being opportunities.
"The next five years will be very important to the future of the European project. And I'm convinced that it will be important to protect and to promote our unity, our diversity, and especially also our solidarity," said Michel, who is fluent in French, Dutch and English.
Tusk praised Michel, saying: "Charles Michel will, with his experience as Belgian prime minister, be ideal for finding consensus and building unity with member states."
Dutch Prime Minister Mark Rutte said on Twitter that Michel's experience will be of great value in his role as president of the European Council.
In 2014, Michel, at 38, became the youngest Belgian prime minister since 1845. His father, Louis Michel, was Belgian foreign minister from 1999 to 2004 and European Commissioner for development and humanitarian aid from 2004 to 2009.
Charles Michel resigned as prime minister in December when his coalition government fell apart after he signed the UN Global Compact for Migration, upsetting the socially conservative New Flemish Alliance partner. He was later asked by the Belgian king to stay as interim prime minister.