UK Ambassador resigns amid Trump row
By Angus McNeice | China Daily Global | Updated: 2019-07-10 19:05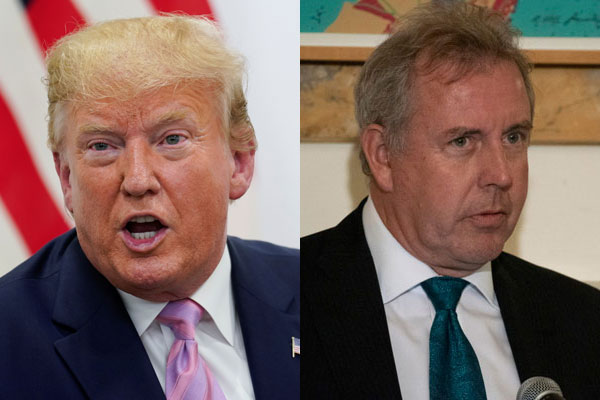 Kim Darroch has resigned as the United Kingdom Ambassador to the United States following a dispute over leaked emails that criticized US President Donald Trump.
In a statement released by the UK Foreign Office on Wednesday, Darroch said he wanted to put an end to speculation over his position, after the leaked cables sparked a diplomatic spat between the UK and the US.
"The current situation is making it impossible for me to carry out my role as I would like," Darroch said. "Although my posting is not due to end until the end of this year, I believe in the current circumstances the responsible course is to allow the appointment of a new ambassador."
In leaked emails published by the Mail on Sunday, Darroch labelled the Trump administration "dysfunctional", "unpredictable", and "diplomatically clumsy and inept".
Trump rounded on Darroch on Twitter, calling him "a stupid guy" and saying the US would "no longer deal with him".
UK Prime Minister Theresa May responded by saying that Darroch had her "full support" in his role as ambassador. Trump then extended his criticism to May, saying it was good that the UK is in the process of selecting a new leader.
UK Foreign Secretary Jeremy Hunt also backed Darroch during a debate with fellow Conservative Party leadership candidate Boris Johnson on Tuesday evening.
Johnson, who is favorite to win the leadership contest and become the next prime minister, did not offer words of support to Darroch during the debate. It is rumored that Darroch decided his position became untenable when Johnson failed to back him.
"It is shameful that Kim Darroch has effectively been forced out for doing the job that diplomats are appointed to do," Scotland's First Minister Nicola Sturgeon said on Twitter. "Boris Johnson's failure last night to stand up for him -- and stand up to the behavior of Donald Trump - spoke volumes."
Dave Penman, head of the UK civil service union, which is called the FDA, said that Johnson had sent a signal that government diplomats are "expendable".
"Kim Darroch has been placed in an impossible situation, firstly by the leaking of confidential communiques and then by the failure of Boris Johnson and his supporters to provide unequivocal support," said Penman.
Darroch became ambassador to the US in 2016. Prior to that he served as a national security advisor to former UK prime minister David Cameron.