Jury hears of family's suffering since murder of scholar daughter
By KONG WENZHENG in New York | China Daily | Updated: 2019-07-11 09:15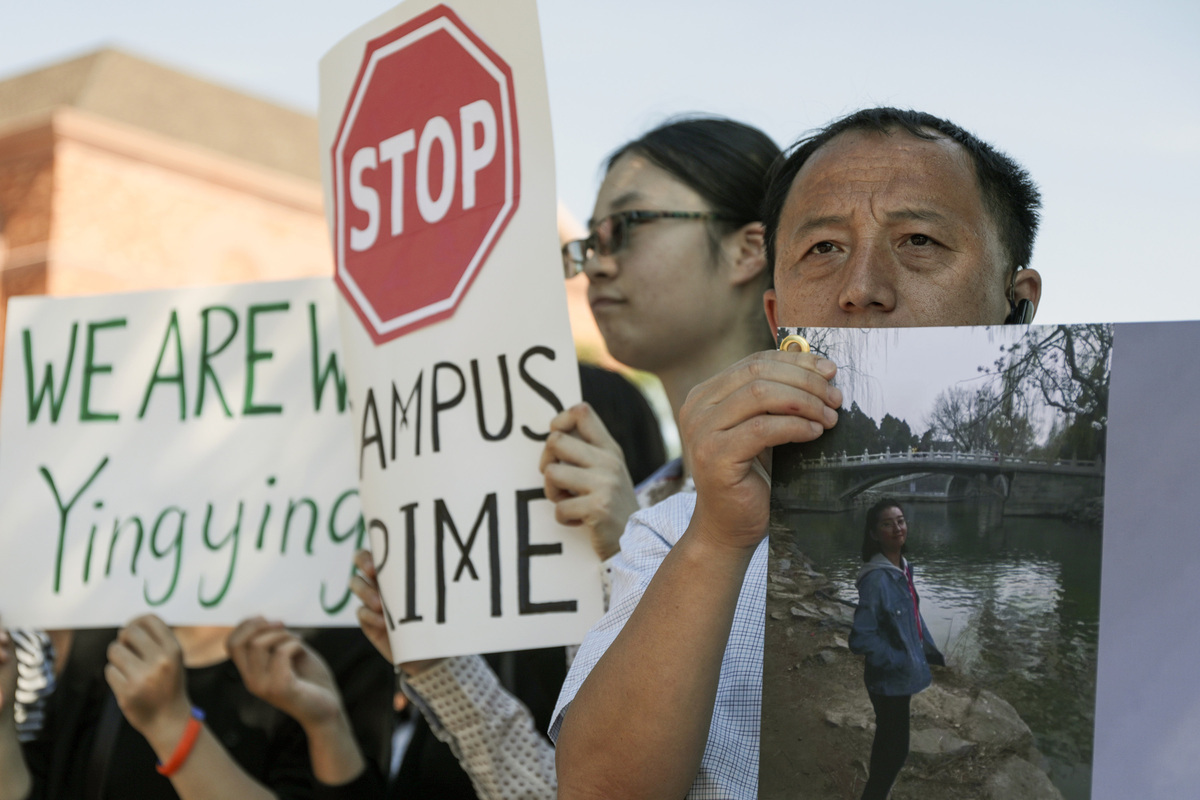 As the sentencing phase in the trial of Brendt Christensen entered its second day on Tuesday, videos of murdered scholar Zhang Yingying's family and friends were shown, and her parents and boyfriend testified, bringing emotional moments to the federal courtroom in Peoria, Illinois.
A female juror ran out crying when Zhang's mother, Ye Lifeng, talked about how she wanted to see Zhang in a wedding dress and wanted to be a grandmother, in a video shown to the jury on Tuesday, reported The News-Gazette newspaper of Champaign, Illinois.
"Our entire family does not know how to carry on," said Ye.
"I also so much wanted to see her in a wedding dress," she cried, adding that she can no longer go to weddings because she thinks about her daughter.
Christensen, 29, a former graduate student himself at the University of Illinois-Urbana-Champaign, the same school Zhang, 26, was attending, was convicted on June 24 for her kidnapping and killing the Chinese scholar. He faces either death penalty or life in prison.
Ye initially did not want her daughter to leave China and study in the US, but supported her when the young woman was determined to do so, she said.
Zhang's father, Zhang Ronggao, started crying when shown a picture of him with his daughter at a train station on her way to the US and was asked if it was the last time he saw her.
"I do not know how to live the remainder of my life," he said, and talked about a recent fall down stairs, because he could not concentrate.
"Yingying… is my pride and also my everything," he said.
"My life without her will not be complete."
The News-Gazette reported that Christensen appeared to be crying before the video of Ye was played, and he had been looking down or had his eyes closed when family members testified.
The jury also heard testimony from Zhang's boyfriend, Hou Xiaolin, who said he planned to marry Zhang in October 2017. Zhang went missing in June that year.
Zhang was "the most important person" in his life, he said, and losing her totally changed his path. He said knowing what Christensen did to Zhang was "too cruel and painful", at which the defense objected and asked for a mistrial. The motion was denied by US District Court Judge James Shadid.
Hou talked about how Zhang's death has been hard on her parents, to whom Zhang was their hope for the future. He said the family had lost its future, and Zhang's mother cries almost everyday.
"Their only desire is to find her and bring her back home," he said about Zhang's parents, who found it hard to move on without finding their daughter. "They cannot eat, they cannot sleep."
Hou's and Zhang's college friend Wu Shuang, who appeared in another video shown to the jury, showed more of the personality of Zhang, who was independent, disciplined and positive and came to the US aiming at doing postgraduate research.