Students stage musical to honor a late composer
By Chen Nan | China Daily | Updated: 2019-07-17 09:26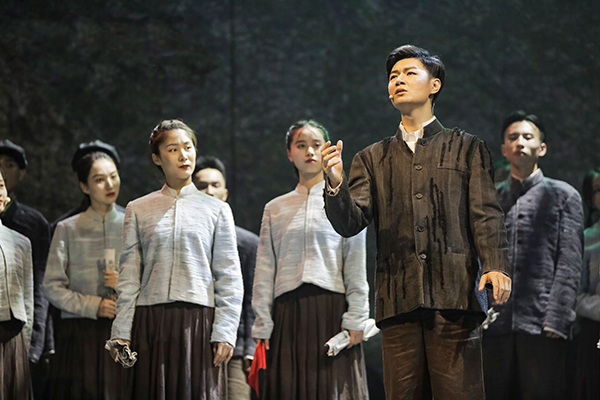 The story starts on the campus of Beijing Normal University in 1932, where a dozen students are reading books in Chinese and English.
Then, the tranquillity of the campus is shattered by war, and the story shifts to 1941 and the War of Resistance Against Japanese Aggression (1931-45).
Wang Luobin, then 28 years old, is taken to prison.
This is the beginning of the Chinese musical, The Past Ballad, which chronicles the life of Chinese composer Wang Luobin (1913-96), especially his youth.
The musical, which premiered at Beijing Normal University's Beiguo Theater on July 13 and ran for six shows until July 17, was staged by over 100 students and teachers from the university. They study or teach different majors and contributed to the musical in various respects, including acting, singing, building stage sets and designing costumes.
"Wang Luobin is a household name in China, and we decided to produce a musical based on his life because his music is still popular today, and he is a Beijing Normal University alumnus," says producer Yang Chenghu, who teaches at the university and is the assistant president of its School of Arts and Communication.
Preparations took about a year, according to director Xiao Xiangrong, a renowned dancer-choreographer and dean of the university's dance department.
"We not only adapted Wang Luobin's songs but also composed original songs for the musical," says Xiao, who was one of the directors and choreographers of the ceremonies of the Beijing Olympic Games in 2008.
"We also focused the story on Wang's youth and how those days inspired him musically.
"For the students who participated, it was a conversation between them and Wang Luobin as young people."