Chinese artists to demonstrate unique aesthetics in U.S. via dance drama
Xinhua | Updated: 2019-07-30 09:42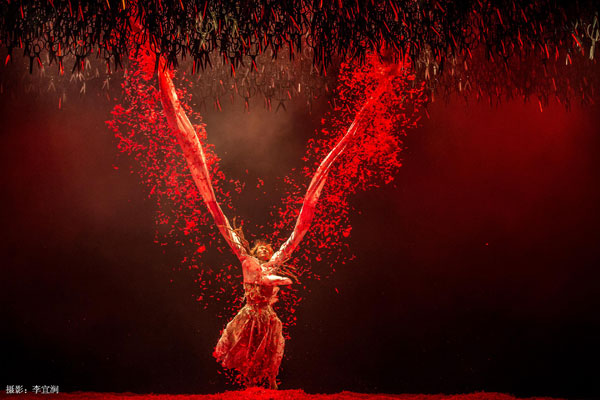 NEW YORK, July 29 (Xinhua) -- About two weeks away from the U.S. premiere, members of the acclaimed Chinese dance drama Under Siege are busy rehearsing amid the sweltering heat.
Combining traditional paper-cutting performances, glamorous Peking Opera costumes, haunting operatic voices, bold martial arts and installation art, Under Siege is a work of contemporary dance based on powerful body language and an authentic Chinese spirit.
It retells the story of an epic battle in Chinese history between Chu and Han kingdoms' armies more than 2,000 years ago.
The dance theater has been hailed as an aesthetic triumph for its visual splendor since the 2015 debut in China.
"It is an experimental drama of contemporary dance, highlighting Chinese culture and aesthetics through an international lens," Yang Liping, chief choreographer and director of the show, told Xinhua in an interview over the weekend.
"We are using modern methods to tell a very well-known historical story," the renowned Chinese dancer said, noting that the themes: strategizing, scheming, laying ambush, crafting a siege...echo throughout the life till this day.
Yang said that the integration of various kinds of Chinese cultural elements helps enhance the drama's unique oriental beauty, including the sets of scissors hanging from the ceiling and the red feathers on the ground.
"The installation art of scissors by American Chinese artist Beili Liu deepens the theme, as the household tool scissor implies danger and fear in Chinese culture," the Chinese dancing master expounding the cultural connotation of the staging with Xinhua.
Using motifs such as scissors and red feathers, instead of knives and swords, to portray a key clash in Chinese history, embodies a kind of quite power as well as Chinese philosophy, Yang explained.
The theater also features Ambush from Ten Sides, a famous Chinese classical pipa music whose composition describes the very decisive battle of Chu and Han.
Yang is a household name in China, making her name back in 1986 with her dance work, Spirit of the Peacock.
For decades, she has been dedicated to Chinese folk dance, which usually took inspiration from nature. Under Siege is one of her recent efforts to embark on the timeless themes of siege, ambush and human nature.
Yang emphasized that underscoring the unique beauty and national identity of Chinese art forms is essential to the endeavor of going global.
"This time, from the visual effects to dance to music, it's all purely Chinese," she said, adding that the production is made possible thanks to joint efforts of the entire team.
"All the dancers are quite talented, trying to portray characters in their own way," said Yang.
So far, Under Siege, a China National Arts Fund supported project, has toured across the globe many times and is expected to make its U.S. premiere at New York's Lincoln Center on Aug. 8 and will be staged for three times till Aug. 10.
Liu, installation artist and creative consultant of the production, told Xinhua that she expects this well-crafted show would provide U.S. audience with a different perspective toward Chinese culture.
Hong Kong-born Tim Yip, who won the 2001 Academy Award for Best Art Direction in Crouching Tiger, Hidden Dragon, took the lead in costume and scenic designs for the drama.
The U.S. debut comes as a highlight of the ongoing 53rd Mostly Mozart Festival, an annual summer event at the Lincoln Center presenting dozens of concerts, dance dramas, operas and films.