Audience in NYC wowed by Chinese dance drama Under Siege
Xinhua | Updated: 2019-08-11 03:00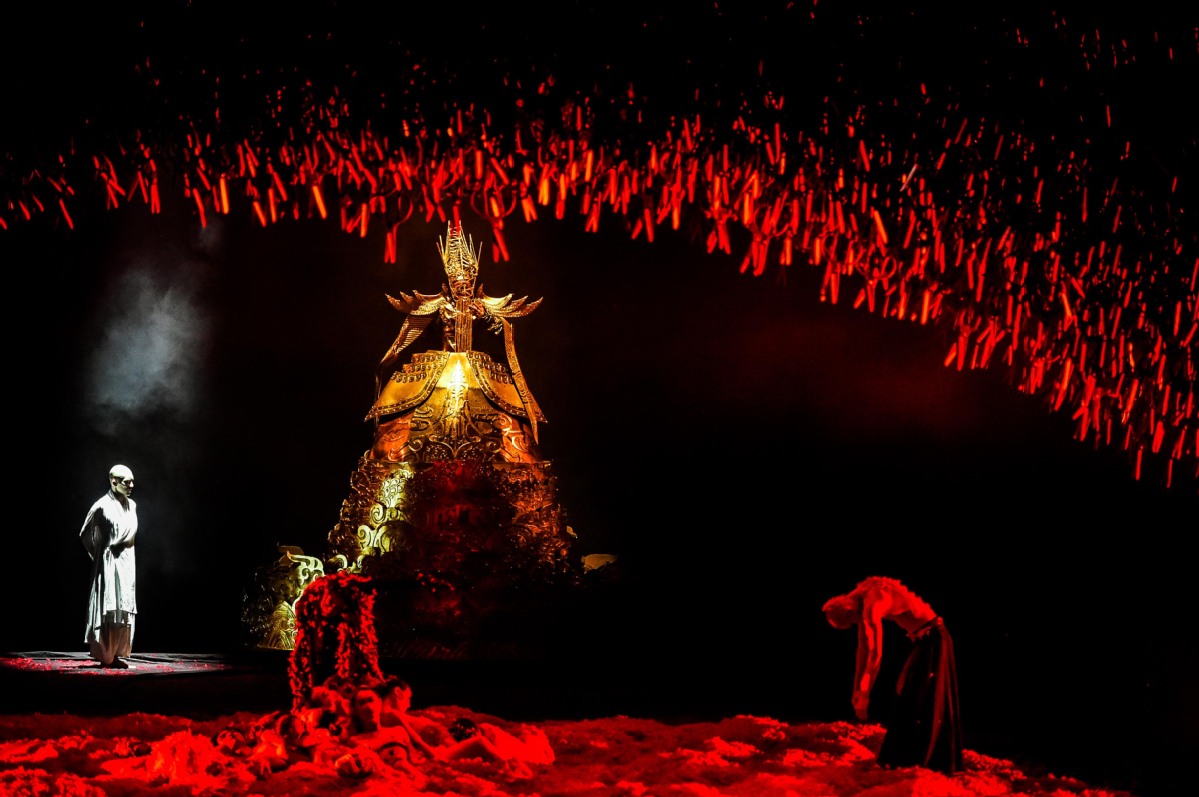 NEW YORK - Marvelous, stunning, gorgeous, breathtaking... Those are the most common words shared by viewers of Under Siege, a Chinese dance theatre piece, after its US debut at New York's Lincoln Center Thursday night.
"It was so beautiful. The scenery, the performance, the dancing, the costumes, the music... I'm so inspired." A woman who called herself Jacinth told Xinhua after the show.
As an experimental stage artwork created by renowned Chinese dancer and choreographer Yang Liping, Under Siege is a fusion of contemporary dance, martial arts, Chinese folk music, Peking Opera, paper-cutting craftsmanship, and installation art, blending traditional Chinese cultural symbols with modern movements.
It depicts a legendary war between Chu and Han kingdoms some 2,200 years ago that changed the course of Chinese history. Through unremitting strategizing, scheming, laying ambush, fighting... the drama also reflects the everlasting confrontation of darkness and light in human nature as well as between human beings.
Jacinth, who drove all the way from the state of Connecticut to Manhattan for the show, booked her ticket as soon as she saw the advertisement on a social media website because she's been always enchanted by Eastern arts.
And Under Siege didn't fail her. Like many other viewers, she was deeply impressed by the final sequence, in which the beaten soldiers of Chu struggle in a thick layer of red feathers that flutter and erupt around them, resembling a sea of blood and the unbearable lightness of life in face of war.
Another similarly eye-catching part of the scenic design features thousands of scissors hanging from the ceiling throughout the 2-hour show, which highlight the conflict between the warring factions.
"The installation art of scissors by Chinese American artist Liu Beili deepens the theme, as the household tool scissor implies danger and fear in Chinese culture," said Yang Liping in an interview with Xinhua weeks ago.
Since its debut in 2015 in China, Under Siege has been widely hailed as an aesthetic feast and visual splendor. Hong Kong-born Tim Yip, who won the 2001 Academy Award for Best Art Direction in the feature film "Crouching Tiger, Hidden Dragon," took the lead in costume and scenic designs for the dance drama.
"It is perfect color-matching everywhere," said Enoch Huang, a China-born New Yorker who works as a sales consultant at a luxury store.
"All those costumes are not only beautifully-looking but designed in accordance with historical facts and each character's distinctive personality," said Huang, who majored in fashion design in college.
Every main character in the drama plays a critical role in making the story coherent and convincing. "It's hard to say who is my favorite. The heroes are spectacular, and Han Xin and Yu Ji are really, really good," said Diane Gill, an editor at a publishing house, who added that "it is the best thing I've seen in a long time."
It's worth noting that Yu Ji, the beloved concubine of Lord Xiang Yu of Chu and the only female protagonist in the story, is played by a male dancer following a Peking Opera tradition; while Han Xin, a general who contributed greatly to the final victory of Emperor Liu Bang and the establishment of the Han Dynasty, is played by two dancers wearing black and white respectively to depict his perpetual mental struggle between pride and insecurity, ambition and loyalty.
Chuck Oliver, a long-time Chinese culture lover, has some knowledge of the historical background of the drama. He thought the production is a very imaginative, modern work and yet very respectful of the original story.
"It's done in a powerful and gripping fashion," he noted. "Apparently the audience who were not used to this type of drama was very impressed by the action and the emotion that was being expressed."
"I hope there's more of this coming from China to the United States, and there are more people who appreciate the value of this," he added.
For Huang, the drama's US debut also marked a dream-come-true moment as he finally got the chance to see Yang Liping, who appeared on stage during the curtain call amid a standing ovation from some 2,500 spectators that lasted for nearly 10 minutes.
"Through the drama I can really see the huge progress of Chinese theatre productions during these years. I've seen several good ones at Lincoln Center already," said Huang, who has settled down here for 10 years. "They are growing so fast. I feel so proud. Just so proud."