'Under Siege' combines tradition with abstract
By HONG XIAO in New York | China Daily | Updated: 2019-08-15 08:08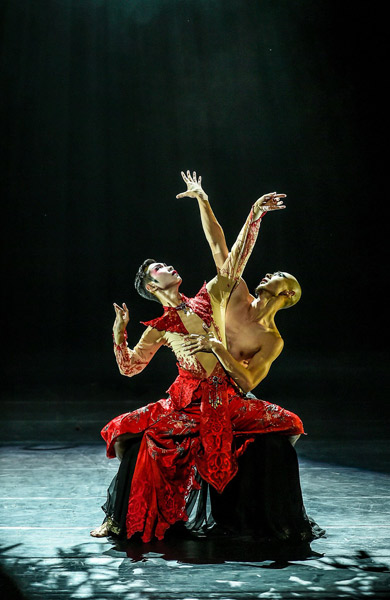 A dance-theater piece from renowned Chinese choreographer Yang Liping thrilled the Big Apple.
"It was absolutely fabulous, visually extraordinary, and it's unlike anything I've seen before," Jennifer, editor of a local New York magazine, told China Daily after seeing the debut performance of Under Siege at the David H. Koch Theater at the Lincoln Center in New York on Aug 8.
"The dancers were so athletic, their moves were so beautiful, and the story was so dynamic. I was never bored," she adds.
Under Siege, which explores themes of war, power, betrayal and passion, made its US premiere with performances taking place between Aug 8 to 10 as part of the Mostly Mozart Festival.
Set during the epic battle between the Chu and Han armies in 202 BC, Under Siege blends elements of martial arts, contemporary and Chinese folk dance, gymnastics and more, to interpret an encounter that changed the course of Chinese history.
Yang, chief choreographer and director, said in a previous interview that Under Siege is a conceptual, experimental piece of performance art, which she created with an international perspective.
She attempts to cast a cold vision of the desires and fears that manifest in the depths of the human heart, to hurt and to be hurt, through the story of the Chu-Han Contention more than 2,000 years ago, as a reflection on the present world.
The performance contains many different elements of Chinese art, including those of dance, Peking Opera, music, sculpture and paper-cutting.