Two senior amateur players win gold medals in table tennis
By Feng Zhiwei in Changsha and Zhao Ruixue | chinadaily.com.cn | Updated: 2019-08-21 21:20
Two senior amateur table tennis players in Changsha, capital city of Hunan province, won four gold medals at a world-class competition recently and said they will devote the rest of their life to the sport.
Ding Zaiyuan, 70, recently won the women's singles for players aged between 70 and 74 at the International Table Tennis Federation Veterans Tour held in Shenzhen, Guangdong province, and Tan Yizhong, 75, secured the gold medal in the women's singles in the 75-79 age group.
In addition, the two partnered and won the champion of the women's doubles in the 70-74 age group.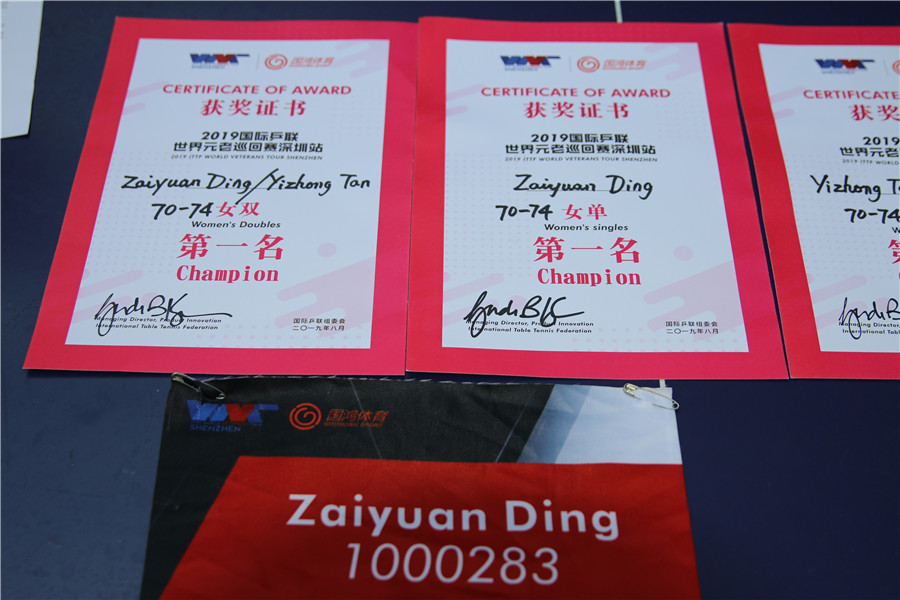 Ding has never had professional training. She has been practicing table tennis on her own for two decades.
Ding and Tan came to know each other when they practiced table tennis at the same court. Then they met and and began practising almost every day.
"She (Ding) plays in a unique style and is good at highly skilled playing ways such as chop and I play in a standard way, so we are perfect partners," Tan said.
They have attended a lot of matches at home and abroad. Among the over 100 outfits Ding collected from each match, there is one bearing the word Recife which is from a Brazilian player, with whom Ding exchanged her outfit to show their friendship, said Ding.
"I will play table tennis till I am too old to play. I don't think I am old even though I am 70 now," said Ding.