Beware of recommendations for cosmetics
By Liu Jianna | China Daily | Updated: 2019-09-05 07:42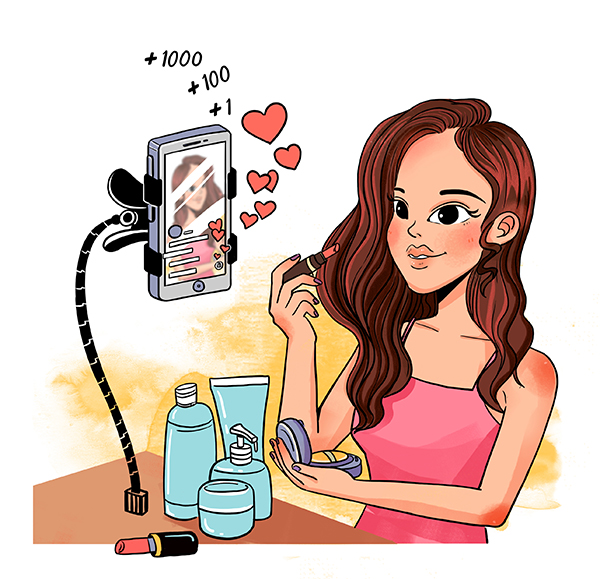 Today, if a girl wants to buy a new lipstick, she won't have to sift through a sea of products pompously lined on the shelves of stores in malls or standalone shops looking desperately for the one with the most familiar name thanks to the advertisement she happened to catch on TV the day before-like I did a decade ago. She would instead check on Red Book, an app with about 200 million users, among which are a large number of online celebrities and beauty bloggers, for recommendations and lipstick assessment notes of the beauty influencers they follow.
As the more than 300 billion yuan ($41.94 billion) Chinese cosmetics market further expands-the retail sales grew 13.2 percent year-on-year in the first half this year alone-more and more cosmetics consumers, mostly millennials, are increasingly swayed by beauty influencers online who make a living by recommending make-up products. As a result, China is witnessing the phenomenon of zhongcao (strong longing for certain product thanks to someone's recommendation), leading to huge sales of "blast products" promoted by beauty bloggers.
Behind this seemingly blind loyalty of consumers to these online key opinion leaders is a change of landscape in both contemporary life and consumer behavior.
First, rapid economic development has given rise to material culture. The number of cosmetics brands has grown many times over the past few years. Search for lipsticks on the Chinese website of Sephora, an international beauty outlet, and hundreds of results will ensue. For ordinary consumers, many of whom may not have in-depth knowledge of beauty products, it is tantamount to looking for a needle in a haystack. Which means they need a helping hand to choose the product they want to purchase.
Second, with greater workload and a busier lifestyle, people have little time to buy products. Employees in Chinese enterprises on average worked 46.5 hours a week, 9.3 hours per workday, in July, about 1.3 times of the international average workweek of 36.8 hours in 2018 according to OECD, and spent an average of 17 minutes per day to purchase products and services in 2018, according to the National Bureau of Statistics. As such, it is hardly possible for Chinese consumers to meticulously go through a host of products before selecting one or more.
Simply put, they are so short of time that they always seek recommendations online to reduce the time they spend on shopping, for either cosmetics or daily necessities.
Third, the ever-increasing popularity of social media platforms including Weibo, Chinese equivalent of Twitter, and Red Book, has enabled consumers to come in direct contact with the once untouchable celebrities and get to know what products they use. The liking for the bloggers also influences viewers' judgment, more often than not leading to the recognition, approval and eventual purchase of the product by them.
The rise of social media platforms has helped transform the one-way sales pattern in which consumers were till recently at the receiving end and wielded little discourse right. Today, the large number of product reviews has to a considerable extent influenced the choice of consumers, forming a vicious or virtuous cycle depending on the quality of the product in question. Thus consumers, represented by beauty influencers, have become active participants in a product's sale.
Nonetheless, it is not all pros and no cons when it comes to zhongcao culture. Just a few months ago, the authorities ordered the removal of Red Book from multiple app stores for faking recommendation, among other reasons.
This not only calls for clearer and stricter regulations for the emerging social media and e-commerce platforms from the authorities, but also sounds the alarm for consumers. Consumers therefore should exercise utmost caution before buying products recommended even by their favorite people.
Considering that the products that suit the influencers may not suit themselves as the effects of products vary notably from people to people owing to differences in the nature of their skin and their physical build, consumers should err on the side of safety to save their hard-earned money and protect themselves from harm.
Hopefully, as new technologies such as big data and artificial intelligence mature, consumers could one day get customized shopping services that would take into account their physical build, and reviews of products and ingredients, and recommend the products that suits them the most.
The author is a writer with China Daily.
Liu Jianna@chinadaily.com.cn