Merkel visit highlights cooperation
By Cui Hongjian | China Daily | Updated: 2019-09-07 09:11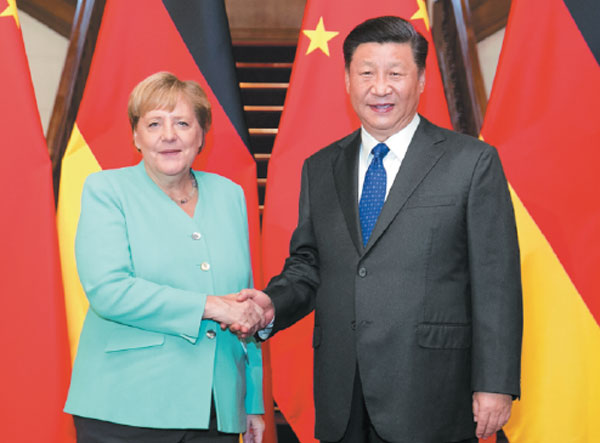 German Chancellor Angela Merkel is on a two-day visit to China starting on Friday, which reflects the importance of Sino-German relations, especially because the two countries are committed to pursuing win-win cooperation in trade and economic fields.
For 43 years in a row, Germany has been China's largest trade partner in Europe, and for the past three years China has remained the largest trade partner of Germany.
The Chinese and German economies are closely interlinked and interdependent and, as such, have become indispensable partners in many fields. The widening and deepening cooperation between the two countries in industrial, technological and innovation sectors has further raised the potential for Sino-German cooperation in emerging fields such as digital economy, new energy, artificial intelligence and autonomous vehicles.
Faced with challenges caused by the floundering global economic recovery and industrial structural transformation, Beijing and Berlin should deepen cooperation, for instance, by not only making use of digital technology and AI to transform traditional industries but also coordinating their policies in areas such as industrial upgrading and innovation.
That a large business delegation is accompanying Merkel on her 12th visit to China in 14 years shows the depth of trade and economic cooperation between the two sides. Still, there is much room for the two countries to further expand cooperation. Their cooperation in different fields could also strengthen trade ties between China and the European Union.
During her visit, Merkel will seek to push forward the implementation of the agreements reached at the 21st China-EU Summit in April and accelerate negotiations on the China-EU free trade agreement. It would not be impertinent to say that China and the EU should base their FTA on the principles of win-win cooperation, free trade and anti-protectionism while incorporating the mutually beneficial practices of Sino-German cooperation.
By deepening their cooperation and shouldering more responsibilities for improving global governance and maintaining the global strategic balance, Beijing and Berlin can create more opportunities for other economies. For example, China and Germany both aim to build green economies by following sustainable development policies, which have laid a solid foundation for them to make joint efforts to improve global governance and fight climate change.
By agreeing to resolve global and regional issues through peaceful diplomatic efforts instead of military intervention, China and Germany can work together to, for example, save the Iran nuclear deal-from which the United States has withdrawn-address the Middle East issue, and help restore peace and stability in Afghanistan.
The two sides should also make joint efforts to promote a new type of major-country relationship to cope with the challenges created by the profound changes in international economic and political landscapes.
Neither China nor Germany can afford to be indifferent to the chaos caused by unilateralism and the Cold-War mentality of some economies, because they could drive a wedge between East and West. So they should take measures to offset the toxic effects of unilateralism in order to improve the world order and promote free trade and economic globalization.
The different development stages China and Germany are in and the differences between their cultures and institutions should not be allowed to block communication between the two sides. Instead, they should learn from each other to achieve the common goal of boosting economic development, improving their respective institutions and raising people's living standards. It is indeed heartening to see that despite the competition between them in certain fields, China and Germany have always resolved disputes through talks based on equality and mutual respect.
Given that Sino-US trade frictions and EU-US trade disputes are rising, China and Germany should use Merkel's visit to join hands to meet the global challenges, devise ways to boost global growth and settle trade and economic disputes through talks, and reform the World Trade Organization.
Moreover, since the situations in the EU and Germany are fast changing, Germany and China should also use bilateral and multilateral mechanisms to build a brighter future for all.
The author is director of the Department for European Studies, China Institute of International Studies. The views don't necessarily represent those of China Daily.