Arson spree targets HK MTR stations
China Daily | Updated: 2019-09-09 08:39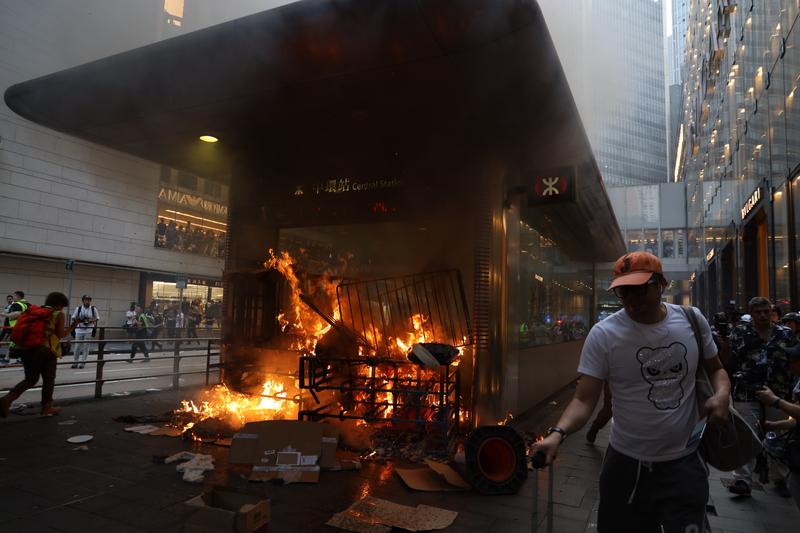 Riotous protesters wreaked havoc on the streets of Hong Kong for the 14th consecutive weekend, again targeting MTR stations, including Central Station in the heart of Hong Kong Island, where fires were started at several entrances and windows smashed.
The protests on Saturday and Sunday came despite Chief Executive Carrie Lam Cheng Yuet-ngor's announcement earlier in the week that the extradition law amendment bill, which has sparked more than three months of oftentimes violent demonstrations, will be withdrawn — one of the protesters' main demands.
Rioters turned the prime Central business district into a battlefield on Sunday, starting multiple fires on the streets and at various MTR station entrances with cardboards and barricades, and smashing windows with metal rods. Plumes of smoke were seen engulfing an exit at Central MTR station, blocking all traffic in the vicinity.
Protesters also wrecked the station with bricks pried from street pavements, sprayed offensive graffiti on its exterior, and blocked some of its exits with piles of trash.
Pedestrians were caught in violent clashes between radical mobs and police. One man was beaten up, his heading bleeding, after he collided with fleeing protesters, who also terrorized passersby for videotaping their acts of violence.
Violence also erupted inside metro stations as rioters destroyed facilities and provoked clashes with riot police by swearing at them. As of 10:30pm on Sunday, Central and Wan Chai MTR stations on Hong Kong Island, as well Prince Edward and Mong Kok stations in Kowloon, were forced to close. Protesters also descended on the busy shopping district of Causeway Bay, where police fired volleys of tear gas to disperse them. Several arrests were made.
MTR Corp, which operates the city's railway system, strongly condemned the indiscriminate vandalism at metro stations, saying the protesters' behavior had threatened the safety of passengers and MTR staff.
In a statement issued on Sunday night, the company said one of its employees was injured after being struck by a hard object hurled by protesters.
Earlier, masked, black-clad protesters had marched from an authorized rally at Charter Garden in Central to the US Consulate, calling on the United States to "intervene in the crisis".
Mobs also gathered outside Mong Kok Police Station on Sunday evening, pointing laser beams at the building and chanting anti-police slogans.
As of 11 pm, the police had conducted three operations to disperse the protesters. Online footage shows police arresting several rioters during the operation, although it's not known how many people were arrested.
On Saturday, violence again erupted in various areas of Kowloon and the New Territories. Crowds of rioters besieged Tung Chung MTR Station and vandalized ticket vending machines, while others attacked police officers inside a Sha Tin mall, started fires and blocked off roads in Mong Kok.
MTR Corp issued an open letter on Sunday, saying it's facing its most serious challenge in its 40 years of operation.
It urged people from all walks of life to cherish and protect the railway network which, it said, has been part of the collective memories of Hong Kong people for decades.
On Wednesday, Lam formally withdrew the extradition bill to "allay public concerns and provide a basis for dialogue" in a city that has been embroiled in months-long unrest and in dire need of reconciliation.
The chief executive also appointed two new members to the city's police watchdog body, the Independent Police Complaints Council, and pledged to start a direct dialogue with all sectors across the political spectrum, and an independent review of the city's deep-rooted problems.