Siasun rides rising robot curve
By Ma Si | China Daily | Updated: 2019-09-09 13:23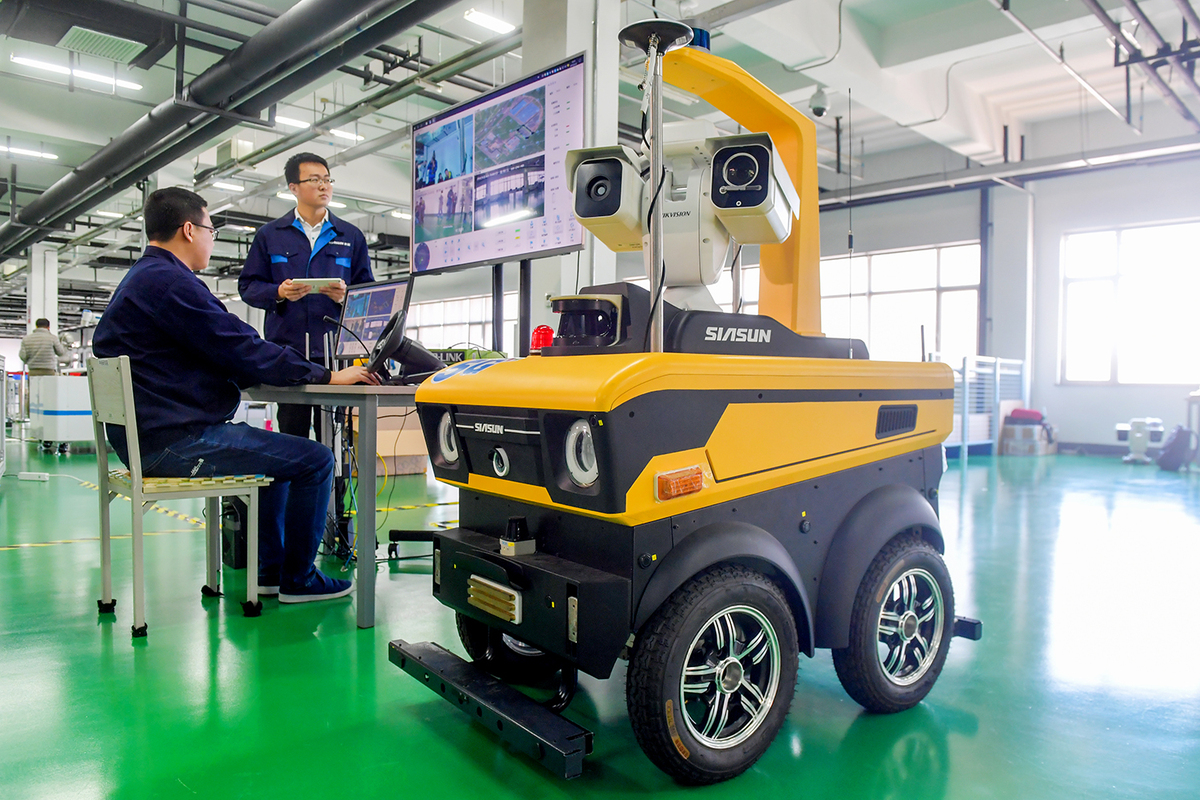 Ren Shunying sharpens investment firm's focus on AI, machine learning
At a furniture plant in Jiangsu province, several robotic arms are busy painting wooden doors moving forward on the conveyor belts. Equipped with 3D scanning and artificial intelligence technologies, the robots can recognize the outline of the doors.
The AI-enabled recognition processing software identifies important parameters such as the position, angle and shape of the doors, and generates the right trajectory for the robotic arms to automatically spray-paint the doors.
"Furniture including doors have a wide range of sizes, designs and low processing precision, which makes automation at furniture plants far more difficult than that at auto plants where one program can enable robots to paint tens of thousands of cars," said Ren Shunying, chief investment officer of Siasun Robot Investment Co Ltd.
To address the challenge, CurveRobot, a Beijing-based startup that Siasun has invested in, adopts 3D laser scanning technology and lets robots learn AI.
To better control the motion trajectory, the company adopts six-axis robots that are highly flexible. Use of robotic arms can boost work efficiency by 50 percent and is more environmentally friendly than human workers; robotic arms paint wooden doors to a greater precision, Ren said.
CurveRobot is among a string of startups Siasun has invested in. As the largest robot maker by market capitalization in China, Siasun aims to leverage its years of experience in managing robotics supply chain and its knowledge of marketing and operations to help more promising robotics companies thrive in the country.
"Capital is needed to fuel China's industrial upgrade push and boost the development of the robotics sector," Ren said. "We are industrial investors. We will take advantage of Siasun's leading position in the industry, and offer startups help in resources such as brand, technology, capital and industrial bases.
"We will serve local governments, as well as upstream and downstream robotics enterprises. We want to build an ecosystem of intelligent industrial development."
According to him, the investment company, founded in 2014, will partner with local governments to build industrial robotic parks, which will serve as incubators for fledgling companies that can build factories there.
The company will focus on investing in sensing technologies, including computer vision and radar - technologies that help machines make decisions, such as algorithms or chip-design capabilities. It is also interested in bankrolling makers of 3D printing machines, virtual reality, and service-rendering robots.
Starting 2013, China has been the world's largest market for industrial robots for six consecutive years. In 2018, over 148,000 industrial robots were produced in China, accounting for 38 percent of the global production volume, data from the Ministry of Industry and Information Technology showed.
But the production volumes are currently declining. In June, about 13,700 industrial robots were produced, down 11 percent year-on-year.
Miao Wei, minister of industry and information technology, said at the World Robots Conference in Beijing last month that the global robotics sector has seen slower growth this year due to the complex international environment.
"But as an important application of the new-round of technological revolution and its integration with manufacturing, robots remain the key driver of high-quality development. The sector will also achieve fast development in the future with expanding application scenarios and quick technological improvements," Miao said.
Ren from Siasun said as AI-enabled robots become increasingly smart, the market for service-rendering robots will grow exponentially. The demand for companion robots and healthcare-related robots will be huge in the future, given China's growing pool of senior citizens.
According to him, robots will also see wider application in sectors featuring non-standard products.
"China's venture capital firms have already invested heavily in consumer-oriented businesses over the past 10 years. It's high time they better tap into opportunities brought by the enterprise market. And the investment in robotics technologies, such as a variety of sensors, can help fuel the emergence of 'little giants'," Ren said.
"Little giants" is a reference to small, highly specialized global market leaders.
The market size of China's robotics sector is expected to reach $8.68 billion this year. It will mark an average annual growth rate of almost 21 percent from 2014 to 2019, the Chinese Institute of Electronics forecast in a report.