AI ushers in a new age of high-tech entertainment
By He Wei in Shanghai | China Daily | Updated: 2019-09-11 10:17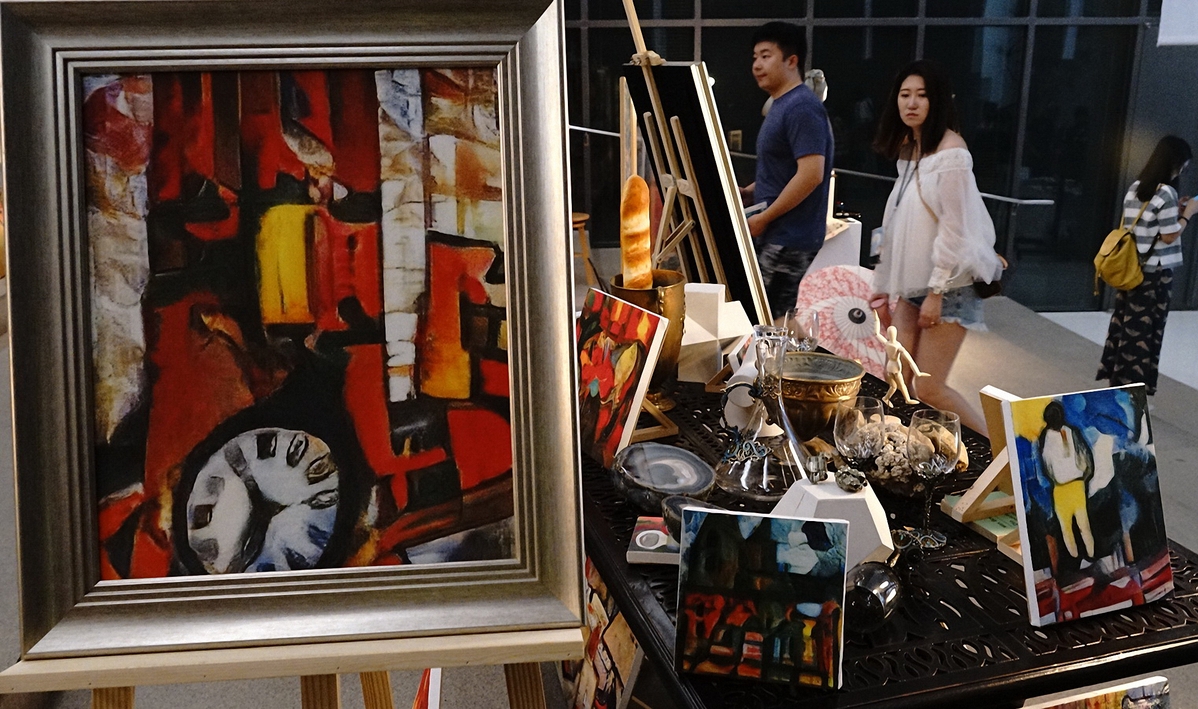 Roses are red/Violets are blue/Sugar is sweet/And so is... artificial intelligence?
Poetry enthusiasts might want to think twice about shedding tears over romantic verses, given that they can be produced by machines using algorithms.
The fact that Microsoft's chatbot Xiaoice has published an anthology of poems takes many people aback. But the avatar is making strides using new AI capabilities to create patterns based on words, themes and key colors.
In addition to its literary ambitions, Xiaoice is also designing images and patterns on fabrics for international fashion and garment producers. Its latest works have been produced in partnership with the China Textile Information Center and the China Textiles Development Center.
Among the latest developments, Xiaoice's paintings were exhibited in Beijing, thanks to drawing techniques acquired from 200 paintings generated in the past four centuries.
According to Li Di, Microsoft's general manager for Xiaoice in Microsoft's Asian software and technology center, Xiaoice is using its interactions with humans to acquire human social skills, behavior and know-how.
Powering Xiaoice is a massive multidimensional AI framework, which continuously uses deep learning techniques to acquire data that build up its emotional intelligence.
"This is what we call an empathic computing framework," Li said. "To create an AI framework, you need to choose EQ or IQ, or EQ plus IQ ... it is learning to be more like us every day."
Without even realizing it, people are being pampered by entertainment and leisure activities whose functions are increasingly strengthened and magnified by AI.
Apparently, beauty isn't just confined to fine arts and classical literature - following beauty bloggers and searching for online skin care advice can help people relax. Not surprisingly, AI stands poised to play a part in finding the most relevant beauty tips.
At Red, or Xiaohongshu, China's leading social media site featuring skin care and fashion, AI is widely applied in content recommendation, search and comprehension to tag the vast majority of graphics, text and videos, said Chief Technology Officer Liu Yang.
"Unlike conventional search engines, Red users seek answers that are highly personalized and fragmented based on individual predilections, such as the type of outfit to go with a pair of shoes or Airbnb apartments to stay in," Liu said. "It requires AI's profound understanding of both customers' needs and the torrent of content out there to do the perfect matchmaking."
These include identifying the vast majority of graphics, text and videos through precise tagging that can be later used for content recommendations.
If you don't want to type search criteria, you can give instructions to a smart speaker. Intelligent devices have now gone beyond playing music or reporting weather forecasts to shoulder more enterprising undertakings such as civic affairs.
Tmall Genie, the smart speaker developed by Alibaba Group, now helps people in Shanghai to navigate the city's tough trash-sorting regulations by answering questions on which bin to use for the waste they want to discard.
According to a Tmall spokesperson, the machine conducts self-training on garbage categorization based on AI models, so it can be used in different cities when their respective rules come out.
AI is also good news for gourmets, who can enjoy faster door-to-door deliveries thanks to robot couriers. A comprehensive AI upgrade is sweeping Meituan Dianping, the country's leading on-demand service platform, where a natural language processing center is raising efficiency by rewriting the playbook for deliverymen, dispatch and route design.
Xia Huaxia, the company's chief scientist, said robots can take over the last-mile delivery task from couriers, trimming five to seven minutes per order on average - which roughly translates into a two-yuan saving per order.
"Technological advancements like 5G are critical to such development, because it requires very low latency in remote control so people in the back office can ensure accurate and timely deliveries," he said.