Cabo Polonio, Uruguay's Shangri-La
chinadaily.com.cn | Updated: 2019-09-11 13:19
In this day and age, urban dwellers are either cocooned in the digital world, minds boggled by a myriad of content online; or subconsciously tyrannized by the always-being-connected lifestyle, bombarded 24/7 by push notifications on ever-smarter phones.
Buffeted and drained by the hustle and bustle in big cities, do you sometimes fancy zoning out a bit to go back to nature and regain peace and quiet within?
Uruguay, a diamond embedded between Brazil and Argentina, now promises its Cabo Polonio, a hamlet many people call "Shangri-La" on the country's eastern coast, can shelter and nourish weary souls in modern life.
Dr. Leonardo Segalerba, 54, born in Uruguay's capital, Montevideo, used to work as a lawyer in the capital city. Tired of hectic city life, he retired at 40, moved to Cabo Polonio and became one of its 120 permanent residents.
"Basically every 20 seconds at night, you can spot a meteor shooting across the sky," said Segalerba, press representative for Cabo Polonio at a promotional event held at the Cervantes Institute in Beijing.
Cabo, meaning "cape" in English, is a peninsula infamous for its rocky shores and fierce seas that wrecked many ships. Polonio, a Spanish ship, was just one of those misfortunes. It crashed into the peninsula on a stormy night in 1735, leaving its name as a legacy to the place where it was destroyed.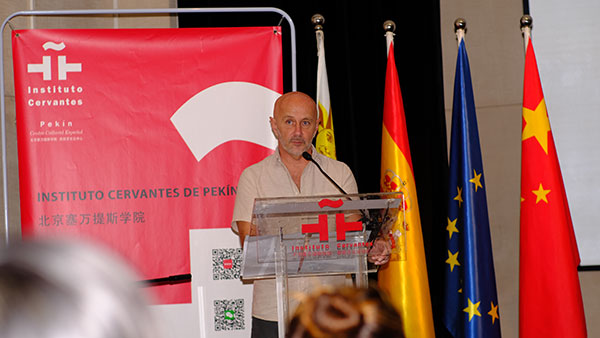 Isolated from surrounding cities by sand dunes and without roads directly leading to it, Cabo Polonio is geographically removed from urban civilization. The only way to get there is by taking a double-decker truck that routinely picks up tourists at a station and takes them on a 20-minute bumpy ride.
Electricity, genesis of modern comfort and entertainment, isn't available. But it is worth noting the iconic lighthouse erected in 1881 by the Uruguayan government is powered by the national grid to prevent shipwrecks.
Moreover, there is no running water in the area, and villagers there rely on water from wells and collected rain water.
Recognized as a national park in 2009 by the Uruguayan government, Cabo Polonio embraces a mix of natural environments, such as beaches, sand dunes, and wetland. Meanwhile, the park is home to Uruguay's second-largest colony of sea lions, which number roughly 200,000.
With its breathtaking natural beauty and primitiveness, Cabo Polonio strikes visitors as the Shangri-La of South America. Since the 1980s, the site has been sought after by American and European tourists who desire to escape suffocating city life and reconnect with the freshness and tranquility of nature.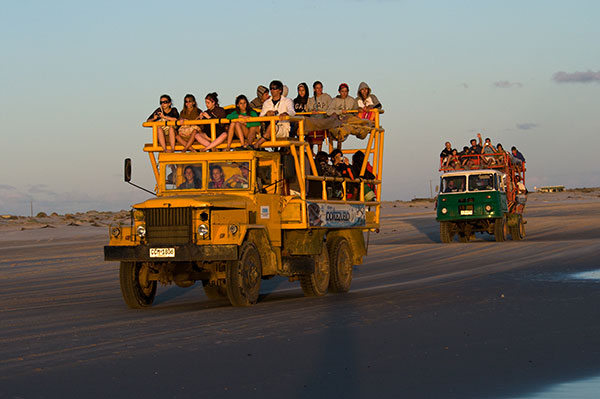 "Many writers live here around the year focusing on their books as it's a place where they can disconnect themselves from the chaos of the modern world," Segalerba said.
"It is only in the last two years that Chinese tourists began to come to Cabo Polonio," Segalerba told China Daily in an interview.
Zhang Qi, 32, a travel enthusiast whose footsteps have been left in more than 60 countries, is among the first batch of Chinese tourists to the area.
Zhang has traveled to Uruguay four times and to Cabo Polonio twice, in 2017 and 2018. He spent more than 20 days during his recent trip to the village with his brother and sister-in-law, who were on their honeymoon.
Calling Cabo Polonio his favorite place in the world, the well-traveled man opened a café in Beijing's always buzzing and alcohol-laden Sanlitun in May and named it "Cabo Coffee", serving both excellent coffee and South Americans' favorite drink, the mate tea, a caffeine-rich infused drink.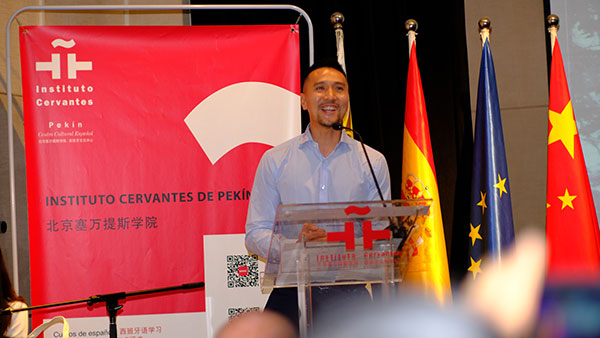 "In Cabo, I saw the biggest-ever setting sun, the most beautiful sunset, and the most spectacular galaxy of the southern hemisphere," Zhang fondly recalled, adding that "There is no electricity in Cabo, but it makes the place cooler and gives me a sense of primitiveness."
Like Zhang's observation, Cabo Polonio is at its finest at night.
As the lighthouse is the sole artificial light after sunset, the region is free from light pollution, making it a vantage point in the Southern Hemisphere for appreciating thousands of stars punctuating the night sky.
Another night feast for the eye is watching the second-largest sea lion colony in Uruguay behind the iconic lighthouse, where the creatures can be seen singing and dancing.
During the day, Cabo Polonio also has much fun to offer. Surfing, sunbathing on the beaches, running up and sliding down the sand dunes, or hiking along the shores are among the activities.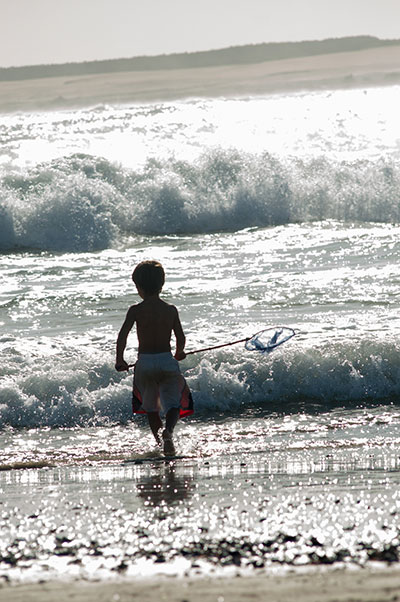 The village, covering an area of about 26,000 hectares, is inhabited only by 120 permanent residents, with most engaged in tourism, running restaurants or renting their houses to tourists.
During the peak season, from mid-December to mid-January, some 3,000 tourists will flock to Cabo Polonio and spend days or even weeks there. This has aroused the concern of many environmentalists, fearing swarms of tourists may pose a threat or even damage protected wildlife and the fragile ecosystem that the country values.
"The isolation created by the surroundings prevents swarms of tourists from reaching Cabo, acting as a 'natural shield' that protects and preserves its culture and distinct way of life," Segalerba explained.
Segalerba also pointed out that planning, analyzing and monitoring tourists' behavioral patterns can help achieve a fragile balance between environmental protection and the sustainable development of the area.
In addition, the authority in charge of the site will adopt measures such as managing tourist flow of the year and involving the local community in environmental protection to handle problems that may arise with the arrival of more and more international tourists.
Yang Xiaoyu contributed to the story