China's fast-growing middle class to fuel growth in air travel
By Du Xiaoying in London | China Daily | Updated: 2019-09-19 06:50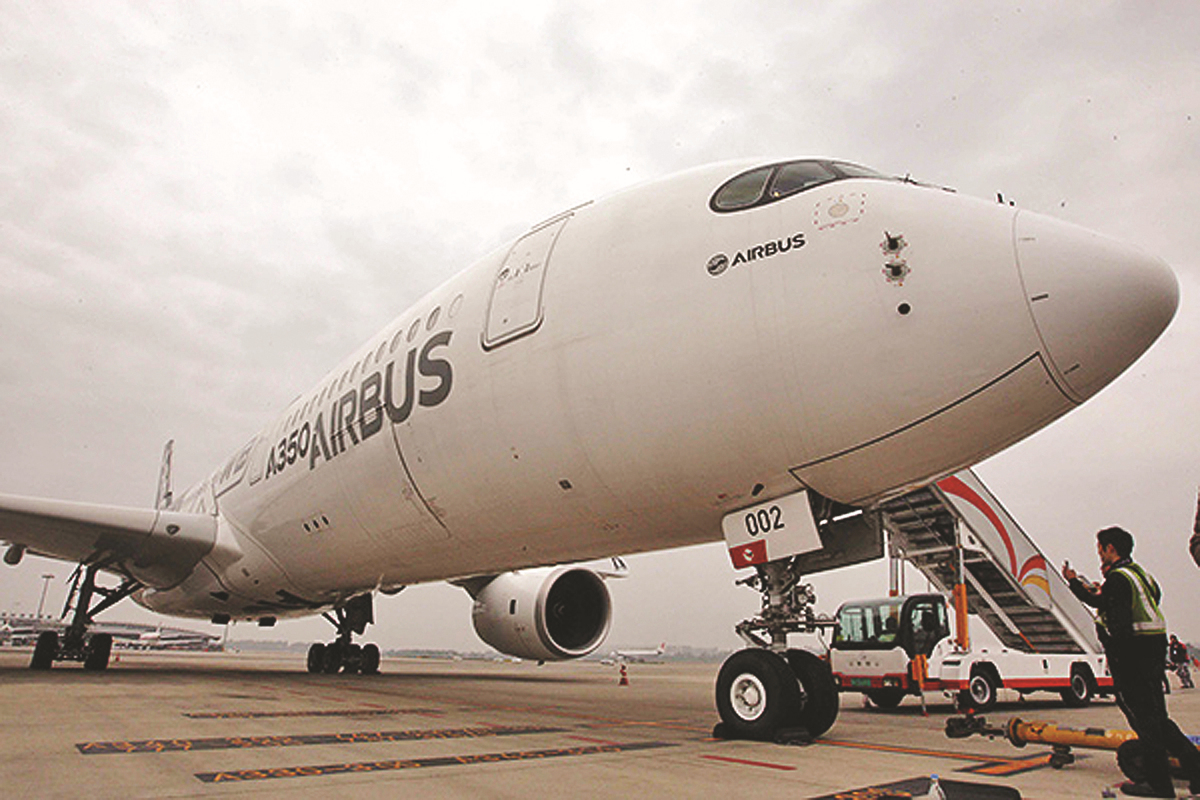 Twenty years from now, Chinese people are expected to fly three times more frequently than they do today as the nation's fast-growing middle class increasingly takes to the skies, according to an aviation market forecast released by Airbus SE in London on Wednesday.
The report, Global Market Forecast 2019-2038, says the world's middle class population will grow fastest in emerging economies, and it will be those people who mainly fuel the future demand for air travel.
In 2038, 66 percent of the world's population will be middle class, and more than half of the global middle class, or 3.3 billion people, will be in Asia-Pacific countries, according to the report.
It says despite a modest slowdown recently, the Asia-Pacific region will continue to lead world economic growth, with an expected average real GDP growth of 4.1 percent per year during the next 20 years. It says the Asia-Pacific region will be the "world economic growth engine".
Airbus believes, the Asia-Pacific region is closely intertwined with China and will benefit from its transition to an economy based on services and domestic consumption, instead of manufacturing. In its report, the company says domestic and regional sources of growth will play a larger role in demand for air travel in the coming years.
In China, the number of flights taken per person will triple by 2038, from 0.4 in 2018 to 1.4. In India, air travel will grow five-fold, from 0.1 trips per person last year, to 0.5 in 2038.
Advanced economies, meanwhile, will continue to see stable growth, both in the size of their middle-class population and the frequency with which people use air travel.
In the United States last year, there were 2.0 trips per capita. The frequency is expected to grow to 2.8 trips per person annually in 20 years' time.
The report shows the world's urban population is expected to rise, from 4.2 billion people today to 5.8 billion by 2038, and that urban dwellers will account for 64 percent of the global population.
Airbus forecasts the world's passenger and freighter aircraft fleet is set to more than double, from today's nearly 23,000 to 47,680 by 2038. Traffic will grow by 4.3 percent annually, which will lead to the need for an additional 550,000 pilots and 640,000 new technicians.
Among that anticipated fleet of almost 48,000 aircraft, 39,210 will be new vehicles while 8,470 being used 20 years from now will have been produced today.
Of the more than 39,000 new aircraft that will be produced in the coming 20 years, almost all will be passenger aircraft, with only 850 dedicated to freight.
Of the new aircraft, 36 percent will replace old models and 64 percent will be needed because of growth. In terms of the size of the aircraft, 76 percent will be small, 14 percent will be medium, and 10 percent will be large, the report added.
"The 4 percent annual growth reflects the resilient nature of aviation, weathering short-term economic shocks and geo-political disturbances," said Christian Scherer, chief commercial officer at Airbus and head of Airbus International."Globally, commercial aviation stimulates GDP growth and supports 65 million livelihoods, demonstrating the immense benefits our business brings to all societies and global trade."
China is one of the world's fastest-growing civil aviation markets. Many aircraft-makers and industry insiders, including Airbus, believe the country will overtake the US as the world's largest aviation market within the next two decades.
China is now the largest single market for Airbus. Deliveries to China account for one quarter of the company's global total.
Airbus currently supplies around 50 percent of aircraft bought in China, with Boeing supplying the other half. Commercial Aircraft Corp of China, the manufacturer of China's first home-built passenger jet, the C919, is expected to begin commercial manufacturing of its first aircraft soon.