China remains top robot market
By Wang Ying in Shanghai | China Daily | Updated: 2019-09-19 09:45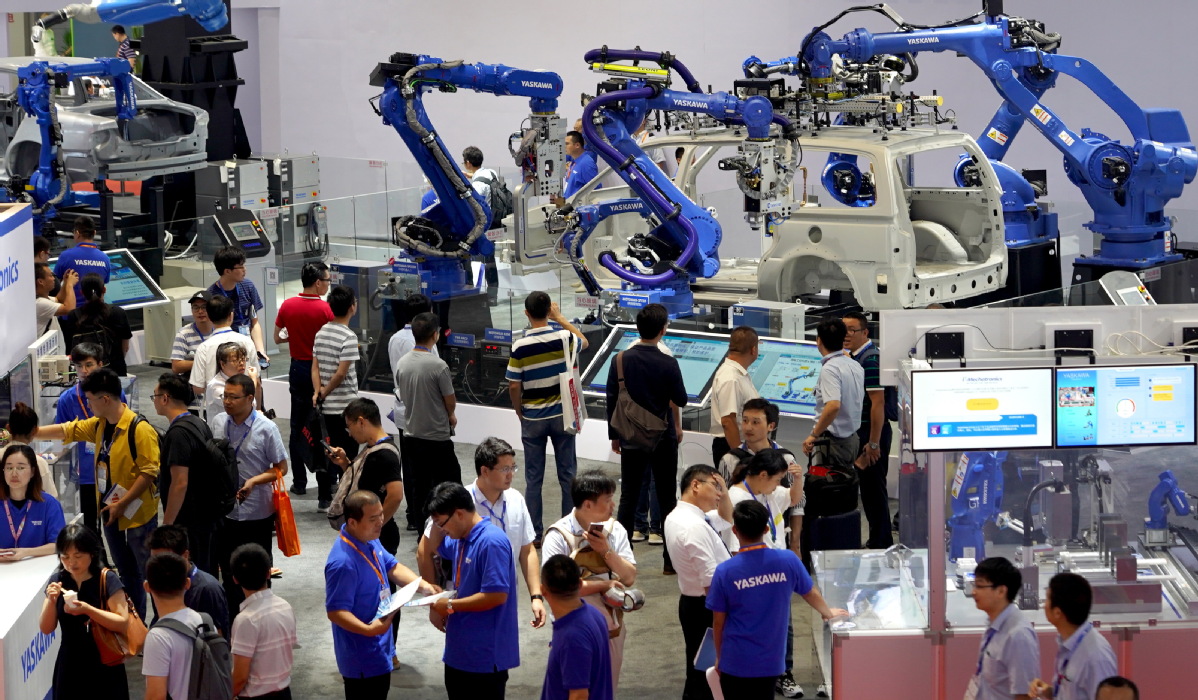 Nation retains lead position for sixth year with sales of 156,000 units
China retained its position as the world's largest industrial robot market for the sixth year in a row by selling 156,000 units in 2018, with the nation accounting for 36 percent of total installation globally, several industry reports said.
The International Federation of Robotics published its annual report in Shanghai on Wednesday, where it said China, Japan, South Korea, the United States and Germany are the top five markets, representing 74 percent of global installation in 2018.
The report said China topped all markets by installing 154,000 units of industrial robots last year, making up 36 percent of global installation, and surpassing the combined amount of the American and European markets. The total value of installations in China surged 21 percent year-on-year to $5.4 billion, it added.
China also held its top position by sales volume, despite seeing a 1.73 percent year-on-year drop. This resulted from a 7.2 percent decline in the sales of foreign robot makers to 113,000 units, the China Robot Industry Alliance report said. Chinese manufacturers, however, bucked the trend with a 16.2 percent growth from a year ago.
The diverging trend was cause by China's policy to promote domestic manufacturers, along with weakness in the automobile industry here, said IFR Vice-President Steven Wyatt, who is also group vice-president of ABB.
China's robot density, which is the number of robots per 10,000 persons used in the manufacturing industry, reached 140 last year, higher than the global average of 99, the reports said.
"Ten years ago, the robot density in China was about 20, and today it is 140. We still see a lot of capacity potential in the Chinese market moving forward," said Wyatt, who suggested there is the huge potential in China as it continues to improve the level of its robot density in the future.
Qu Daokui, president of China Robot Industry Alliance and CEO of Siasun Robot and Automation Co, agreed.
"In the next decade, we expect the robot density in China will surge to a much higher rate," said Qu. He added it took China 40 years to reach its current robot density of 140 and before 2016, the rate in China was always below the global average.
Robots continue to be the highlight of the China International Industry Fair that will end on Sept 21 in Shanghai.
Siasun Robot and Automation Co published the first Chinese industrial software and control platform on Tuesday, and the system should be the foundation for Chinese industrial internet of things development.
ABB showcased a range of digital products, solutions and services including a watch making factory featuring a model production line assembling customized wristwatches in real time, as well as an AI-enabled waste separation prototype, which is a neural network of robots, computers and sensors that can classify and sort waste into four categories as effectively as a person.
"I see quite a few robots for the first time by our company during this year's event. Many of them are exhibited in China for the first time, tapping into the automotive manufacturing demand from China," said Cao Xi, a sales manager of the robot business management department in Yaskawa Electric (China) Co Ltd.
Cao said Yaskawa Electric showcased more than 30 types of robots during this year's CIIF, including a long arm robot tailored for the Chinese market.
It is estimated that sales of industrial robots will grow by 4 percent in the Chinese market in 2019, and domestic robot sales are forecast to rise by 15 percent.
This is the first time the IFR has published its annual World Robotics report in China. It forecast shipments in 2019 will decline from the record level set in 2018, but expects average growth of 12 percent annually from 2020 to 2022.
"We saw a dynamic performance in 2018 with a new sales record, even as the main customers for robots - the automotive and electrical-electronics industry - had a difficult year," said Junji Tsuda, president of the International Federation of Robotics.
The US-China trade conflict has created uncertainty in the global economy by prompting customers to postpone investments. But the automation trend and technical improvements will result in double digit growth in the industrial robot market, with an estimate of about 584,000 units shipped in 2022, Tsuda stated.