Rising pork prices a lesson, not a crisis
By Yao Yuxin | China Daily | Updated: 2019-09-20 06:50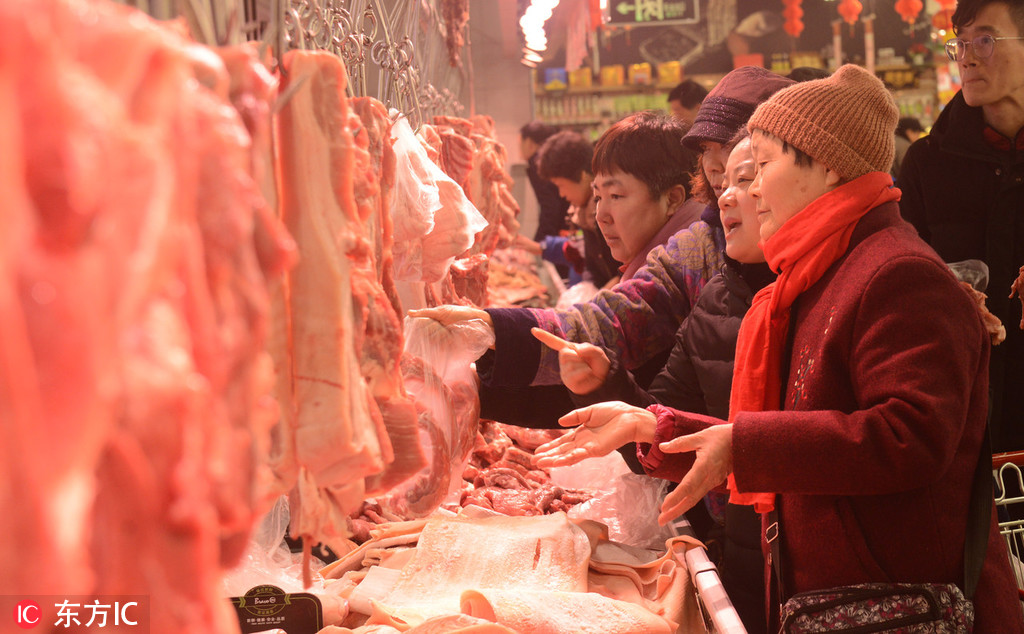 Editor's Note: Pork prices have been rising for months. In August, pork prices soared 46.7 percent year-on-year and 19.7 percentage points from the previous month, according to data released by the National Bureau of Statistics on Sept 10. Two experts share their views on how to solve the pig farming sector's short-term and long-term problems with China Daily's Yao Yuxin. Excerpts follow:
Raise output, not imports, to meet pork demand
Pork prices were on a downward trend after reaching a cyclical peak in June 2016, and slid at a rapid pace in the second quarter of 2018, prompting many pig farmers to reduce their stocks. While in the first half of 2018, some pig farms in the southern regions were shut down for environmental protection reasons, the outbreak of African swine fever in August 2018 led to the culling of pigs, further reducing the pig stock in the country.
But raising pigs is still a big source of income for low-income households in rural areas and can help many of them emerge out of poverty. As such, market factors, not administrative means, should be responsible, if at all, for the individual pig farmers' decision to withdraw from the market.
As of now, the shortage of sows and worries about African swine fever are preventing farmers from increasing production. So the authorities need to strengthen quarantine rules, and pig farmers should follow bio-safety methods and learn how to prevent diseases from spreading while raising pigs.
Besides, since pork has to be delivered to distant places from slaughter houses and distribution centers, it is necessary to build bio-safe cold storages to prevent contamination and ensure food safety.
China can import pork to fill the supply gap to a certain extent. But since it has a huge market of more than 1.3 billion consumers, China cannot rely on imports to meet the nationwide demand for pork. Therefore, restoring domestic productivity to the optimum level to meet the demand should be a priority for the authorities.
Zhu Zengyong, a researcher at the Agricultural Information Institute, Chinese Academy of Agricultural Sciences
More supply of substitutes can ease consumers' burden
Rising pork prices have also driven up the prices of substitute products, thereby increasing the consumer price index. In fact, in August the CPI increased 2.8 percent year-on-year.
Thanks to the rising income levels of urban and rural residents, most Chinese consumers can afford to pay higher prices for pork. But since low-income families cannot afford higher prices, the authorities have offered subsidies to such families to enable them to buy a certain amount of pork at a discount at some selected outlets.
Of course, the authorities should encourage pig farmers to raise more pigs, but they should also ensure the farmers strictly follow national safety and hygiene standards in order to prevent any disease outbreak. Also, insurance should be extended to all pig farmers, especially small farmers, to cover the losses they could suffer.
Moreover, research on developing vaccines for infections and diseases in animals should be accelerated to deal with future epidemic threats. In this regard, the Chinese Academy of Agricultural Sciences has recently announced that it has made a breakthrough in this direction.
It is also important to strike a balance between environmental protection and pig farming.
Thanks to preferential policies, a growing number of farmers are likely to raise more pigs to address the shortage. But as it takes time to raise pigs, pork prices could further increase in the next six months or year.
Pork production is down by 10 million tons compared with last year according to the Ministry of Agriculture and Rural Affairs. But if there is enough supply of substitutes such as beef, mutton and chicken, the effects of rising pork prices on consumers can be eased to some extent.
Ye Xingqing, director-general of the Research Department of Rural Economy, Development Research Center of the State Council
The views don't necessarily represent those of China Daily.