Leading the fight against climate change
By Zhang Haibin | China Daily | Updated: 2019-09-24 07:16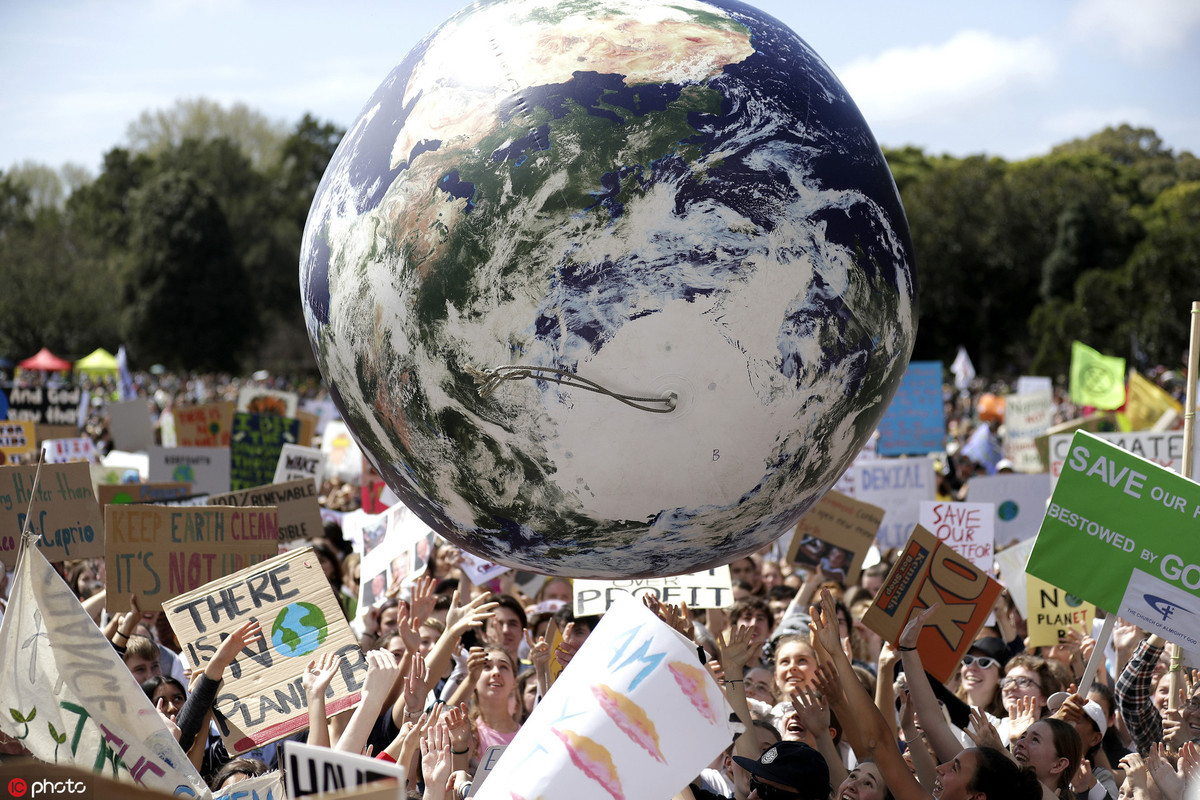 President Xi Jinping has said China has always upheld multilateralism and supported the United Nations playing the most active role in international affairs. China has also welcomed UN Secretary-General Antonio Guterres's efforts to promote international cooperation to fight climate change, and has actively pushed for the positive outcome of the UN Climate Action Summit held on Monday.
As Guterres said, the world needs to mobilize political and economic energy at the highest levels to advance climate action that will enable implementation of many of the goals of the 2030 Agenda for Sustainable Development. In this regard, acknowledging China's important contributions to addressing climate change and advancing the ASD, the UN has said it hopes to see China playing a more important role in the global fight against climate change.
China has actively engaged in global climate cooperation since the UN formally started multilateral negotiations on a global climate treaty in the 1990s. Over the decades, it has played an increasingly important role in the global fight against climate change. In particular, the UN climate change conference in Paris in 2015 marked the beginning of China's transition from a participant to a leader in global climate governance.
New ideas for climate debate
First, China is now more willing to put forward new ideas in the global climate debate, which has been welcomed by many countries and regions. Such ideas include combating climate change with the ultimate aim of forging a community with a shared future for mankind and promoting ecological civilization. They also include protecting developing countries' right to development, ensuring their contribution to mitigating climate change is based on the principle of common but differentiated responsibilities, and giving climate justice the importance it deserves.
Second, China has demonstrated its ability to break the deadlock in climate negotiations at crucial moments through coordination. It has helped developed and developing countries to forge a compromise and build mutual understanding on critical issues.
For example, before the 2015 Paris climate conference, China had signed two joint announcements on climate change, one with the United States and the other with France. In both announcements, the two sides had reached a consensus on several key issues, including the principle of common but differentiated responsibilities and transparency, which removed the major obstacles in the negotiations, paving the way for the Paris Agreement.
Nation facilitated Paris climate deal
Equally important were the face-to-face meetings between Xie Zhenhua, then head of the Chinese delegation, and leaders such as former French foreign minister Laurent Fabius, former UN secretary-general Ban Ki-moon and former US secretary of state John Kerry, and the suggestions raised by him on behalf of China.
In stark contrast to the United States' withdrawal from the Paris Agreement in 2017, which has cast a shadow on the historic climate accord, China has reiterated its strong support to the deal and commitment to the Nationally Determined Contribution in order to reduce greenhouse gas emissions. It has also forged a climate partnership with the European Union and other parties
Third, in the pursuit of low-carbon development, China is leading by example. In terms of endeavors to promote green, circular and low-carbon growth, China has integrated climate change efforts into its medium-and long-term plans for economic and social development. Attaching equal importance to mitigation of and adaptation to climate change, China has been making progress on all fronts by using legal and administrative means, technologies and market forces.
Commitment to renewables
According to China's official data, the country's accumulated energy savings between 1990 and 2010 accounted for 58 percent of the global total. So far, China has an installed capacity of renewable energy that accounts for 24 percent of the world total, with newly installed capacity that adds up to 42 percent of the global total, ranking first in the world in terms of energy conservation and utilization of new and renewable sources of energy.
China's Nationally Determined Commitment, released on June 30, 2015, outlined the country's goals for the 2020-30 period along with the corresponding pledge to peak carbon dioxide emissions around 2030 and strive to achieve it as early as possible. It also pledged to reduce carbon intensity per unit of GDP by 60-65 percent by 2030 from the 2005 level, raise the share of non-fossil fuels in primary energy consumption to about 20 percent and increase forest stock by around 4.5 billion cubic meters. Which shows China's ambitious goals and strenuous efforts have galvanized global action against climate change.
Moreover, China achieved the goal of reducing carbon intensity per unit of GDP by 40-45 percent by 2020 from the 2005 level in 2018, two years ahead of schedule.
It has also fulfilled its commitment to promoting South-South climate cooperation to help developing countries mitigate the effects of and adapt to climate change. Since 2011, China has invested 7 billion yuan ($987.86 million) to help developing countries combat climate change.
In September 2015, President Xi announced the establishment of a 20-billion-yuan South-South Climate Cooperation Fund and cooperation projects, in line with China's commitment to the Paris climate conference, in order to set up 10 pilot low-carbon industrial parks and start 100 mitigation and adaptation programs in other developing countries.
China's role in and contribution to the Paris Agreement and global climate governance after the US' withdrawal has been recognized by the international community.
And although China itself faces challenges in mitigating and adapting to climate change, it has promised to fulfill its commitment to the Paris Agreement and hence will continue to combat climate change along with the UN and the international community.
The author is vice-dean of and a professor at the School of International Studies, Peking University. The views don't necessarily represent those of China Daily.