Indonesia finds Boeing MAX design flaw
By SCOTT REEVES in New York | China Daily Global | Updated: 2019-09-25 02:37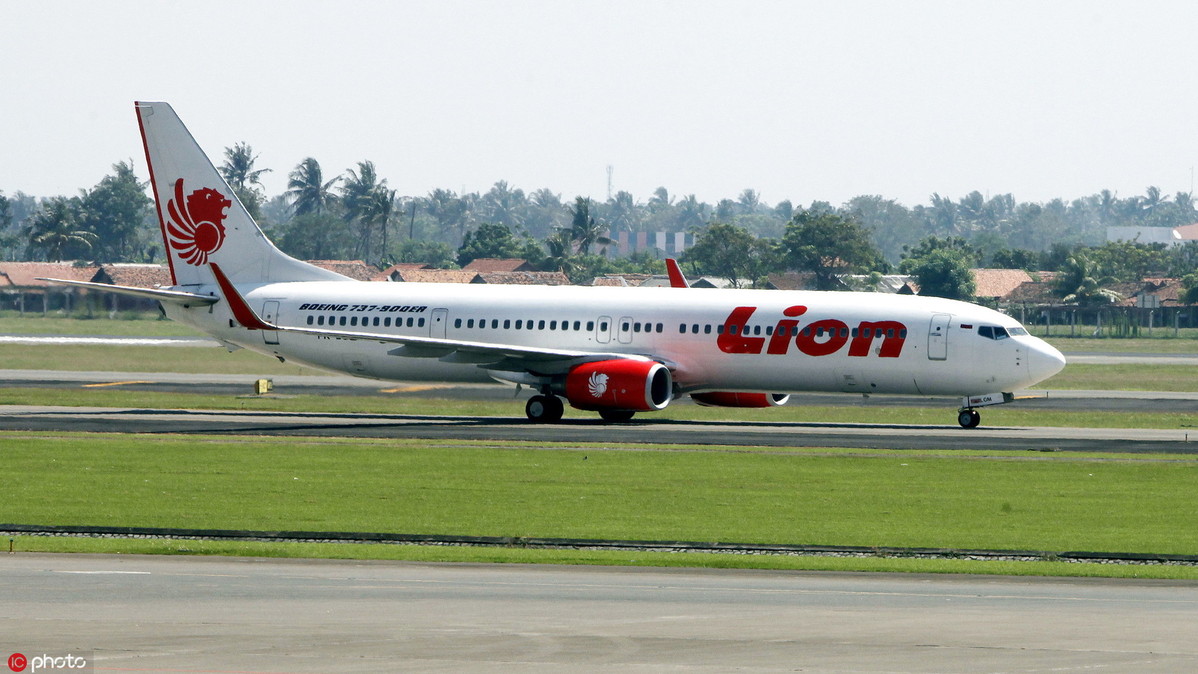 The Federal Aviation Administration (FAA) is struggling to retain control of recertification of the Boeing 737 MAX, a task made more difficult by Indonesian investigators who fault design and manufacturing oversight as key factors that led to the crash of a Lion Air flight — elements reviewed and approved by the US regulator.
The Wall Street Journal, citing "people familiar with the matter", reported Sunday that Indonesia's draft report on the crash is the first government finding of flaws that may have led to the crash. The newspaper said the report also cited pilot error and maintenance lapses as contributing factors to the Lion Air crash but didn't elaborate.
US regulators are preparing to announce recommendations to boost safety, such as increasing pilots' manual flying skills and improving the review of aircraft design, but it's not certain that their overseas counterparts will routinely adopt the FAA's findings as they have in the past.
John Cochran, professor emeritus of aerospace engineering at Auburn University and president of Eaglemark, an aviation consulting firm, said it may be necessary to revamp the FAA's certification process.
"It seems like there's a tremendous amount of politics involved in the whole thing," he told China Daily. "You just have to go back to square one and push things to a more stringent certification process. That will require a great deal of collaboration among regulators, and it may be difficult to get cooperation now."
Robert Mann, president of R.W. Mann & Co, an aviation consultancy in Port Washington, New York, told China Daily, "With any aviation accident, it's never just one thing. It's a series of faults that together create an unfortunate outcome. The MAX is systemically fixable. The major question is political, and the politics are toxic. The FAA is fighting for its supremacy in certifying aircraft globally, and it may not win that fight."
The FAA may require only additional laptop training for MAX pilots, but Canadian regulators may demand training on a flight simulator, a requirement that could delay return of the aircraft to commercial service in that country.
Australia's Civil Aviation Safety Authority said it may deny permission for MAX jets to fly into the nation's airspace even if the FAA approves the plane's return to commercial service in the US.
Regulators around the world may impose different requirements at different times to recertify the plane. If so, MAX jets could return to service on a staggered schedule and may be permitted to fly in some nations, but not others. That could create scheduling difficulties for airlines.
Boeing hopes MAX jets will return to service in the fourth quarter of this year. But Southwest Airlines, which operates more MAX flights than any other US airline, has canceled use of the jet through Jan 5.
American Airlines has canceled MAX flights through Nov 2. Boeing hasn't yet submitted its software update for the anti-stall system to the FAA for review.
China was the first to ground MAX jets last March after crashes Oct 29, 2018, in Indonesia and March 10 in Ethiopia killed 346 passengers and crew. Investigators have focused on the MAX's Maneuvering Characteristics Augmentation System (MCAS), an anti-stall device that may have erroneously pointed the nose of the planes down to gain speed to prevent a midair stall and into a fatal plunge.
The Journal said Indonesia expects to release the full report in November. A draft version was circulated to Boeing, Lion Air and the FAA in August. The Journal said it spoke to people who had read the report, but the newspaper didn't say it had obtained a copy for review. US officials are expected to meet their Indonesian counterparts at the end of this month to complete the report.
The NTSB is expected to recommend a review of FAA procedures that give industry representatives the ability to approve some safety matters, the Journal said.
"While the agency's certification processes are well-established and have consistently produced safe aircraft designs, we welcome the scrutiny from these safety experts and look forward to their findings," the FAA said in a statement. "We continue to work with international aviation safety regulators and will carefully consider all recommendations. The FAA will incorporate any changes that would improve our certification activities."
On Monday, the FAA met privately with foreign regulators in Montreal to discuss safety updates. New FAA Administrator Steve Dickson said the meeting was informational, and he didn't expect a breakthrough on returning MAX jets to service.