Meituan unveils new program to help farmers in less affluent areas
By He Wei in Shanghai | China Daily | Updated: 2019-09-26 09:40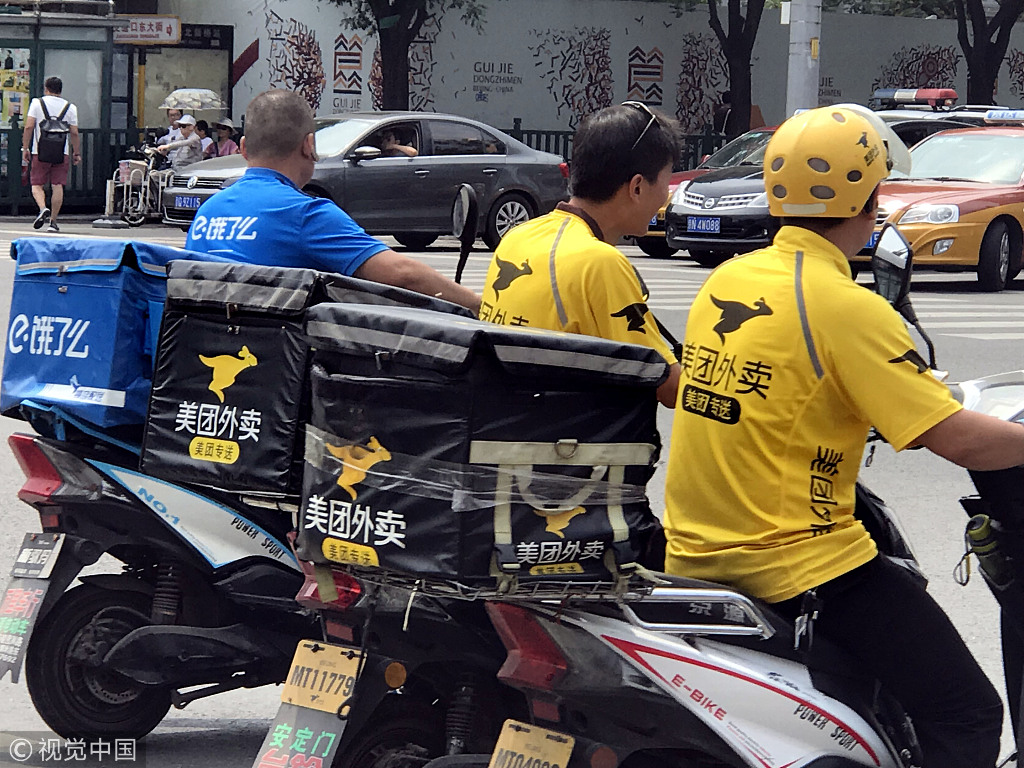 The idea of enjoying fine dining while making a donation to a good cause might sound appealing to some gourmet lovers. In China, technology and internet platforms are giving philanthropy a digital makeover.
Meituan Dianping, the country's leading on-demand service platform, has unveiled a dedicated charity program by soliciting food and restaurant merchants to source raw materials from less affluent areas and roll out especially designed menus using those ingredients.
Under an initiative dubbed "Food for Good", the company aims to help farmers in less affluent and mountainous areas by enabling them to secure procurement orders from restaurant chains.
The newly devised offerings are expected to attract gourmet enthusiasts and trend-seekers who aspire to taste cuisines that go beyond the familiar fare of local palates, said Mao Fang, vice-president of Meituan Dianping.
"Unlike conventional philanthropical endeavors, which normally features a one-time financial injection, the program aims to truly empower farmers by injecting real consumption needs and subsequently long-lasting business opportunities," she said.
After a debut run last year, the program has witnessed the invention of 15 new dishes using ingredients that range from highland barley from the Tibet autonomous region, badam from the Xinjiang Uygur autonomous region and ham from Yunnan province among others.
The platform joined forces with restaurants to co-develop and introduce 22 special menus, each containing at least one ingredient that came from the collective sourcing campaigns.
For instance, participating merchants will process barley, an ingredient rich in vitamins and other microelements, into noodles, sesame cakes, or even add it to porridge and tea. Chains from Lelecha to Canadian coffee stand Tim Hortons have used barley from Tibet in a range of bread offerings.
Meituan Dianping is home to roughly 5.9 million active merchants and 420 million users who have booked orders through its platforms, according to its financial releases issued last month.
Thanks to the precise match-making, the procurement of barley from Shanghai Zangri Agriculture Technology, a main barley producer in Tibet, jumped from 300 metric tons in 2017 to 1,500 tons so far this year, said company representative Wu Zhiyue.
This greatly circumvents the trouble people face when cooking these dishes by themselves, which is a rather different practice compared with dealing with more conventional food ingredients, Dianping product director Huang Tao said.
"We've mainly adopted two approaches. The invention of new dishes tends to enhance customers' awareness of how closely they are engaged in the philanthropical journey. The adoption of the sources of ingredients in existing menus stands to provide a stable procurement opportunity for merchants in less developed areas," said Huang.
Using data analytics, Dianping manages to track consumer preferences and offer suggestions to their menu designs. It also pledges to devote 5 million yuan ($704,550) worth of advertising resources to promote restaurants with such special offerings.
"Our survey showed that people are willing to pay a small premium for meals backing a charitable cause," said Mao.
"Under the auspices of Dianping, local produce that was previously unattainable in metropolises will become a perfect fit for group-procurement," said Zhang Chaohui, general manager of restaurant chain Dadong's Shanghai branch, which has sourced a special trout under the project.
The program doubles as an opportunity to share with diners the stories behind the new ingredients, and propel merchants to optimize their cooking techniques using those ingredients, said Zhang Linghan, chairman of Panggelia. "And they are rather affordable. Shrimp soup noodles using barley cost just 18 yuan per bowl at our store."