China promotes large pig farms to ensure stable pork supply
Xinhua | Updated: 2019-09-28 18:03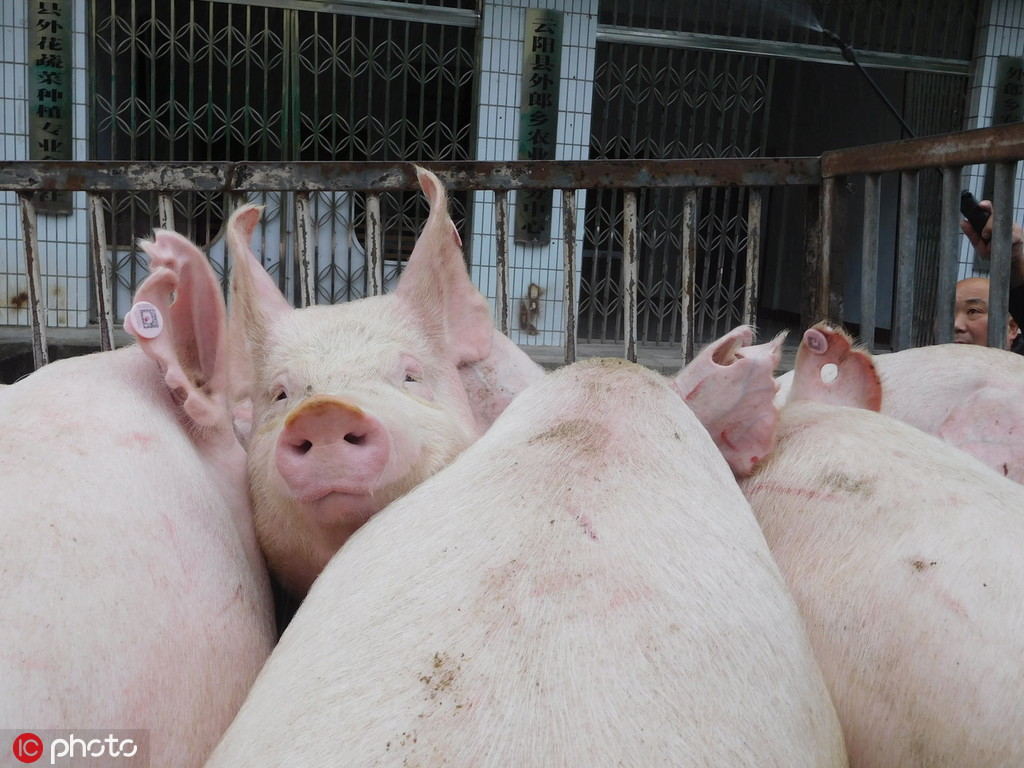 NANCHANG - In the Chinese Lunar Year of the Pig, pigs have attracted a large amount of attention as there has been a huge rise in the price of pork, China's staple meat, resulting in inflated living costs.
China's pig herd has shrunk substantially due to multiple factors including an outbreak of African swine fever and the lag effect of the last market cycle when low pork prices drove many out of business.
To help recover hog production, the Chinese government has ordered the stepping up of policy support to vigorously promote standardized and scale farming, remove unreasonable farming bans and beef up African swine fever prevention and control.
HIGH PRICE
Xiong Lijiao, a resident in Nanchang, capital of eastern China's Jiangxi province, a major pig-breeding region, said her family eats less pork now. "Prices of pork have doubled, making it much more expensive," said Xiong.
The weekly average price of a carcass-weight lean hog in 16 provincial-level regions was 37.57 yuan ($5.3) per kg in mid-September, up 94.1 percent year-on-year, according to the information center of the Ministry of Agriculture and Rural Affairs.
China, with a population of 1.4 billion, is the world's largest pork producer and consumer, where hog production accounts for about half of the world's total and pork accounts for 62.7 percent of residents' meat consumption.
There have always been cycles in the pork market, but few have expected that there would be such a big supply gap. China's pig herd in August shrank 38.7 percent from a year earlier while the number of breeding sows was 37.4 percent less, according to the ministry.
The hog market hit the bottom in the last market cycle in May 2018 and then started to recover, and a large decrease in hog production amid the African swine fever outbreak months later exacerbated the price hikes, according to the ministry.
"In the first half of last year, live hog prices dropped sharply to 8 yuan per kg, prompting many loss-making farmers to reduce breeding stock," said Fan Yuming, who runs a pig farm in the city of Gaoan in Jiangxi.
Since July of last year, farmers went from profit to losses, and as the African swine fever hit a month later, farmers did not increase their breeding stock as expected and pig herds started to sharply reduce, said Fan.
Many pig farmers even fled the business amid fears that the spread of the deadly disease could bring huge losses.
"Amid caution, most did not respond to the fat profit in the first half of the year," said Feng Yonghui, an analyst with soozhu.com, a pig-breeding industry information portal."This would prolong this market cycle, and pork prices are expected to remain high for a period of time."
RECOVERING CONFIDENCE
Despite the caution, there are good signs, too. The Ministry of Agriculture and Rural Affairs said favorable government policies and market conditions have boosted some farmers' confidence in restoring production.
China has rolled out 17 measures to support hog production since the end of August, and most of them have been implemented, according to the ministry.
Sharp rises in pork prices will boost profits. A hog could bring in a profit of up to 500 yuan in the past, but the profit has tripled to 1,500 yuan now, according to Jiang Changlin, deputy director of the department of agriculture and rural affairs in the city of Zhangshu in Jiangxi.
Hog stocks in some provinces have stopped falling and rebounded last month, with the number in 10 provinces remaining flat or even increasing compared with July, said Yang Zhenhai, an official with the ministry.
In August, the production of fodder for piglets saw its first expansion in five months to 1.46 million metric tons, up 2.2 percent month on month, which indicates rising stocks of piglets, said Yang.
With the outbreak of swine fever entering a relatively stable period and various favorable policies coming into effect, pig farmers have restored confidence in production, and pork supply is expected to gradually stabilize and recover, Yang said.
LARGE FARMS
To meet the market gap, China is increasing imports and releasing frozen pork from its central reserves. But eyeing a long-term solution, China is encouraging large-scale pig farming.
Early this month, China decided to offer subsidies from the central budget to large pig farms to support their facilities construction in a bid to stabilize the pork supply. The subsidies range between 500,000 yuan and 5 million yuan.
The swine fever epidemic highlights a new disease prevention and control threshold for pig breeders who earlier faced funding and environmental protection thresholds, Jiang said.
"The African swine fever has alerted many pig farmers that pig breeding also involves a lot of technical work," said Chen Lixiang, deputy general manager of NetEase Weiyang, NetEase's pig-breeding business.
Many large farms have more modern facilities that have better control of potential risks than smaller ones, said Chen.
"The industry concentration will further increase with many small and medium-sized breeding companies leaving the business," said Chen.
Some pig breeding companies have already resumed production in Jiangxi. "Our company plans to buy 10,000 sows within the year, which are expected to give birth to piglets starting next February," said Su Fumin, owner of a pig farm in the city of Zhangshu.
In the southwestern province of Sichuan, construction started on 13 pig breeding bases on Sept 20, which involve a combined investment of 2.5 billion yuan and are expected to produce more than 2 million pigs a year.
"Despite the current challenges, China's pig breeding industry is heading toward a more intensive, environmental-friendly and risk-resistant growth model," said Feng, an analyst with soozhu.com.