A lover of Asian arts, Chirac always stood for close Sino-French relations
By JULIAN SHEA | China Daily Global | Updated: 2019-09-30 10:00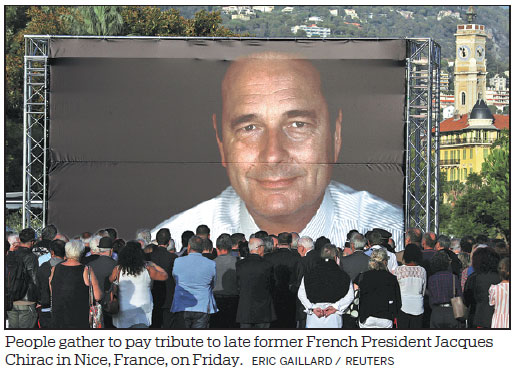 Former French president Jacques Chirac, who died on Thursday at the age of 86, has left a lasting impression on relations between his country and China, according to a leading French academic.
In his political life, Chirac, who was mayor of Paris and prime minister before serving as president from 1995 to 2007, was a frequent visitor to China, and in his private life took a deep personal interest in the country's culture.
"Chirac had a special relationship with China. He was passionate about Asian arts and the first Western leader to visit the Terracotta Warriors, and acquired a knowledge of Chinese culture and history that amazed even the experts. This personal interest in the country influenced France's policy toward China," said Jean Jona, professor of political science at the University of Montpellier.
"He developed a very close personal relationship with President Jiang Zemin whom he invited to his private residence in 1999, and during Chirac's presidency, relations between the two countries grew strongly.
"In 1997, they established a "global partnership" for the 21st century, which in 2004 became a "global strategic partnership", and that has since been renewed by the authorities in both countries on a regular basis.
To European observers, Chirac's legacy is somewhat mixed. Nicknamed La Girouette - the weather vane - because of his habit of changing his political stance on major issues, Chirac moved from being a euroskeptic to an ardent advocate of European federalism, taking his country into the eurozone in 1999 and calling the currency "much more than just a means of payment. It has a symbolic dimension. With it the Europeans will be stronger, more united."
But his authority and political standing at home were undermined when the French people rejected the proposed European Union constitution in a 2005 referendum, and to add insult to injury, in 2011 he received a two-year suspended prison sentence for corruption during his time as mayor of Paris in the 1970s.
Prominent European leaders paid glowing tributes to Chirac when his death was announced.
Ursula von der Leyen, the president-elect of the European Commission, said she was "pained" to learn of the passing of "a true leader, a great European and a man who inspired a generation".
Christine Lagarde, former managing director of the International Monetary Fund, called him "a visionary statesman and an inspirational leader who tirelessly worked to improve the lives of the French people and build a more peaceful world".
Bill Carmichael, course leader on the International Public and Political Communication MA course at the University of Sheffield, said that Chirac's legacy was significant but not without its flaws.
"I think he will be seen as a political change-coat who lacked any deep convictions. He became a champion of EU integration, but perhaps pushed the French people too quickly leading indirectly to the rise of the more euroskeptic National Front," he said.
"He was also in favor of the dramatic expansion of the EU, which some people argue has created problems that persist today. But he also took a tough line against the 2003 Iraq war, and given what has happened to Iraq since then, many people will see that stance as vindicated."
Professor Gordon Cumming of the school of modern languages at Cardiff University echoed the sentiment that Chirac was a politician who had overseen change, but not always in the way that he wanted.
"Chirac is probably best remembered for his opposition to the Iraq war, his resumption of French nuclear testing in the South Pacific and a willingness to take risks," he said.
"The EU constitution vote in 2005, in particular, was a calculated gamble that did not pay off, when many of the signs at the time looked favorable, but ultimately, as former British Prime Minister David Cameron has found out more recently, EU referendums do not lend themselves to easy political victories."
The same cultural sensitivity that Chirac displayed in his love of Chinese poetry and Japanese porcelain was also shown in his work in Africa.
"He was genuinely committed to overseas development, to debt reduction and also to African artwork, as reflected in the Musee du quai Branly in Paris, which he commissioned," he said.
In Paris, the lights of the iconic Eiffel Tower were turned off on Thursday night in honor of the passing of the city's former mayor. But even after his death, the warmth that Chirac brought personally to relations between France and China continues to glow.