Awards reflect global respect, understanding
By WANG MINGJIE in London and NA LI in Toronto | China Daily | Updated: 2019-10-01 02:09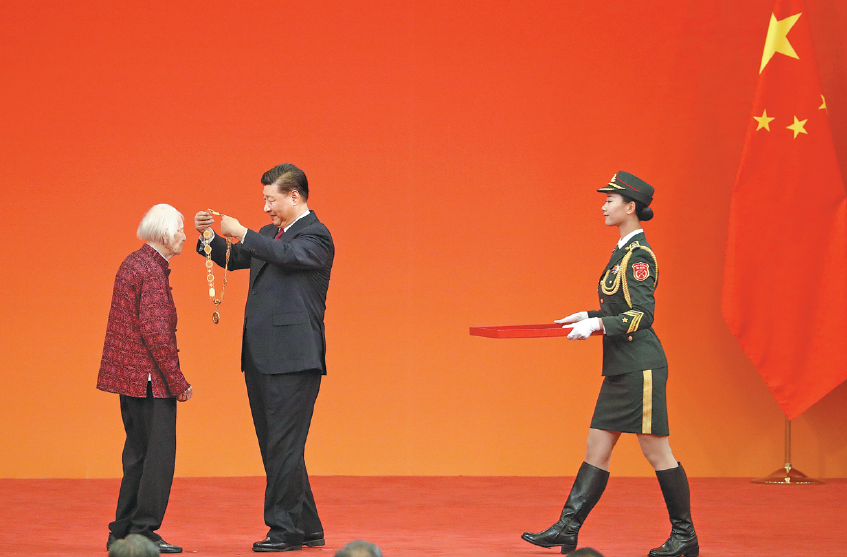 Medal of Friendship honors highlight China's eagerness to engage with world
The Medal of Friendship awards given to six foreigners on Sunday represent China's appreciation of global figures who promote understanding and respect, according to international scholars.
President Xi Jinping presented the Friendship Medal to former Cuban president Raul Castro Ruz, Thai Princess Maha Chakri Sirindhorn, former Tanzanian prime minister Salim Ahmed Salim, Russian Sinologist Galina Kulikova, former French prime minister Jean-Pierre Raffarin and Canadian educator Isabel Crook.
This brought to eight the number of foreigners awarded the medal. Russian President Vladimir Putin was the first foreigner awarded the medal in June last year. Former Kazakhstan president Nursultan Abishuly Nazarbayev was also given the medal in April.
"We have sincere gratitude for the recipients of the Friendship Medal for their contribution to China's development," Xi said on Sunday in Beijing during the award-giving ceremony, adding that Chinese people are willing to work with people of all countries to build a community with a shared future for mankind and to make the planet a better place.
Christopher Bovis, a professor of international business law at the University of Hull in the United Kingdom, said the medals reflect China's appreciation of contributions to areas of major importance, such as peace, free trade, the environment, international development and growth, institutional reform and sustainability.
"China has opted for establishing the Medal of Friendship to show the country's respect for individuals who accept and share China's objectives and purpose in international affairs," he said.
Michael Crook, Isabel Crook's son, said: "In many countries, medals are given for bravery in battle, distinction earned in conflict with other countries. In my view, there is far too much war and conflict in the world today. What is needed is much more friendship and understanding."
He said his mother's contributions to promoting exchanges and cooperation between China and Canada — and indeed many other parts of the world — had been achieved through decades of teaching in China. Her students have served as diplomats and workers in many other fields of China's peaceful engagement with other countries.
Kriengsak Chareonwongsak, senior fellow at Harvard University and chairman of the Nation-Building Institute in Thailand, said: "Princess (Sirindhorn) has received the Medal of Friendship and this has brought honor to our country as she represents Thailand.
"The princess has fondly and consciously visited many different provinces of China numerous times. This shows that she has deep respect, affection (for) and interest in China."
Punchada Sirivunnabood, associate professor at the Faculty of Social Sciences and Humanities at Mahidol University in Bangkok, said the medal given to the princess showed the relationship between China and Thailand is not only at the government level but also at a higher level. This means that there's a close relationship between Thailand and China, Punchada said.
Jenerali Ulimwengu, a political analyst based in Dar es Salaam, said the award given to Salim honored the former prime minister's outstanding contributions to promoting cooperation and respect between China and the world while he was serving as the country's representative to the United Nations.
"It is a deserving recognition of one of Tanzania's outstanding diplomats. He was instrumental in championing the cause of China, especially in its admission into the UN in 1971," Ulimwengu said.
"The China-Africa relationship has historical links. And this award is testimony that it continues to be the basis of future endeavors."
Dmitry Novikov, the first vice-chairman of the International Affairs Committee of the Russian State Duma, said the recognition of Galina Kulikova showed the stability of the Sino-Russian strategic partnership for a new era.
The high-level interaction between China and Russia has become an advanced model of modern international relations, Novikov said.
Lucie Morangi in Nairobi, Prime Sarmiento in Hong Kong and Ren Qi in Moscow contributed to this story.