Longtime Michigan farmer laments trade war, hopes for resolution
By MAY ZHOU and ZHANG YUAN in Lansing, Michigan | China Daily Global | Updated: 2019-10-02 00:21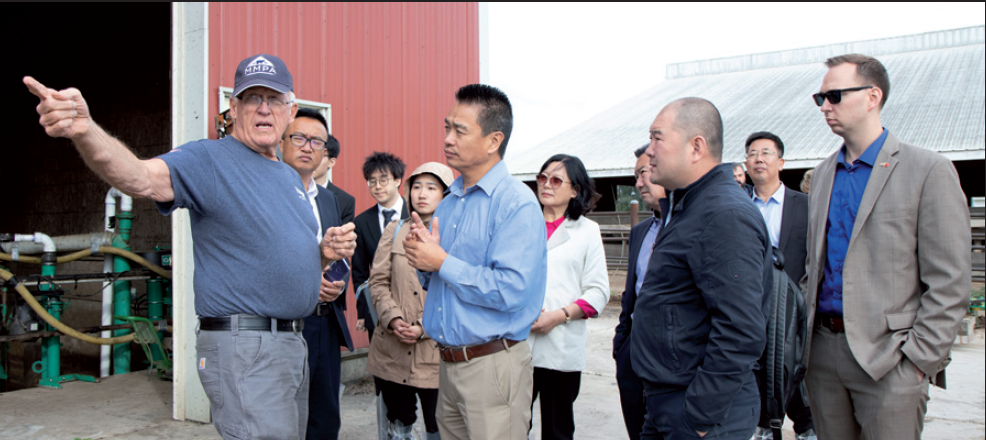 Ken Nobis, a dairy farmer in Michigan for about a half century, has soured on the trade war.
"We are not exporting as much dairy product. It has a really severe impact in Michigan because of the dairy-product mix we have. We have been especially hard hit in the trade war because not as much milk powder was being exported. It's not just China; we have issues with Mexico also," said Nobis, who also serves as senior policy adviser at the Michigan Milk Producers Association.
On Sept 25, officials from Hohhot, Inner Mongolia autonomous region, and the China Mengniu Dairy Co toured Nobis Dairy Farms in St. Johns, Michigan, about a half-hour drive from Lansing, the state capital.
Walking with Nobis, the visitors saw cows, picked up cow feed and smelled the fermented odor; they surveyed sand- and manure-separation equipment and asked about the sand-recycling rate. The Chinese delegation was in Michigan to learn about the best farming practices of the US dairy industry.
It was not the first time the farm has received Chinese visitors, according to Nobis, a third-generation farmer. "I am glad to see them. I know Mengniu is a big company. We'd love to sell them dairy products," he said.
"We farm about 3,000 acres, and we milk roughly 1,100 cows. About half of the farm acreage goes to feed the animals, and the other half is what we call a cash farm [where] we plant some soybeans, corn and wheat," he said.
Nobis has 22 full-time employees and processes 32 million pounds of milk a year. The milk is sold to the Michigan Milk Producers Association, a cooperative. The farm sells its crops such as soybean and wheat to grain traders.
Like many other businesses in the US Midwest, Nobis Dairy Farms has taken a hit from President Donald Trump's trade war with China.
The farm received some compensation from the US government for its losses, however, "we are still not being made whole in the process. It's not enough to make up the difference," said Nobis.
Nobis does not believe tariffs are the best way to solve a trade dispute. "I know that there are issues, not going to deny that. But I think the method that is currently employed is not an effective way to resolve those issues," he said
Looking to future trade talks, Nobis said he can only hope.
"I hope it comes to a good. I hope it gets settled, and we get back on even keel and export more products to China again. It's a global society today; you can't shut your borders and make progress," Nobis said.
Gary McDowell, director at the Michigan Department of Agriculture and Rural Development, concurred with Nobis.
"China is a big importer of Michigan dairy products. This uncertainty hurts markets. All I know is that we have to get this resolved, the sooner the better for everybody, for the US and for China. We can help each other, work together and improve life for people in this country and people in China," he said.
Contact the writers at mayzhou@chinadailyusa.com