Manufacturing in US reports another drop
By AI HEPING in New York | China Daily Global | Updated: 2019-10-03 00:00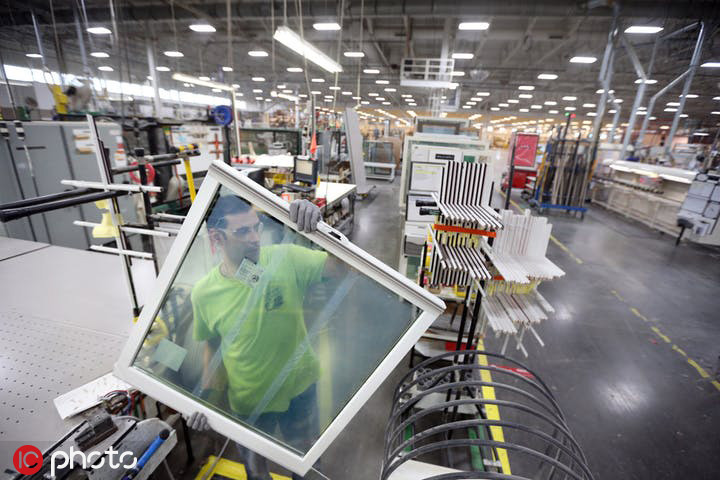 ISM index falls to lowest level since 2009 amid slowdown talk
Manufacturing in the US declined for the second consecutive month in September, marking the worst month in more than a decade, as the World Trade Organization (WTO) downgraded its forecast for global trade growth for this year and next because of the US-China trade war and a broader economic slowdown.
The Institute of Supply Management's (ISM) manufacturing index dropped to 47.8 in September, its lowest level since June 2009, the month that marked the official end of the recession, and worse than what economists had expected.
The index measures month-to-month changes in the industry. A reading below 50 denotes contraction in the sector.
The strike at General Motors, now in its third week, also probably contributed to the drop in September, as 46,000 workers stopped working, forcing the automaker to halt production.
"Global trade remains the most significant issue, as demonstrated by the contraction in new export orders that began in July 2019," said Timothy Fiore, chair of the ISM's manufacturing business survey committee.
More worrisome than the drop in the overall index number is the report's decline in factory orders of exports, said Torsten Slok, chief economist at Deutsche Bank. "There is no end in sight to this slowdown, the recession risk is real,'' he wrote in a note to clients.
Companies that make machinery cited softening demand and reduced backlogs, but food, beverage and tobacco producers said Chinese tariffs are hurting their businesses, the ISM survey showed.
Employment also fell in the ISM report, an indication that manufacturers are laying off employees.
Manufacturing accounts for about one-tenth of the US economy, but it remains major in swing states that President Donald Trump won in 2016: Michigan, Ohio, Wisconsin and Pennsylvania.
Gary Hufbauer, an analyst at Peterson Institute in Washington, said in an email to China Daily that while manufacturing accounts for only a tenth of employment "it accounts for about a fifth of value added''.
"I give trade wars direct and indirect 'credit' for at least half of the slowdown, and all other factors — aging recovery, political turmoil, etc. — the rest of the 'credit'. Until Trump calls a truce, or the Fed cuts another 50 basis points, I don't think we will see bottom,'' he said.
Peter Boockvar, chief investment officer at Bleakley Advisory Group in Fairfield, New Jersey, wrote in an email to The Washington Post: "We have now tariffed our way into a manufacturing recession in the US and globally. What's the strategy now? It better be more than the Chinese buying more soybeans."
Brendan Ahern, chief investment officer at Krane Funds Advisors in New York, told China Daily in an email that the US economy is driven by consumer consumption rather that manufacturing, though he said the poor ISM numbers could have a spillover effect on the broader economy.
"The slowdown is driven by a multitude of issues such as slowing auto purchases globally, though the ongoing trade dispute between the US and China is a factor as companies take a more defensive financial posturing due to policy uncertainty,'' he said.
Usha Haley, who holds the W. Frank Barton Distinguished Chair in International Business at Wichita State University, said in an email to China Daily that the manufacturing slowdown is "part of the global economic slowdown, which includes the US-China trade dispute but also Brexit. Companies are also hesitant to invest in innovation and manufacturing because of heightened trade uncertainty, so the downward spiral continues''.
On Tuesday, the WTO said world merchandise trade volume is expected to rise 1.2 percent in 2019 — markedly slower than the 2.6 percent forecast in April. For 2020, the forecast estimates 2.7 percent growth instead of 3 percent.
"The darkening outlook for trade is discouraging but not unexpected," WTO Director-General Roberto Azevêdo said in a statement. "Beyond their direct effects, trade conflicts heighten uncertainty. … Job creation may also be hampered as firms employ fewer workers to produce goods and services for export."
The WTO further warned that additional rounds of tariffs — and retaliation against those levies — posed a direct threat to jobs and livelihoods while discouraging companies from expanding and innovating.
Scott Reeves in New York contributed to this story.