Tariffs pinch US hardwood exports, as China was major customer
By SCOTT REEVES in New York | China Daily Global | Updated: 2019-10-03 02:25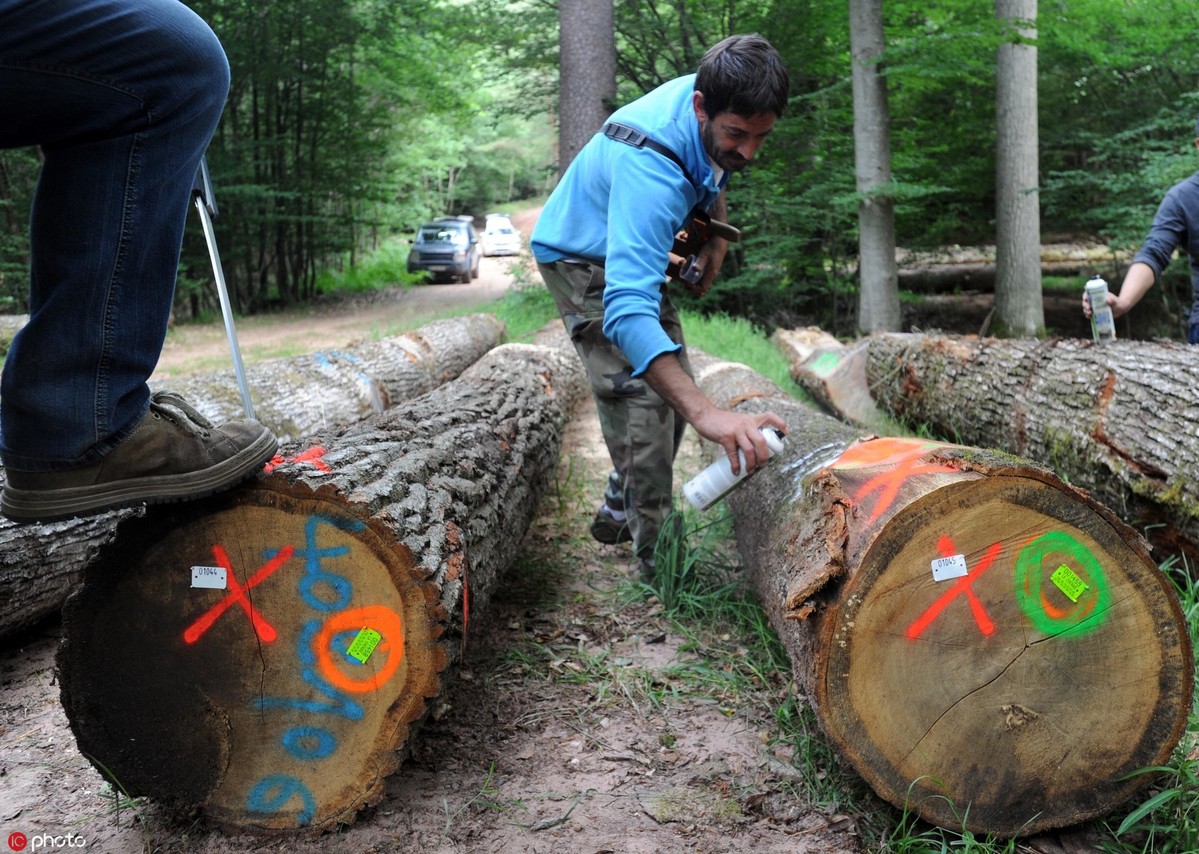 For US hardwood exporters, money grew on trees until retaliatory tariffs imposed as part of the continuing trade dispute with China priced them out of the market and sales plunged.
For the first five months of 2018, total US hardwood exports to China and Southeast Asia totaled $1.8 billion. That fell 22 percent to $1.4 billion for the same period this year, as hardwood lumber sales to China declined 40.2 percent to $403 million, hardwood log sales fell 30.6 percent to $201.3 million, and hardwood veneer sales fell 41.8 percent to $2.23 million, reported the American Hardwood Export Council (AHEC), a trade group in Sterling, Virginia.
"Mills have made significant layoffs," Michael Snow, AHEC executive director, told China Daily. "This has a significant impact in the small towns of West Virginia, North Carolina and western Pennsylvania, where there aren't a lot of other jobs available. Prices for red oak have declined significantly. The mills don't own the forests, which are in private hands, and if the tree owners don't get the price they want, they just wait. Unlike soybeans, which have to be harvested each year, trees can just continue to grow."
The hardwood and softwood industries are completely different. Major publicly traded forest product companies such as Boise-Cascade or Weyerhaeuser focus on softwood used in house building, railroad ties or paper pulp.
The hardwood industry is composed of many independently owned small mills and thousands of family-owned tracts of trees supplying wood for high-value items such as furniture, cabinets and flooring. Worldwide, US hardwood exports last year totaled about $4 billion, or about 1.4 percent of the $283 billion US timber and paper industry.
Increasing exports of American hardwoods — including ash, beech, birch, cherry, hickory, maple, red oak and walnut — reflect China's growing middle class and picked up the slack as American buyers gradually turned from red oak, a popular wood known for its distinctive grain.
The American hardwood industry has scrambled to find alternative markets. Exports to Vietnam, Thailand and Singapore have climbed, but aggregate sales to smaller markets couldn't make up for declining sales to China, especially as hardwood sales to Indonesia and the Philippines fell as tariffs cut exports to China.
"Retaliatory tariffs from China have been a buzz saw through Appalachian hardwood businesses and the families that own and operate them," Frank Stewart, executive director of the West Virginia Forestry Association, said in a letter to the editor of the Inter-Mountain newspaper.
"Sawmill owners looked for alternative markets in Vietnam, Indonesia and Europe. There is no other market to absorb 32,025 shipping containers of American red oak sold to China in 2017. The tariffs have taken all profits from US hardwood exports to China. It will drive mills out of business this year, losing jobs and outlets for landowners to sell their timber."
The US announced the first round of tariffs in July 2018. China responded in August by imposing retaliatory tariffs on US wood products, including hardwood logs, veneer, pulp and paper.
In January 2017, Beijing prohibited commercial cutting in national forests, increasing the demand for foreign timber. As a result, China's reliance on imported timber rose from 28.4 percent of consumption to 56.4 percent in 2017, analysts said.
In the US, about 3 million square kilometers are forested, with Alaska, California and Oregon leading the nation. Hardwood trees grow in cool or cold regions, and variation is extensive. There are about 60 types of oak trees in the US, including 20 different varieties in California. Luckily for US producers, most forest products are sold domestically. But that's little consolation to independent hardwood producers hit hard by the trade dispute.
"Exports comprise only a small percentage of total production," Hancock Timber Resource Group said in a research report. "Hardwood products are more vulnerable to Chinese tariffs than softwoods because of the larger proportion of production directed to exports, China's dominant role in global hardwood log and lumber imports, and the generally higher tariff levels announced for hardwoods compared to softwood products."
Nevertheless, the Chinese hardwood market has grown from less than 1 percent of total US production in 2001 to 11 percent in 2017, statistics compiled by Hancock show.
"The growth of Chinese hardwood imports continues to outpace overall growth in global imports," Hancock's analyst said. "In recent years, most hardwood imported to China has been destined for domestic furniture production, including wood of higher quality for interior designs, such as high-end flooring, cabinetry and trim."
Hardwood producers in Europe, Russia and New Zealand are the immediate beneficiaries of the US-China trade dispute. If an agreement is reached, analysts expect American suppliers to rebound. But there will be no immediate miracles.
"I'm optimistic that a trade deal will be reached — eventually," AHEC's Snow said. "But I don't think we'll see a deal in the near future. We've seen a little uptick for demand in Europe and Mexico. The bottom line is that no country can match China's volume."