China's success story narrated in 70th anniversary of PRC
By Hujjatullah Zia | chinadaily.com.cn | Updated: 2019-10-09 09:03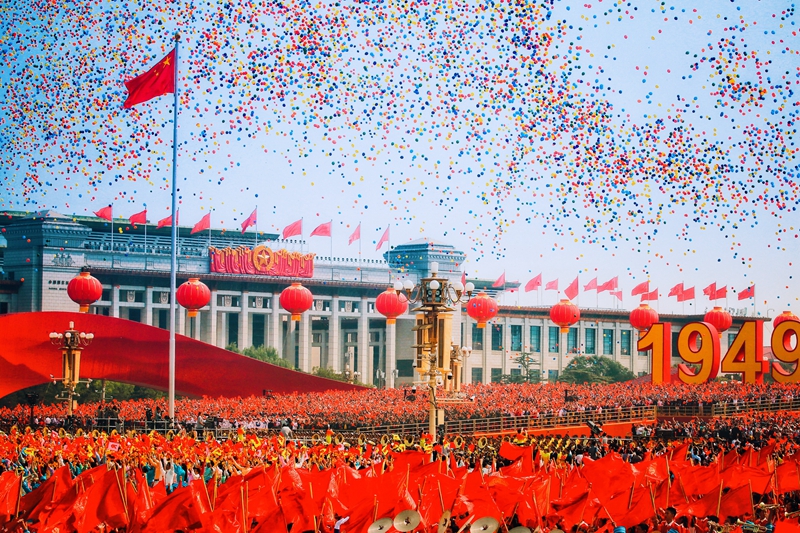 Celebrating the 70th anniversary of the People's Republic of China on Oct 1, Chinese people, along with China's leadership, past and present, gathered in Tiananmen Square, the country's symbolic political heart, to watch the military parade of 15,000 troops and several sophisticated types of weapons.
Delivering his opening speech with former leaders Jiang Zemin and Hu Jintao at his side, Chinese President Xi Jinping said, "No force can ever shake the status of China, or stop the Chinese people and nation from marching forward." Hewing to tradition, President Xi watched the parade from the same spot where Mao stood to announce the establishment of the People's Republic of China on Oct 1, 1949.
Then Xi rode in an open-topped limousine past dozens of rows of truck-mounted missiles, armored personnel carriers and other military gear.
The military parade began with helicopters flying overhead carrying China's national flags. Fighter jets roared across the Beijing sky, thousands of soldiers goose-stepped down the capital's boulevards, stealth drones whirred above, followed by columns of tanks and trucks bearing new intercontinental ballistic missiles, which was described as the country's biggest-ever military parade. According to state media commentary, some 40 percent of the armaments were displayed in public for the first time.
It was followed by a pageant involving 100,000 civilians and 70 floats depicting China's greatest achievements and featuring tributes to national icons from founding Party leader Mao Zedong to President Xi. Giant portraits of Mao, Deng Xiaoping – who had launched China's reform and opening-up policy in 1978 – Jiang, Hu, and Xi were displayed. There was a bicycle performance that recalled pedal power was for many decades the dominant transport mode in Beijing, once known as the "bicycle kingdom". That is, China was known for the bicycle before it became an economic juggernaut. Moreover, replicas of a space rocket, homegrown passenger plane and high-speed trains were followed by smiling ethnic groups.
Xi waved as the civilian parade danced past, with floats recalling historical themes of the past seven decades.
For the Communist Party of China, this was one of the most consequential National Day celebrations as the Chinese leaders watched the parade from a viewing platform over Tiananmen Square.
Then China was so poor and battered by civil war that some of its 17 war planes were reportedly ordered to fly by twice, to make the air force seem larger than it was. This year's vast parade emphasized how much has changed.
The last 70 years have seen extraordinary progress in lifespan, literacy and incomes: Hundreds of millions are no longer living in poverty and China's poverty alleviation project, which will be accomplished in the coming year, will lift every Chinese citizen out of poverty leaving no one behind. For instance, just three decades ago, China with its near-destitute millions seemed a hopelessly backward nation. Today, in the most startling national transformation of the modern era, it is a global economic powerhouse and the first largest trading nation.
Many in China are grateful for the Party's rule. It enjoys a level of support that many democratically-elected governments would envy.
This mega event has been the narrative of China's political and economic success within the past seven decades. Skyscraper-festooned, hi-tech megacities connected by brand new highways, and the world's largest high-speed rail network are jaw-dropping for new visitors to China.
For many Chinese people, the parade could be viewed as a fitting tribute to a national success story that mirrors their own. Thousands of people waved flags rapturously throughout the parade and their eyes gleamed with hope, emotion, and confidence.
Ordinary Chinese watching the parade on television posted messages on social media that they were moved to tears at the message that the nation has risen to greatness after decades of struggle. Meanwhile, on the gala night, national media showed the Chinese celebrating with tears of joy in their eyes and rapture on their faces. Watching the emotional moment, the tears of my Papua New Guinean friend rolled down her cheeks. The 70th anniversary, replete with selfie moments, unleashed a wave of fervent patriotism among young and old alike and mobilized the country emotionally.
"China's today is being created in the hands of hundreds of millions of Chinese people, and China will surely have an even brighter future." Xi said.
The author a is an Afghan journalist and freelance writer.