Ancient town alive with thousands of lanterns
By LI JING and ZHANG YU | China Daily | Updated: 2019-10-09 09:25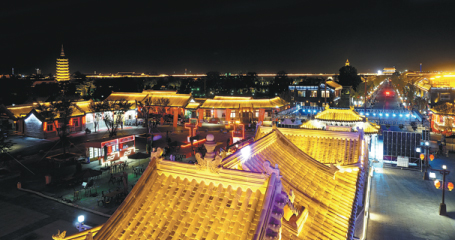 When night falls, the modern part of the county fades into darkness. Red lanterns in a variety of sizes illuminate ancient structures, bringing the ancient town back to life.
Zhengding, around 250 kilometers southwest of Beijing, one hour from the capital by high-speed train, is a county in Shijiazhuang, the capital of North China's Hebei province.
With a history of more than 1,600 years, it was once named one of the three most important towns in ancient northern China, with the other two being Beijing and Baoding, also in Hebei.
A two-story tower sits in the center of the county. When the lights are turned on at night and shed a soft glow on roofs, the sight is impressive.
It is a walled city, though much of the wall is in ruins. The southern section has been restored, lined with red electric lanterns and extending on both sides to a total length of around 9.6 km.
Zhengding has four pagodas, eight temples, nine towers and 24 memorial gates.
The square brick Xumi Pagoda at Kaiyuan Temple, located near the South Gate, is designed to open at night.
Said to date back to the Tang Dynasty (618-907), the nine-story pagoda is 42.5 meters high and sits on a square stone platform.
At the corners of the platform, small stone carvings of heavenly kings and guardians in the Tang artistic style have been well preserved.
Next to it is the province's first archaeological site open at night. Originally part of the temple that houses the pagoda, the site has produced more than 6,000 cultural relics and other artifacts since protection work began in 2015.
Visitors can view the archaeological site, which is enclosed by glass.
Cultural relics like these are treasured by the ancient town, which takes pride in its history.
Historical records show that five emperors of the Qing Dynasty (1644-1911)-Kangxi, Yongzheng, Qianlong, Jiaqing and Guangxu-visited the ancient town.
Emperor Kangxi once left his handwriting on horizontal inscribed boards at Longxing Temple, the most famous temple in Zhengding.
The local government started to renovate and beautify the ancient town two years ago, to protect its cultural relics and develop tourism as a pillar industry, including restoring ancient walls and widening and cleaning up downtown streets, according to Zhengding's bureau of culture and tourism.
More than 100 buildings, trees along the sides of 14 streets and a dozen public parks and parking lots are brightened by lighting. About 45,000 small lanterns have been installed on trees along 14 major streets in Zhengding.
Besides ancient architecture, a food street provides visitors with local specialties, even late into the night, as around 600 restaurants, bars and shops are open at night.
"To create a satisfying consumption environment at night for citizens and tourists is our goal," said Wang Yonghong, deputy head of the bureau.
She said tourists could enjoy themselves in the county while appreciating its ancient culture.
The county held more than 80 cultural events, such as musicals and traditional opera festivals, during the National Day holiday week.
"This beautiful ancient city comes alive at night! It is truly magical. People are dancing everywhere, beautiful buildings, amazing vibe," said a comment on TripAdvisor, one of the world's largest travel websites.
Last year, the county received about 13 million tourists, up 145.8 percent year-on-year. Its tourism revenue topped 6 billion yuan ($840 million) last year, a year-on-year increase of 174.7 percent, according to the bureau.