Trade tensions hurting global economy
By ZHAO HUANXIN in Washington | China Daily Global | Updated: 2019-10-09 23:08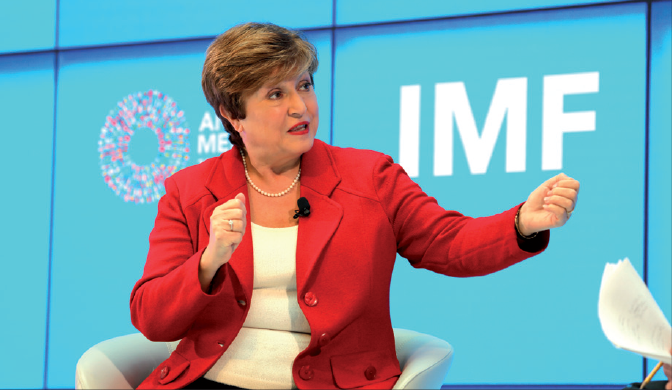 Growth will fall to its lowest rate since the beginning of the decade, says IMF
Trade tensions are taking a toll on the global economy and a lasting solution is necessary, Kristalina Georgieva, managing director of the International Monetary Fund said on Tuesday.
Georgieva, who this month took the IMF helm from Christine Lagarde, said the global economy is now in a "synchronized slowdown", and global trade growth has come to a near standstill, with trade disputes and the ensuing uncertainty and Brexit continuing to hold back economic potential.
"This widespread deceleration means that growth this year will fall to its lowest rate since the beginning of the decade," Georgieva said in her speech "Decelerating Growth Calls for Accelerating Action".
Showing a graphic of projected global GDP loss from the lengthy trade conflict between the United States and China, Georgieva said the cumulative effect of trade conflicts could mean a loss of around $700 billion by 2020, or about 0.8 percent of the GDP.
The indirect effects of the trade war, including the loss of confidence and productivity and market reactions-are far greater than the direct economic impact of the tariffs, Georgieva said.
The 66-year-old Bulgarian economist turned to the packed audience and asked if there was anyone from Switzerland.
"Well, maybe it's right that there is nobody from Switzerland because in this scenario the whole economy of Switzerland disappears," she said, referring to the estimation that the global GDP loss would be close to the size of Switzerland's entire economy.
Shan Weijian, group chairman and CEO of PAG, a Hong Kongbased private equity firm, said the trade dispute, if it continues, will compromise the international trading system, which relies on a global division of labor based on each country's comparative advantage. "Once that system becomes less dependable-when disrupted, for instance, by the boycotts and hostility of trade wars-countries will start decoupling from one another," he said in a recent article.
Noting that China and the US are "joined at the hip" economically, Shan said any attempt to decouple the two economies will bring catastrophic consequences for both, and for the world at large.
Noting the Bulgarian Ambassador to the US Tihomir Stoytchev was among the audience, Georgieva said, "I'm going to use a Bulgarian proverb: We are in the position that we can take a horse to water-by showing the evidence peace is better than war-but we cannot make the horse drink-that has to go into national self-interest and decision-making."
She said countries need to address legitimate concerns related to their trade practices and also to "improve, not abandon" a more modern global trading system, particularly to unlock the full potential of services and e-commerce.
Quoting a quip that the IMF stands for "It's Mostly Fiscal", Georgieva urged countries to deploy-or get ready to deploy-fiscal firepower, including an increase in spending especially in infrastructure and research and development in developed countries, which will help boost demand and growth potential.
The new IMF chief also urged countries to act quickly to implement structural reforms, which as IMF research has found, could raise productivity and generate enormous economic gains.
"Potential job losses from automation and shifting demographics require countries to reform the structure of their economies," she said. "If we do not act, many countries will be stuck in mediocre growth."
She borrowed a proverb from Vietnam, the home country of a young IMF colleague who "sadly passed away" last year to highlight the urgency of action: "The time to jump is before your feet get wet."
She also called for countries to embrace international cooperation, from safely adapting to fintech, to fully implementing the financial regulatory reform agenda, to fighting money laundering and the financing of terrorism, and addressing climate change.
"We are, in the IMF, committed to assist countries to reduce carbon emissions and become more climate-resilient and we recognize that at the current average carbon price of $2 per metric ton, most people and most companies have very little financial incentives to make this transition," she said.
Limiting global warming to a safe level requires a significantly higher carbon price, and taxing carbon is a laudable strategy, according to Georgieva.
"My professor of statistics loved to say about averages: 'You put your head in the refrigerator, you put your feet in the oven, your temperature is average, but you're dead,'" Georgieva said.