LA youth robotics team raises money to compete in China
By LIU YINMENGin Los Angeles | China Daily Global | Updated: 2019-10-12 00:22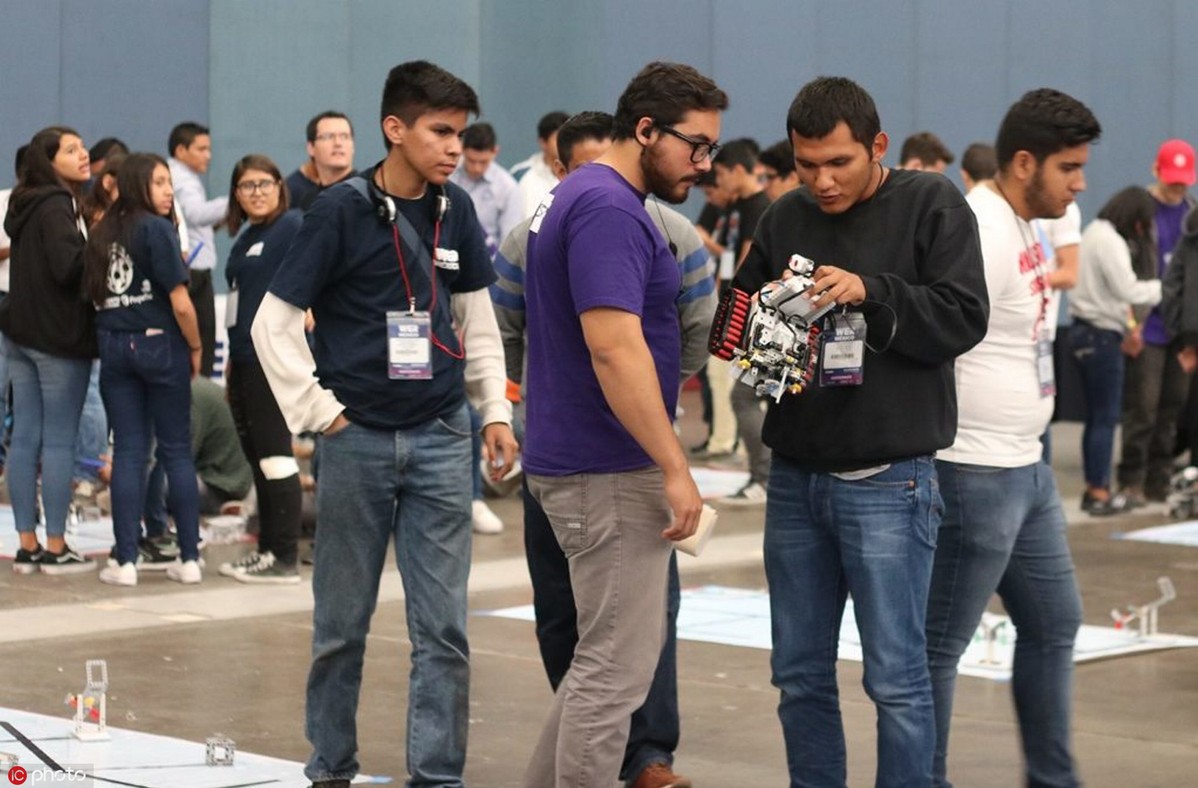 When Jennifer Lashley started South LA Robotics, a community club that provides training such as computer programming and coding to children who don't have access to quality STEM-based education, little did she know that three of her students would take their passion for technology to the next stage.
After Donald Beatty, Erick Arias and Edgar Elias claimed the top spots in the 2019 World Educational Robot (WER) Contest US Open in August, they were invited to participate in the next round of competition against contestants from around the world in Rizhao, a city in the southeastern part of China's Shandong province.
"So this was our first time being a part of it, and since our kids took first and second, they have been invited to China to continue with the competition," said Lashley, the lead instructor at the club, which she started only this past summer.
The WER competition, founded and organized by World Educational Robotics Society (WERS), is an Olympic game in the educational robot industry. It caters to children and teenagers aged 3 to 18.
The competition attracts 500,000 contestants from 50 countries annually who have the opportunity to participate in contests from municipal/district/county levels to the international levels. The WER 2019 world championship will take place Dec 14-15 in Shanghai.
To fund the trip and send three children (and one parent each), and one coach, to China from Oct 24 to Oct 29, Lashley started a GoFundMe page on Aug 21.
In a little over a month, the initiative has received an outpouring of support from community members and beyond who understand the importance of international exposure for the youth, and who want to help talented students showcase their skills to the world.
"I wouldn't say surprised; I would definitely say, just appreciative, and thankful, and it makes us all just want to jump up and down and cheer, because we are all like 'Yes, I feel it, there are so many people here who really support our kids, and it's just a really good feeling," Lashley said about the donations.
As of Oct 9, the fundraiser had collected $7,370, surpassing the goal of $7,000. Most of the funds will go toward flights, hotels and other transportation expenses. Money raised beyond the goal will help pay visa fees, Lashley said.
The competition is an extraordinary occasion for children in neighborhoods where there are a lack of resources for robotics programs, Lashley said.
"It's a very big deal for them, and it's not something that you hear about all the time in the neighborhoods where they are growing up. You just don't hear about kids winning a robotics contests and going to another country. It's just rare," she added.
The trip marks Lashley and her team's first trip to China, and Lashley described the upcoming journey as "an eye-opening" experience for the group of students.
Thirteen-year-old Donald Beatty, who claimed first place in the US Open, said the trip will be his first outside the United States.
"The trip to China is very exciting, and at the same time, I'm kind of nervous, because it's going to be a huge competition with a lot of people there, and I don't know what to expect," he said.
His fellow group member, Edgar Elias, 13, caught glimpses of China through cooking shows that his dad watches.
"I would always say, Oh, I want to go visit, mainly because of the food. It's a pretty beautiful place over there in China," said Elias, who took second place in the US Open with his partner, Erick Arias, 13.
Elias said that his parents are so excited about the opportunity, they ended up wanting to pay for the tickets so that they, along with his little sister, could travel to China with the team.
The chance for collaboration with fellow young robotics enthusiasts from the international community is also part of what makes the contest a unique learning experience for the children.
While participating in the US WER Open, the students from Lashley's classes came into contact with counterparts from Beijing. They quickly hit it off. The technology-savvy youngsters even found a way to talk with each other via Google Translate when it came to difficult programming language.