China notes its 'utmost sincerity' in trade talks with US
By Zhao Huanxin in Washington and Jing Shuiyu in Beijing | China Daily | Updated: 2019-10-12 04:58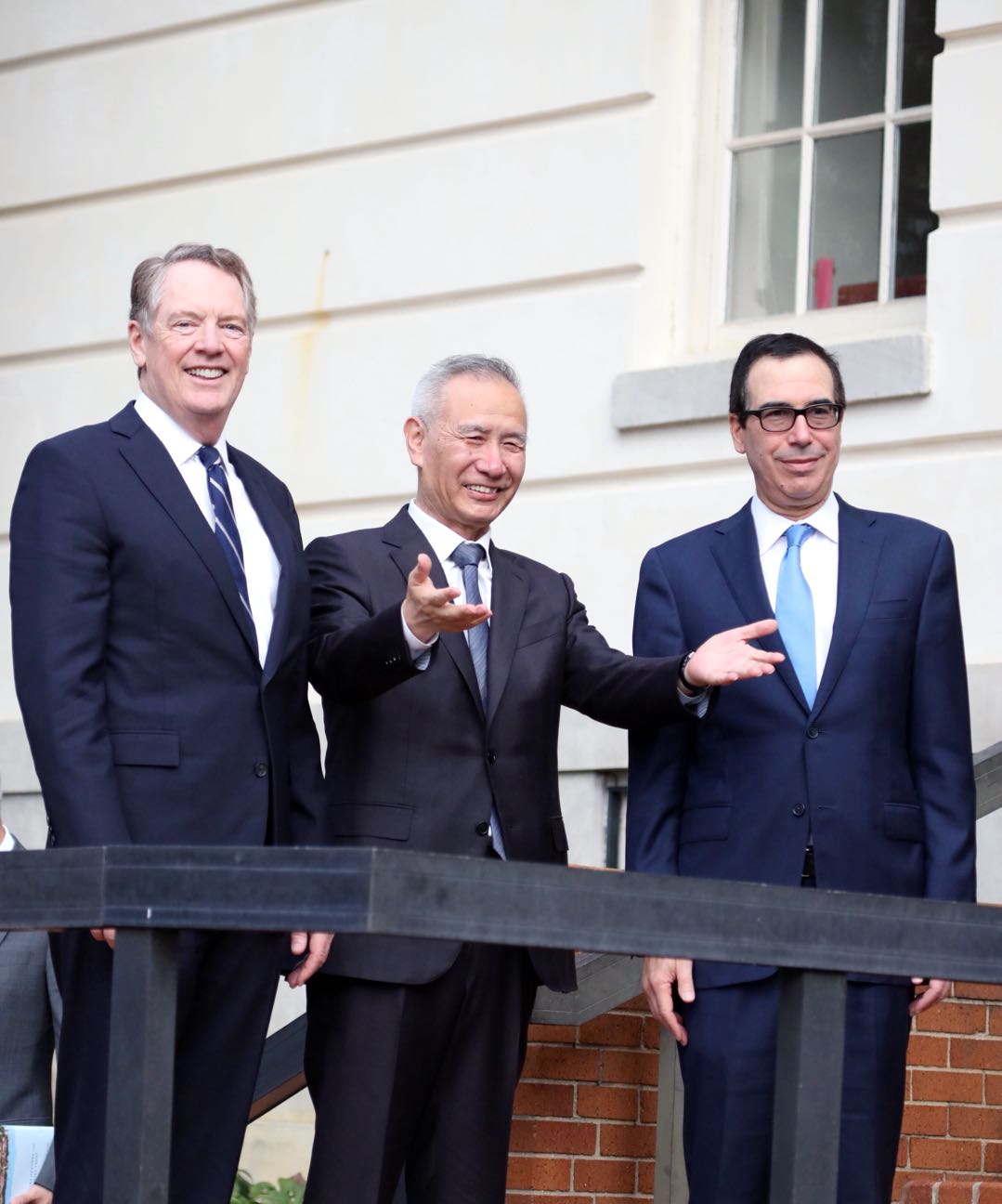 As top Chinese and United States trade negotiators concluded their first day of talks on Thursday, US President Donald Trump said, "It's going very well."
Exactly how well had yet to be seen, as neither side had released a summary of the first installment of negotiations aimed at resolving a trade war that has been rattling stock markets, stifling international trade and weakening prospects for global economic growth.
Day One of the two days scheduled for the new round of high-level China-US trade talks was mostly closed-door meetings at the headquarters of the Office of the US Trade Representative, chaired by Vice-Premier Liu He as well as USTR Robert Lighthizer and Secretary of the Treasury Steven Mnuchin. Talks started early Thursday in downtown Washington, and as they continued into the afternoon, the negotiators sent for delivery of a takeout lunch.
Before the talks, Liu told US business groups that the Chinese team has come with "utmost sincerity" and willingness to carry out serious dialogue on issues of mutual concern, including trade balances, market access and investor protection, and push forward the negotiations to achieve positive progress.
In a meeting with US business leaders, Liu told Craig Allen, president of the US-China Business Council, and Myron Brilliant, executive vice-president and head of international affairs at the US Chamber of Commerce, that the trade relationship between the world's top two economies is vitally important. It has a strong spillover effect and global impact.
Businesses and consumers will suffer greatly with trade wars, which are not good for China, the US or the rest of the world, he said, according to a statement of the talks released by the Xinhua News Agency.
Allen and Brilliant said there are no winners but only losers in trade wars, and the business community in the US does not want additional tariffs, according to the statement.
Allen said both sides have demonstrated the ability to talk jointly about difficult issues and to resolve them.
"Now would be a good time to begin that process — the downward trends, the dynamics within the relationship, are of extreme concern," he said. "We have more than 40 years of investment in this relationship that we wish to protect and to expand."
He said he hoped an agreement can be reached "if not over the next few days, then hopefully, over the next few weeks".
"Now we have the ideal time to reach that compromise," he added.
Liu Chunsheng, an associate professor at Beijing-based Central University of Finance and Economics, said: "It's difficult to predict now whether a partial deal will be reached this time, but I do hope the two sides can come to a mutually beneficial resolution as soon as possible."
Liu added that a holistic perspective is needed when dissecting the yearlong China-US trade dispute. The trade row has not only influenced the world's two largest countries' sustainable growth but also dampened enthusiasm for investing globally and weighed on the world economy, he said.
Contact the writers at zhaohuanxin@chinadaily.com.cn